Award-winning sculpture reflects desire for an embrace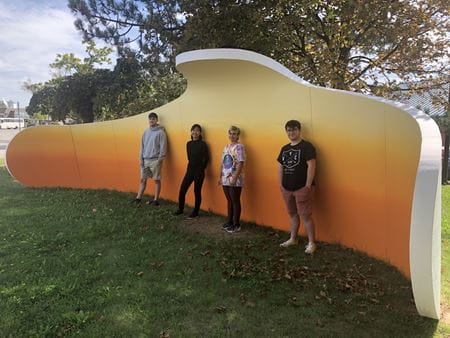 Inspired by the comforting embrace of a loved one, a team of Sheridan students created an award-winning sculpture which evokes the universal desire for a hug. Embrace, installed in September at the Trafalgar campus in Oakville, offers a warm and comforting welcome to students, employees, faculty and visitors as they arrive on campus.
"We hope that people feel a sense of security when walking within the embrace," said student Grace Im. "We wanted to evoke a feeling of protection when standing under the hood of the sculpture."
Students Brayden Popke, Grace Im, Colin Laplante and Nicole Ruiz from the
Honours Bachelor of Craft and Design
program were tasked with designing an interdisciplinary project based on their reflections of the pandemic and their interpretation of the theme of refuge, for the
Winter Stations
international design competition and public art installation hosted at Toronto's Woodbine Beach. The structure needed to incorporate one of the beach's lifeguard chairs that is unused in winter. However, when lockdowns forced the temporary closure of the beach, the sculptures were not installed and a new home needed to be found. A grassy, treed corner on Sheridan College Drive was the ideal place.
The Sheridan team was the student winner from submissions around the world. "When Embrace was announced as the winner, we were absolutely stunned," said Grace. "While it did shock us, we felt exceptionally proud of our design."
The students collaborated with peers across all five studio disciplines, industrial design, glass, furniture, textiles and ceramics, to create the sculpture from concept, design and modelling through to fabrication, production and installation.
"This project was a great way to learn many new skills but also to learn about our peers' skills and abilities and how to come together as a team to reach a great end result," said Brayden.
The sculpture initially represented the literal form of a motherly figure wrapping her arms around her child, then evolved to become more figurative with a hovering hood and two outstretched arms.
A wooden skin covers the rib structure which shows off the textured exterior in a neutral white that contrasts with the smooth orange interior that evokes protection, comfort and safety.
The concept of Embrace was created in September 2020 and completed in March 2021. The sculpture will be available for viewing until November 15, 2021.
Special thanks to:
Scot Laughton, Peter Fleming, Connie Chisholm, Jin Won Han, Laura Kukkee, Amanda McCavour, Sean McCormack, Christina Pupo, Vance Bauman, Gabriel Chimienti and Mickey Wang.
Pictured in Embrace are (L-R) Colin Laplante, Grace Im, Nicole Alexandra Ruiz and Brayden Popke