Pushing creative boundaries at the Banff Centre
Situated nearby the stunning Canadian Rocky Mountains, the Banff Centre for Art and Creativity has been a hub for excellence in artistic and creative development for decades. It's been visited by renowned visual artists, singers, writers, filmmakers and others in the creative realm, including dancer and choreographer Mikhail Baryshnikov, authors Margaret Atwood and Yann Martel, actor Christopher Plummer, and singer-songwriters Tanya Tagaq and Jann Arden.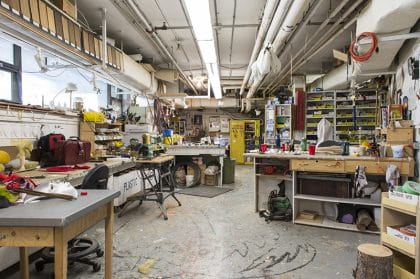 As a place for artists to be inspired and further develop their skills, one of the Centre's offerings is practicums in various arts production disciplines. These all-expenses covered, three-month long positions are highly coveted and entail a competitive application process. Two Sheridan students – Tomas Hiseler and Amanda-Lee Jull – studying in the Technical Production for Theatre and Live Events program – were successful candidates and took up residency at the Centre this summer.
Hiseler worked in the Prop Builder Department while Jull was part of the Scenic Painting Studio. They both worked on small teams mentored by an industry professional on projects that supported visiting productions. Hiseler made props for the opera Koperniukus while Jull painted scenes for a multidisciplinary-arts theatrical production called Making Treaty 7 and a co-production of South Pacific with Calgary Opera. Both participated in a Vaudeville-themed talent show involving the staff, where they got to push the limits of their own creativity.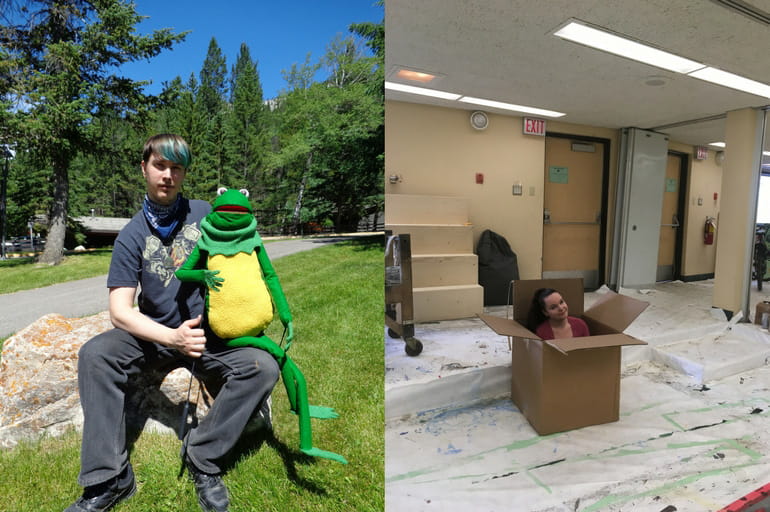 Working with new materials, techniques and tools was a highlight for both Hiseler and Jull and doing so in a space that encourages taking creative risks and experimenting made it all the more worthwhile for the two students. "I got to work with Worbla, which is a thermoplastic," explains Hiseler. "It's popular for costuming as it warms up, can be formed around things and then cools. It has endless possibilities." With it he built masks, weaponry, headdresses and jewelry. He also worked on building a full-size cannon that could fit a person inside, and created a few puppets.
Jull got to wood grain an entire floor, painted a scrim and worked with an airless sprayer. She also had the opportunity to try on a new role within the scenic painting department, stepping up as a Head Scenic Artist for one project, for which she was required to liaise with other departments. "The most valuable thing I've taken from this experience is the knowledge that I'm capable of working professionally in this field and that I find it very enjoyable," says Jull. "It feels good to have validation that I have chosen the right career path."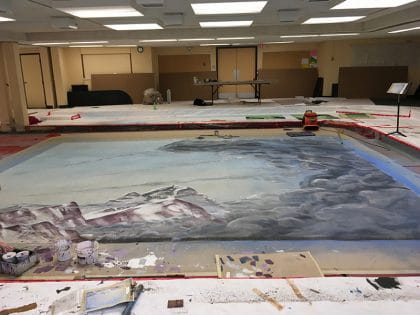 Learning extended outside of the students' own departments during their time at the Centre. They were exposed to training and guidance from professionals in multiple areas in the technical production field. An upholsterer and a makeup and prosthetics artist in the film industry hosted workshops, and teachers from nearby Theatre Calgary and The Citadel Theatre visited to lend their expertise and assist in the studios. Hiseler and Jull both intend to find ways to use their newfound skills during their third and final year at Sheridan and hope to have the opportunity to knowledge-share with their peers.
Denise Lisson, a Sheridan Technologist and Professor in the Technical Production for Theatre and Live Events program who is an experienced scenic artist and set designer, knows how significant the Banff Centre experience is for developing artists. "It's an excellent educational opportunity in an amazing facility, and this experience will distinguish them from other technical production artists when they pursue their careers," she says. "To have two of our students chosen in one summer is a testament to the success of the technical production program here at Sheridan."
"…this experience will distinguish them from other technical production artists when they pursue their careers."

– Denise Lisson
All practicum participants are eligible to complete two additional placements if they again apply and are accepted. It's something Hiseler and Jull are interested in doing at some point in their careers. "It's hard not to be inspired here creatively," says Hiseler. "Banff is the postcard of Canada."
---
Pictured at top of page: The Banff Centre for Arts and Creativity campus to the left of the Bow River. Photo by Paul Zizka.
Written by: Keiko Kataoka, Manager, Communications and Public Relations at Sheridan.