Creative connections at the Child Care Centre
For children at Sheridan's Child Care Centre, wool is much more than the subject of a popular nursery rhyme.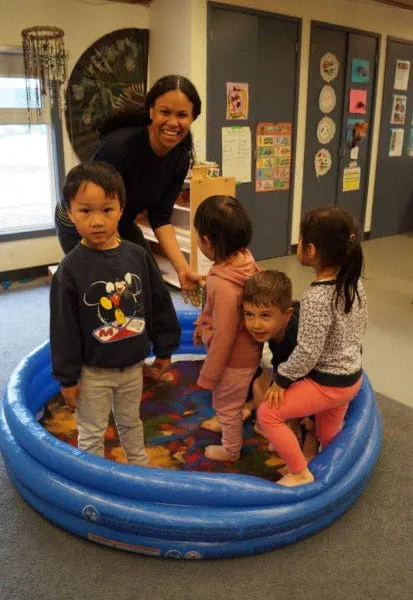 With the guidance of visiting artist Janelle Guthrie, Sheridan Textiles Technologist, they participated in a collaborative felting project using bits of the dyed material. In a kiddie pool filled with water, olive oil and the wool, the children stomped, danced and jumped to help weave together the fibres into its final form – a colourful, circular rug.
The rug was one of the works of art by the children – ages 18 months to four years – made out of donated materials from the Faculty of Animation, Art and Design (FAAD), and proudly displayed in a two-week exhibition at the Sheridan Gallery in Oakville.
The showcase of unbridled creativity was enjoyed by the children, their caregivers, early childhood educators (ECEs), Sheridan staff and community members, and celebrated the youngest imaginative minds on campus.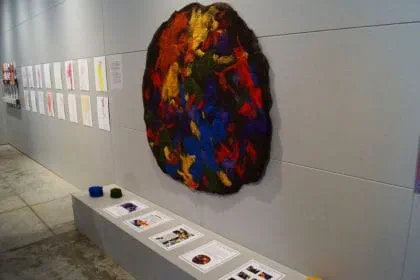 Making meaningful connections
In addition to creating with wool, the Centre's ECEs brought in resources to help aid children in their understanding of its origins and how it's used to make clothing and fabrics. Developing this understanding is something Kathleen Currie, the Centre's supervisor, feels is crucial at an early age.
Currie's inspired by the message of Last Child in the Woods, a book by Richard Louv. "He believes that children are not as close with nature as were in past generations," says Currie. "It's not uncommon these days for a child to never visit a farm and see first-hand where some of our resources come from." It's an important lesson in an age of material excess and environmental decline.
"We are very fortunate to have a community that embraces the importance of allowing children the space and freedom to express themselves." – Kathleen Currie
Another exhibited piece was a teepee made of a linen cloth that the children painted, with branches beneath holding it upright. The inspiration for the piece came from a nature walk during which they stumbled upon a teepee-like structure, sparking a discussion about its purpose and presenting an opportune time for instructors to introduce indigenous ways of knowing and respect for the land.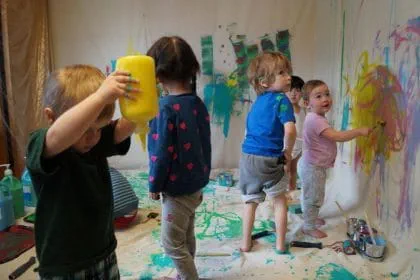 The process for creating the teepee was a little more uproarious than the lesson that prefaced it. In a room draped floor to ceiling in sheets of linen, children were given brushes, rollers and squeeze bottles to dab, fling and hurl the paint at the walls and floor in whatever fashion they chose.
Some took to painting their feet and imprinting the floor. It may have seemed like chaos to onlookers but for the children and the ECEs, it was an opportunity for boundless creativity.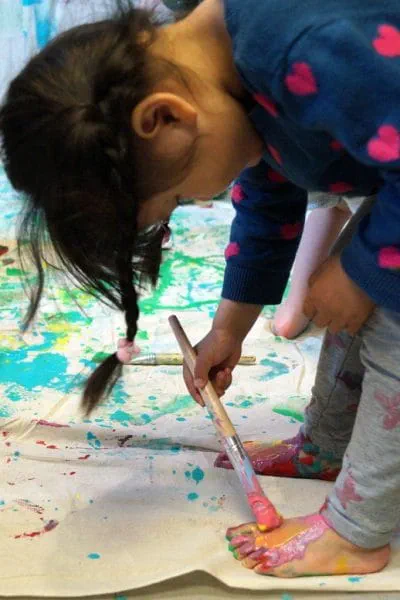 "Parents are very enthusiastic about our activities and really show a lot of support," assures Currie. "When we set up a paint room, parents have had no problem with their children coming home covered in paint! We are very fortunate to have a community that embraces the importance of allowing children the space and freedom to express themselves."
In addition to educating children about natural resources and connections to the land, the creative process involving the ECEs, visiting artists and children modeled positive engagement and connectivity. "The sense of belonging that the children experience is a vital part of their development," says Currie. "By having adults in their lives engage in their activities, children are given a feeling that we're all connected. Connections are an important part of a child's development as it strengthens a sense of well-being."
Spotlighting children's voices
Central to creating the pieces that appeared in the exhibition was that children took the lead and had creative control. No one was forced to participate if they didn't feel comfortable getting their feet wet or covered in paint, and there were various projects throughout the months leading up to the exhibition that allowed everyone an opportunity to get inspired.
"While the exhibition featured the final products, our ECEs do a great job of documenting each activity so that collectively we're focused on the process instead of solely the product," says Currie. Each of the gallery pieces had a thoughtful description that often included the children's own words.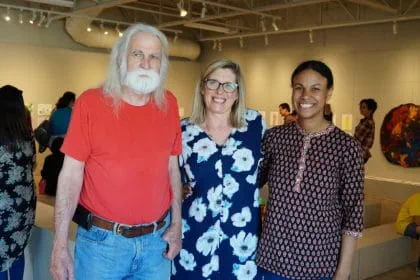 Currie regards the experience as a highlight of her work at the Centre. "Children's art gives me a greater understanding of who they are," she says. "Nothing gives me more joy than to see a child proud of a structure they built or a painting they've created." This pride was evident at the exhibition as children eagerly led their caregivers toward a work of art that they contributed to in the gallery.
Jamie Owen, exhibition designer of the Sheridan Gallery, was passionate about making sure the voices of the children were reflected in how he displayed the art. He balanced considerations like the eye level at which he hung the children's art, knowing that the audience was in large part children four years old and under, while also ensuring that it wasn't too accessible for curious hands to reach.
"It took me more time to curate this exhibition and get it displayed than most," says Owen. "I wanted to make sure that it was accessible and able to be enjoyed by children and adults alike."
Creativity is for everyone
The exhibition is evidence that Sheridan's youngest minds are privy to the creative campus philosophy that's emboldened across the college. "It's amazing that something as simple as an art experience can create a wealth of positive outcomes," says Currie.
It's a truly interdisciplinary effort that Currie and the ECEs hope to continue in the future. It brings the best elements of Sheridan – community, mentorship, collaboration, creativity and sustainability – to the fore and offers a fresh look at the world through the lens of early childhood curiosity.
---
Pictured at top of page: Painting activity at the Sheridan Child Care Centre. Photo by Keiko Kataoka.
Written by: Keiko Kataoka, Manager, Communications and Public Relations.