How a love of dance brought two alum together
If you didn't know better, it would be easy to mistake Becky Collins (pictured, left) and Kate Palermo (right) for sisters.
The pair sit casually next to each other on a couch, cross-legged, wearing comfy sweatpants and t-shirts. Their conversation is peppered with inside jokes and personal anecdotes, and they practically finish each others' sentences.
A 15-year age difference has hardly been an obstacle for the co-owners of Oakville, Ont.-based Dance District, a studio that offers lessons at a recreational, part-time competitive, and full-time competitive level.
"I handle the business side of things and am the person the parents tend to talk to, and Kate handles the kids and the classes," explains Collins, whose two daughters take lessons at the studio. "But we talk about everything and make every decision together."
The pair are conscious of not stepping on each others' toes, but Collins and Palermo bring very similar backgrounds to the table. They both began dancing at the age of three, going on to train competitively. Both also eventually opted to pursue a career in business, with Collins earning a degree from Sheridan in Business Administration Accounting in 2003 and Palermo graduating from Sheridan's Advertising and Marketing Communications program 12 years later.
For Collins, her journey to Sheridan came when she was looking for security and stability after a short stint dancing professionally at resorts in the Caribbean. She returned to Oakville to start a family and spent the following decade working in corporate finance.
"It's a really great feeling to wake up each morning and look forward to the work you have ahead of you that day, and to go to bed each night knowing we've done something good for these kids." - Kate Palermo
Palermo, on the other hand, found herself at Sheridan after plans to move to LA to become a professional dancer were derailed in high school when she underwent back surgery to correct a severe case of scoliosis.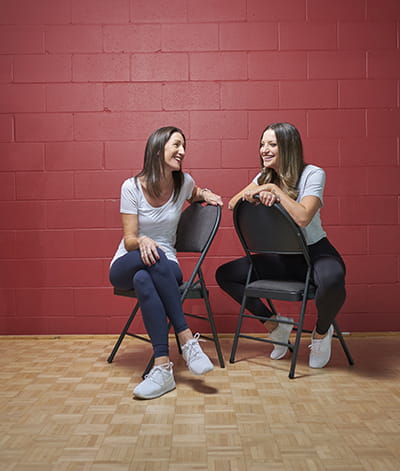 "When I realized I couldn't be a dancer, I had to find another way to use my creativity," she explains. "I fell in love with Sheridan's advertising program. I had a creative outlet and was able to collaborate with other artists, but I pushed myself with the business and marketing aspects of the program."
After graduation, Palermo began working at her father's insurance company. On the side, she taught dance at a nearby studio, where she met Collins. The two became close, chatting frequently during the week.
"The second year my daughter began dancing competitively, we heard the studio would be shutting down," Collins recalls. "Kate suggested we partner to open a new studio, so all the existing kids can stay together. I said, 'Absolutely not'."
Nonetheless, Collins was intrigued enough to meet with Kate and discuss what the potential business plan would look like.
"I was interested in a career change, but I was reluctant. Who goes into business with a 22-year-old?" says Collins. "I could see that she was ambitious, but she was still so young."
Dance District opened in Summer 2016. For that first year, Collins and Palermo kept their full-time jobs, managing Dance District on the side.
"After the end of that first year, I realized it was the kind of job where I'd finish the day feeling fulfilled," Collins says. "I was touching lives, and being part of something that meant so much to the kids and their parents."
The following summer, thanks to Collins' business acumen and Palermo's relationships with her students, Dance District's registration doubled, enabling both of them to focus on running the studio full-time. Today, in addition to year-round programming, Collins and Palermo manage a staff of 10 teachers and choreographers. They're looking to continue to shape their competitive teams with the students and parents they've worked with year over year, and are also building a healthy recreational program featuring dance and art summer camps for kids four and up.
"It's a really great feeling to wake up each morning and look forward to the work you have ahead of you that day, and to go to bed each night knowing we've done something good for these kids," says Palermo. "If I had to give one piece of advice when it comes to opening your own business, it's to jump in. Find something you're passionate about and you'll find a way to make it work."
Without a beat, Collins counters: "My advice would be to find a good bookkeeper."
---
Written by: Meagan Kashty, Digital Communications Officer at Sheridan.