Shining a light on a screen and stage collaboration
Deep in a valley in the Italian Alps, the people living in the village of Senza Luce have never seen the sun. For centuries, they've been enclosed in darkness, until one forward-thinking young man devises a brilliant way to light up their lives. In the spring of 2017, theatre-goers will find out how when Senza Luce, a new musical from Neil Bartram and Brian Hill, opens on Sheridan's stages. Those who can't wait can get a sneak peek on YouTube, thanks to the college's animation students.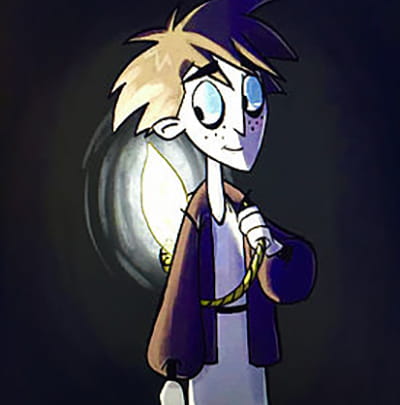 As Canada's leading school for animation and theatre, Sheridan is marrying the talents of screen and stage. Third-year students are animating a song from Senza Luce, which was workshopped at the Canadian Music Theatre Project (CMTP) in 2015. CMTP gives writers, composers, and lyricists the chance to develop their ideas with some of the brightest talent in the industry, including Sheridan's Bachelor of Music Theatre Performance students. Associate Dean of Visual and Performing Arts Michael Rubinoff says Bartram and Hill are a perfect team to make the animation a reality. Both are working on bringing the children's film Bedknobs and Broomsticks to the stage, and they have experience bringing blockbuster films like The Lion King and The Little Mermaid to Broadway.
"The most successful animated films have been musicals," explains Rubinoff. "Two of Sheridan's marquee programs are our degrees in music theatre performance and animation, so finding a way for both programs to work together on a project was an existing proposition. Then, we had the perfect team in Bartram and Hill to create a musical sequence that could best provide our animation students with a world and characters to successfully animate."
The project also helps prepare students for the relationship between stage and screen that they'll encounter in their careers. Disney's latest feature film, Moana, is co-directed by Sheridan animation alumnus Chris Williams, and six other animation grads are also part of the magic behind the film's Polynesian paradise. Meanwhile, the film score provides an auditory treat with music from Lin-Manuel Miranda, the Tony and Grammy winning writer and composer behind the Broadway hit Hamilton.
Maury Whyte says it's exciting for students to get involved in a theatre production and fully imagine Senza Luce's characters on screen. The Sheridan professor supervised each group of Bachelor of Animation students who worked on the project during their co-op terms in 2015 and 2016. When the third group finishes the project in 2017, they'll have fully animated one song, called Perspective, from Senza Luce.
Whyte hopes it will be a source of pride for everyone who took part. "In most other jobs, or co-op placements, the students will bring another person's vision to the screen," he says. "Here, they can create their own work and watch it take shape."
"In most other jobs, or co-op placements, the students will bring another person's vision to the screen. Here, they can create their own work and watch it take shape"

– Maury Whyte
Rubinoff hopes having the song available online will allow Senza Luce to be enjoyed by a wider audience who may not be able to see the musical, but who can still get a feel for the story through film. He also believes there's a bright future for the partnership.
"I hope this Sheridan animation musical project will allow us to create a stage musical that will then become an animated film," he says. "Sheridan's unique creative environment has allowed everyone involved to explore this dynamic path."
---
Pictured at top of page: An illustration of the rooftops in Senza Luce by Sheridan Animation students
Written by: Jill Scarrow, Manager, Communications and Public Relations at Sheridan.