Know your flow. Control what you owe. Invest and save some dough. Financial advice from someone who makes a living telling jokes seems unlikely, but not when that comedian is James Cunningham. The 1996 Theatre and Drama Studies graduate has made a career as host of Eat St., a television show that explores food trucks across North America, and emceeing corporate events where he's rubbed elbows with former American Presidents, business tycoons and sports heroes. But when he talks about Funny Money, a comedy show explaining financial literacy to teenagers, one of his true passions shines through.
"Money is very important but people fail to see that," he explains. "When I do my lectures I say money is not the most important thing in your life, but if you ignore its power it will start to make decisions for you."
Funny Money is the result of Cunningham's time doing standup on college campuses, where punchlines about starving students always got a laugh. Students would approach him after the show, and he'd start talking about debt consolidation and financial planning. People urged him to teach it, and Funny Money was born. Now, 13 years later, he's performed the award-winning act to more than one million North American grade 11 and 12 students. He hopes his message will set up young people for a lifetime of financial literacy.
"There's books, there's apps, there's a million ways to teach you about financial literacy, but what we do is face to face, it's a comedy show," he says.
It's based on the three life lessons he learned early on from his entrepreneur father: budget your money; control your debt; and save for the future. It's a lesson he says is particularly important in an arts-based career, where gigs can be plentiful or paltry.
"When I do my lectures I say money is not the most important thing in your life, but if you ignore its power it will start to make decisions for you."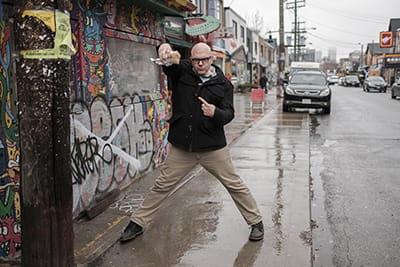 Cunningham models his own career on another lesson from his dad: don't rely too heavily on one thing to make a living. That's why he always has multiple projects on the go including corporate emceeing, or his television work. His work has allowed him to traverse the continent, doing stand-up comedy with Yuk Yuk's right after graduating from Sheridan, and then as part of Eat St. For five seasons he hosted the Food Network show, which now airs worldwide in syndication. He roamed through cities in search of the yummiest curbside delicacies ranging from tacos to samosas, even hamburger patties sandwiched between donuts – a dish he calls "insanely good."
His eclectic mix of work helps him live the lessons that he teaches in Funny Money – to make sure you have consistent cash flow and live within your means. Cunningham's many projects ensure he always has work on the go, and he counts himself lucky to be at the point where he can drive his own career goals.
"The one thing I love about being a comedian and actor is it's the ultimate freedom of charting your own course … it's great to be at this stage in life to do what I want to do."
---
Written by: Jill Scarrow, Manager, Communications and Public Relations at Sheridan.