Interior Design alumna blends coffee and motorcycle culture
Nestled on the corner of one of Hamilton's oldest streets is a store that's serving a new demographic.
Steeltown Garage Co., which opened in late July 2017, is an experiential-based retail store and coffee bar that caters to motorcycle culture in downtown Hamilton. But more than that, Steeltown aims to be a hub for an emerging community of motorcycle enthusiasts and coffee-lovers alike. From bi-monthly bike nights to charity rides, riders from Hamilton and across Ontario are known to congregate near James St. outside Steeltown's storefront, connecting over a shared love of motorcycles and riding.
On any given day, Steeltown is also bustling with patrons sipping on the shop's specialty coffee — a blend that that is small-batch roasted in Vaughan. This mix of motorcycling and coffee is the reason so many different customers come together at Steeltown.
It's fitting that owners Tania LaCaria and her husband Jeff Campagna chose to open a new store concept in an area of The Hammer that's home to businesses that have been around for decades. Steeltown's ethos is all about blending history and modernity to create something interactive and compelling.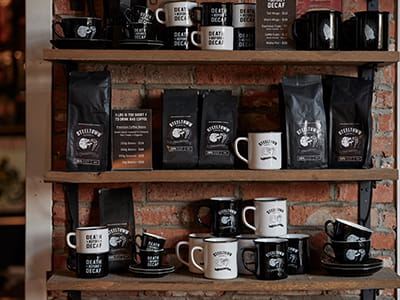 Inside Steeltown, this philosophy continues to ring true. One of its best-sellers, for example, is a t-shirt designed by Campagna with the saying "Free Spirits Never Die" printed on the back. The graphic features an old skull with a new rose rising out of the cavity of the eye — a message that the old and the new don't have to exist separately, but in fact, are better together.
Similarly, while new motorcycle gear and the company's own line of clothing is available in the retail section of Steeltown, a selection of vintage motorcycle helmets are on display behind the espresso counter — all donated by local patrons.
"We're inspired by the city we've set ourselves up in," says LaCaria. "There's still a bit of grittiness to Hamilton, but that's what makes it cool. No one's pretending it's glossy and sparkly."
LaCaria and Campagna may be deeply rooted in the Hamilton community today, but nearly a decade ago, the couple were living a quintessential nomadic lifestyle.
"We're inspired by the city we've set ourselves up in. There's still a bit of grittiness to Hamilton, but that's what makes it cool. No one's pretending it's glossy and sparkly."
In 2009, LaCaria had just graduated from Sheridan's Interior Design program, ready to tackle a new career in Toronto. Unfortunately, the economic recession made it difficult for her to find work. Rather than settling on low-paying entry-level positions or an unpaid internship, the couple opted to take the opportunity to travel and work abroad. What began as a trip that was expected to last several months eventually morphed into years of travel across Southeast Asia, Europe and Latin America.
The pair visited 36 countries, spending the most time in Central America. The experience gave them exposure to interesting businesses that incorporated motorcycles, coffee and fashion.
Inspiration for Steeltown struck the couple while riding through Argentina. During their travels, they'd often stop at cafés and fashion boutiques that catered specifically to motorcyclists. The concept, which is popular across Latin America, stems from the British ideals of the '60s when café racers — bikes that are lightweight and fast — surged in popularity. They're ideal for quick rides over short distances, so coffee shops became a place for motorcyclists to convene and grab a jolt of caffeine to help them stay alert on the road.
"In Ontario, there's nothing really like that concept except for in the parking lot of Tim Hortons," explains LaCaria.
Over the course of their travels, LaCaria and Campagna returned to Canada periodically to visit friends and family. Hamilton was one of their regular pit stops, and the couple was intrigued by the city's booming hospitality scene and its evolution into a destination for individuals looking to settle in the GTA outside of the suburbs.
When they eventually decided to settle down, Hamilton was the obvious choice.
"We were floating nomads living out of backpacks — it's a fun life in theory, but it got tiring," says LaCaria. "You get to a point where you want to feel connected to one place and get a sense of community and roots. I wanted my own bookshelf with my own stuff."
After settling in Hamilton, LaCaria set to work curating an aesthetic for Steeltown, using the lessons she learned at Sheridan, and taking inspiration from the countries she visited. Her goal was to work against the stereotype of motorcycling being a rough and tumble boys club.
"All that's required to be part of the Steeltown Garage community is to walk through the door — bike, or no bike, everyone is welcome."
The resulting design is reminiscent of the vintage motorcycle scene of the '60s and '70s. Taking care to incorporate layers of texture in the space, LaCaria set up a piece of painted plywood behind the clothing displays to add depth, and insisted on keeping the building's original tin ceilings and wood floors. Lighting is strategically positioned to both highlight areas of the retail wall and create ambiance. The interior of the original space was renovated to be open concept, so that there's no clear distinction between the retail area and the espresso bar.
"I wanted it to feel like a bright place to walk through — not a man cave," she says.
Whether it be the music playing, the smell of coffee, or the occasional whiff of gasoline, LaCaria and Campagna have gone above and beyond to create a space that has its own character and identity. Every graphic element of the store, whether it be the signage, the Steeltown clothing line, or the "Death Before Decaf" mugs on display, were designed by LaCaria and Campagna.
"We want everyone who's interested in throwing a leg over two wheels to visit us," LaCaria says. "I always wanted to create an aesthetic that would make people feel comfortable. That's something that was instilled in me through Sheridan and through my travels — I was able to see how the design of a space can affect an experience."
Steeltown advocates a strict "good vibes only" and "everyone's welcome" philosophy. And while LaCaria says she's never worked harder, the satisfaction of seeing a group of customers — most of whom have now become good friends — in her store drinking coffee, chatting, and clearly having a good time, makes it worth it.
"Jeff and I always wanted a place like this to go, and it didn't exist," she says. "All that's required to be part of the Steeltown Garage community is to walk through the door — bike, or no bike, everyone is welcome."
---
Written by: Meagan Kashty, Digital Communications Officer at Sheridan.