How legacy and impact motivate Mark Stoddart's art
Mark Stoddart knows the importance of a deep bench.
Throughout his 30-year career, the artist has combined a passion for art and sports with a spirit of social activism and commitment to educate and unite. With a mission to create art that prompts people to act, Stoddart not only aims to convey messages of legacy and impact through his work – he invites viewers to become active participants.
A big component of that is accessibility. Through highlighting iconic Black athletes, entertainers and other public figures, Stoddart bridges generational gaps through his artwork and works to preserve the stories of these important figures.
Sports and art have always been a natural focus for Stoddart. An avid basketball fan, he helped the Bruins earn a national championship victory while studying Illustration at Sheridan. As an artist, Stoddart weaves that interest into his pieces, having painted portraits of legendary Black athletes such as Fergie Jenkins, Wilt Chamberlain and Harry Jerome.
But beyond traditional gallery exhibitions or showcases, Stoddart blends his artwork with another passion – t-shirt design. Stoddart's clothing brand, LIWI68 (Live It Wear It) features different lines that amplify the messages of empowerment and legacy featured in his art.
For example, in 2011, Stoddart linked with Dr. John Carlos - the human rights activist and former track and field athlete known for his political demonstration at the 1968 Olympics in Mexico City. The John Carlos Collection, a series of hoodies, t-shirts and ball caps, honours his legacy. "That collection isn't just a line of clothing," Stoddart has explained. "It's a way of thinking – imagining if we could all come together to mobilize, and the difference we could make."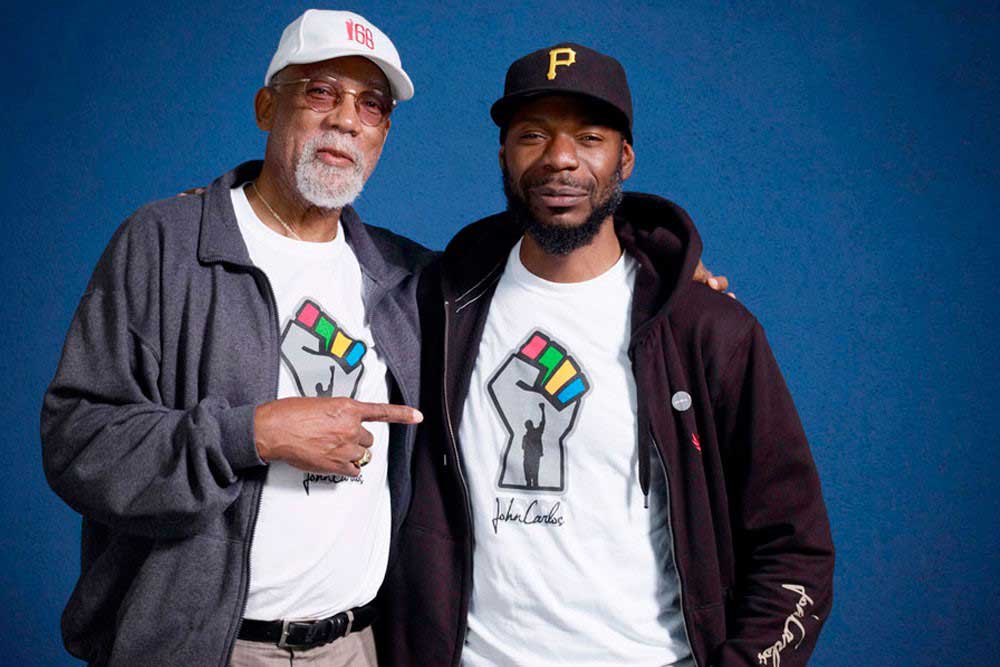 And over the summer, Stoddart co-designed the Black Lives Matter tribute apparel worn by the Toronto Raptors, again, using arts and sports activism to galvanize audiences around the world for a common goal.
This Fall, he returns to Sheridan as a professor. We caught up with Stoddart as he prepares to share his messages of art and activism with a new generation of artists, both as a Sheridan professor as well as a mentor at this year's virtual Nuit Blanche:
The last time you interviewed with Ovation would have been a little over 10 years ago, when you had recently pivoted from a career in graphic design to dedicating your career to your own art. Do you feel your ambitions as an artist have changed over the past 10 years?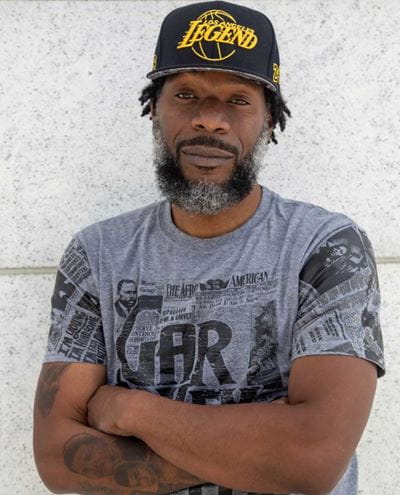 It hasn't really changed. I think I'm still being inquisitive and am searching for new ways to expand and reconnect with like-minded people and build true, authentic relationships.
But life gives you curveballs, right? In 2009, the reason I got back into art was because a friend of mine passed away suddenly. He was a youth worker in Scarborough, and it inspired me to ask myself about my purpose, and it all came back to art. Art, sports or activism have always been the causes for me. It's a consistent theme in my pathway.
Fast forward to this year, again with more life transitions. I lost three good friends of mine this year. With COVID and the protests, it brought me back to a reality that we live on borrowed time. It's important that in the time that we're here, we ask ourselves how we can impact people.
I think the goal for me is to try to not be dormant or darkened by the whole thing. There's a book called Die Empty, by Todd Henry, and the message behind it is that you need to share whatever gift you've been given with the world. It can give you a bit of perspective to be gracious. Every day you wake up, it's a gift and you have to make the best of it.
Do you feel like a responsibility to give back with your art?
I think whatever you learn throughout your journey, you have to find ways of giving back and paying it forward. I mean, the next person who's facing the same kind of obstacles that you've faced, if you can kind of guide somebody through that, I think that that's been a service that is good.
How did you end up linking with the Raptors to co-design their Black Lives Matter tribute apparel?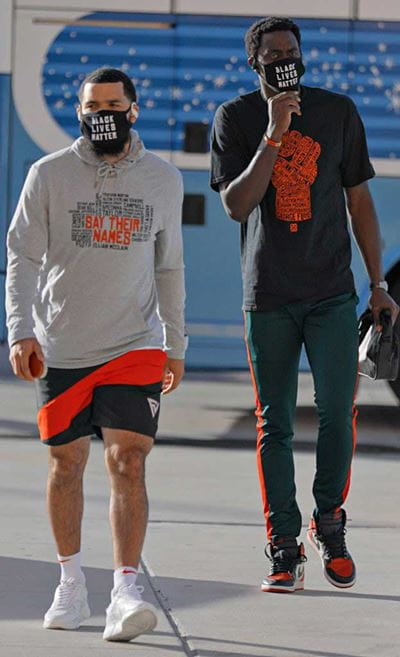 That's kind of crazy. Adeyemi Adegbesan, a talented young designer, worked with the Raptors on a couple of different concepts and they approached him about creating a design. So, they asked if he knew another designer that could suit this campaign. And right off the bat, he thought of me. He approached me, and asked if I'd be interested in collaborating with him to create some shirts for the Raptors. I'm a big basketball fan – at Sheridan I played on the team, back in the day – so basketball has always been one of my loves. So to actually create something for the Toronto Raptors – the champions of 2019 – it was a no brainer.
I think their campaign and what they're trying to do – to speak about Black Lives Matter, and with (Raptors President) Masai Ujiri kind of galvanizing the team to actually curate a movement piece – it was fitting. Adeyemi and I put our heads together and came up with a range of concepts for the shirts. And then from there, the players picked which ones they thought were suitable to wear. The Raptors wanting to bring attention to issues such as racism and equality – it's bigger than sports. I think athletes are regular people just like you and me, and I knew that they wanted to make a statement that they could wear on TV and show viewers what's happening around the world. Creating those shirts to actually speak to that and allow the Raptors to have a stronger voice, and to be part of a history – to be part of a movement and have my art align with that – I feel blessed. I don't think it solves any problems, but it starts a conversation.
You've said your hope is to create art that prompts people to act. How do you hope people will act after seeing the Raptors wearing the Black Lives Matter tribute apparel?
What I really want is for people to recognize that there's a systemic problem that's happening around the world, and we need to come together to make a bigger impact as a united front. The institutions that exist now need to be re-evaluated and dismantled in a way for people to truly be treated as human beings. So, I'm hoping that with what's happening now, my contribution is about starting those conversations that will work towards creating solutions.
I welcome anybody in their entry point of being expressive and joining this movement. I've been using this analogy that going to the gym is like joining this movement. How long are you planning on sticking with it? You need to stick with it, and if you really want to make change, you have to commit. Like working out, you can see the changes to your body, you can see your endurance strengthening. You can find a personal trainer or mentor to help you along the way. You can't just dip and out whenever you want and expect to see results. Put in the work.
You've mentored younger generations of artists as well, through programs such as Inner City Angels. Why is that important to you?
George Washington Carver said "no individual has any right to come into the world and go out of it without leaving behind him distinct and legitimate reasons for having passed through it." I think it's important to know your voice and figure out how to give back to your community, and one way for me is to pass on my knowledge and life skills. And then I can help kids in these programs find their own voices. It's about being comfortable with your own voice and finding that little light inside of you. You need to be comfortable with that to speak truth to power. Kids in elementary school and high school, are at a point where they're really trying to hone in to who they are and they're developing their own personalities, so you can drop some gems of knowledge and plant some seeds for growth. They're not going to get it right off the bat, but if you can say some words of confidence, you can help prep them for when they get to the real world.
I also always try to give back my own community in Scarborough. There's an organization I'm involved with right now called Rise Edutainment, and it's great to see it grow, helping the next generation and creating a safe space for them to be expressive without judgement. It keeps me youthful. I feel like a kid again. Being with young people keeps me on my toes, but I don't mind.
"I think whatever you learn throughout your journey, you have to find ways of giving back and paying it forward."
You'll be sharing your knowledge with a new set of students as a teacher at Sheridan this semester. What advice do you have for aspiring artists?
Find inspiration wherever you can, and realize the magnitude of your voice and what you can achieve. Don't be afraid to use your artistic skills and talents and let them express how you feel.
I think the premise behind why we create is so it can make an impact and people will remember you, so you need to speak the truth to why what you're creating is so important. Sometimes we get caught up in what society thinks is the cool thing to do, but sometimes you have to go against the grain and do things your own way.
---
Written by: Meagan Kashty, Digital Communications Officer at Sheridan.