"The Most Magnificent Thing" travels from schools to screens
Ashley Spires (Advanced Illustration '06) is used to working alone.
Working out of her home office in Delta, B.C, with her cats as officemates — she's fostered 46 kittens over the years — Spires says she spends her days sitting alone in a room "making up stories and hoping people like them."
While Spires may work in isolation, her work has gone on to be appreciated by kids, parents and teachers alike. The proof is in the publishing. Spires has written and illustrated dozens of books that are now commonplace in schools and libraries across Canada. The Things Lou Couldn't Do, Go To Sleep Little Creep and Penguin and the Cupcake — based on a story she first developed during her time at Sheridan — are among the books beloved by Spires' readers. Her latest book, Fairy Science, that tells the story of a fairy who believes in the power of science.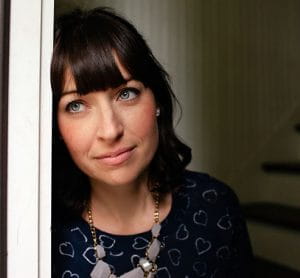 Spires has seen the most success with The Most Magnificent Thing, published by Corus' Kids Can Press in 2014. The book has sold close to a half-million copies in about 12 different languages, and has been incorporated into curriculums across Canada. It tells the story of a girl who decides she wants to make something truly magnificent, but finds that that the creative process is often more challenging than expected.
This year, Nelvana has helped usher The Most Magnificent Thing to a new audience by adapting it into an animated short — the first-ever for Corus's animation and international distribution arm. The film boasts star power with voices such as Alison Pill, Lilly Bartlam and Oscar-winner Whoopi Goldberg, and was brought to the big-screen with the help of Sheridan Animation grads.
After premiering at the Toronto Animation Arts Festival International in February, The Most Magnificent Thing is heating up the festival circuit, screening nearly 50 times over 2019 at festivals in Brazil, Kosovo, Mexico and Australia. This October, it will receive its television debut when it airs on YTV.
Spires based the book off her own experiences learning how to overcome creative obstacles and deal with her own frustrations while working on projects. She's delighted with how the story has connected with readers, and how educators have tapped into its message about the importance of perseverance and learning from failure.
"There's no way to predict the kinds of books that will resonate with kids, so instead, I try to write books that resonate with me," says Spires. "What I've learned from The Most Magnificent Thing's success is that if you write from a place of authenticity, kids and readers in general will connect with that."
"The idea that these things that I created in isolation are now creating jobs for all these other creative people — animators, voice actors, producers, and everyone else involved — is truly stunning. It's really emotional for me to think about how books I wrote and illustrated are allowing other creatives to make a living."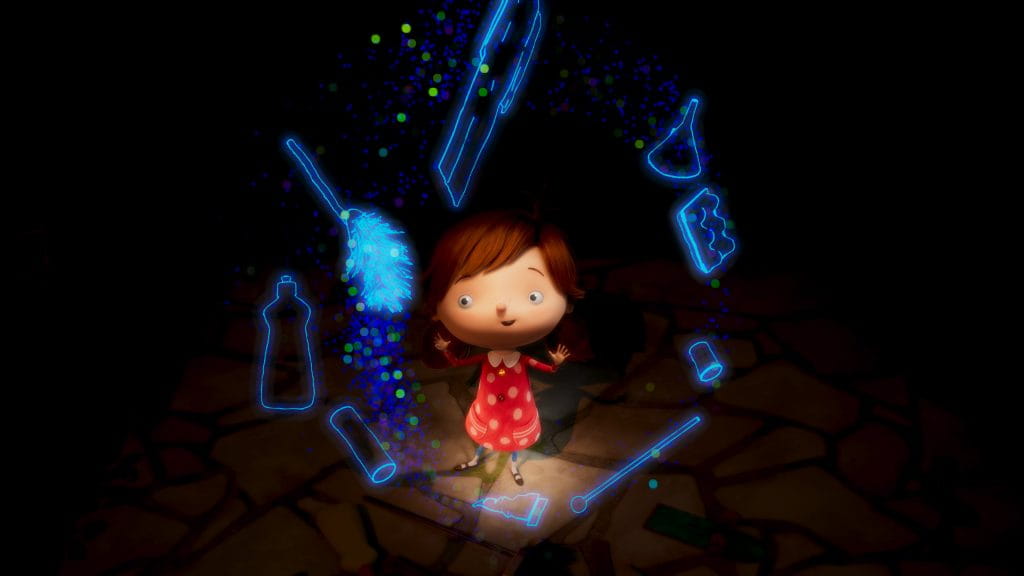 The message behind The Most Magnificent Thing certainly resonated with Athena Georgaklis, Nelvana's head of development. When Georgaklis joined the Nelvana team three years ago, she wanted to find a project would truly test the limits of its animators, and showcase the company as a world-class leader in animation — the company's "piece de resistance."
Having young kids at the time, Georgaklis was already familiar with The Most Magnificent Thing, and thanks to Nelvana's ties to Kids Can Press, she knew of its success in the world of publishing.
"We loved that the book had a timeless and relatable message for kids and adults about the struggle of creativity," says Georgaklis. "With the book's connection to Kids Can Press, and with Ashley being a Canadian author, it was a no-brainer."
With this being Nelvana's first short, Georgaklis says the most important thing was to sit down with Spires to talk about what she was hoping to see from the adaptation, and how to expand a 32-page book into a 22-minute film.
"In those first meetings, we talked about making the (main character's) mom a stronger presence in the story, and we always knew the girl's dog would be a huge part of the short," says Spires. "In the final product, as only animation can do, the animators were really able to grab the personality of the dog and up the impact of his movement. As much as I would love to show funny scenes, such as a dog dropping a toy from his mouth when he sees a squirrel, static images can't do that."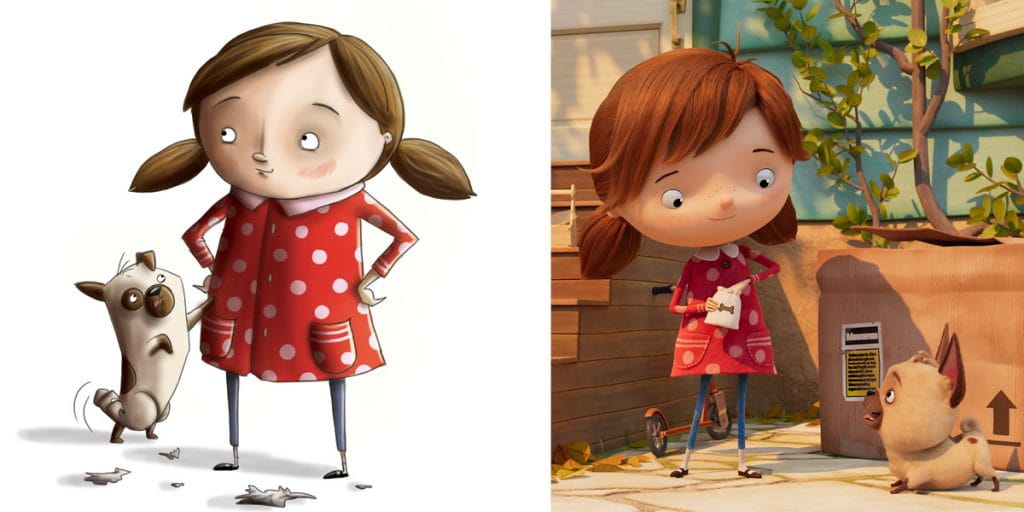 Chris Catizzone (Computer Animation '04) was one of the artists to help Spires's characters come to life, along with Arpan Jolly (Computer Animation '10) and Ruchika Rastogi (Craft and Design, Ceramics '07). As surfacing lead on the project, Catizzone created much of the texture, colour, and surface detail of the short, such as the girl's skin and clothes, as well as the houses and furniture.
"The first thing we developed was the look of the girl, since she's the central focus," he says. "I probably painted the cloth pattern on that girl's dress eight different times before we settled on one."
From there, the animation team developed the look and overall rules of the short's animated world. For Catizzone, whose credits include Nelvana series such as Handy Manny, Mike the Knight and Ranger Rob, the short represented an opportunity for him to stretch his creative muscles.
"The fact that it's a short is notable for Nelvana, but it also was something different, in terms of style and workflow, so it was exciting to be a part of," he says.
According to Georgaklis, the details honed by the short's designers and animators gave Nelvana the opportunity to do some important research and development, resulting in important growth from a technical and animation perspective. The film is Nelvana's first 4K animation production, and gave the studio the opportunity to upgrade its production techniques and tools, including the transition to a modern renderer. The lessons learned and new animation techniques will be incorporated into future Nelvana productions, including another showed based on a series created by Spires. Agent Binky: Pets of the Universe will premiere on Treehouse Canada this fall.
"The idea that these things that I created in isolation are now creating jobs for all these other creative people — animators, voice actors, producers, and everyone else involved — is truly stunning," says Spires. "It's really emotional for me to think about how books I wrote and illustrated are allowing other creatives to make a living. It's such a precious, precious gift that my work has enabled that."
---
Written by: Meagan Kashty, Digital Communications Officer at Sheridan.