Sheridan kicks off fall 2023 term with vibrant campuses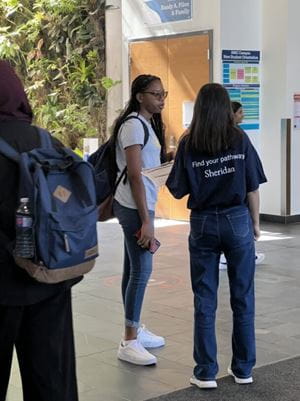 Sheridan College kicked off a vibrant campus experience this fall term, welcoming back over 26,000 students to its three campuses in Oakville, Brampton and Mississauga.
"We are thrilled to welcome so many learners to our on-campus Sheridan community this fall and to feel the energy and vibrancy that is at the heart of the Sheridan experience," said Dr. Janet Morrison, Sheridan President and Vice Chancellor. "It's a tremendous privilege to be part of the learning journey of both our new and returning learners as we continually work towards launching exceptional, resilient and skilled graduates into the workforce."
The fall term highlights some exciting new features for students:
The launch of Service Hubs at each campus, designed to provide a frontline, seamless service experience for students and acts as a one-stop shop for all student answers and directions
A new pay portal, International Student Pay, that allows students to pay their tuition and fees in their preferred currency with the option of e-transfers
Changes to the Academic Integrity Policy which addresses the newer challenges faced by educational institutions such as inappropriate use of technology, visual plagiarism, unauthorized aids and more
As part of Sheridan's commitment to supporting the academic and personal success of all First Nation, Métis and Inuit learners, beginning this September, Sheridan's Centre for Indigenous Learning and Support opened designated Indigenous student spaces at all three campuses. These three dedicated spaces will help to create a culturally safe, respectful and empowering environment for our Indigenous learners.
To kick off the fall term, over 3,700 students attended in-person campus orientations in August. The activities provided a diverse range of engagement opportunities:
143 program orientation sessions
26 unique marketplace booths and support sessions
Centre for Indigenous Learning & Support drop-ins
Social Insurance Number (SIN) clinic where students met with Service Canada representatives to get their SIN on campus
Art Hive: a community studio which welcomes everyone to make art and support community wellness
Community safety and settlement events designed to support and welcome international students
More than 3,100 students attended a virtual orientation kick-off event on August 28, where they heard stories from eight Sheridan staff and leaders, students and alumni. Orientation was made possible by the contributions of 854 faculty, support staff, student leaders, campus and community partners and student volunteers. Another event, called Dare to Care, focused on how students can care about themselves, their classmates and the Sheridan community during their time at Sheridan.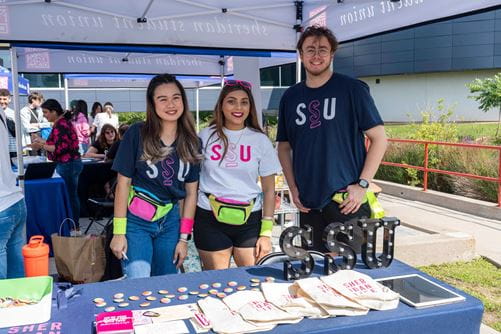 Sheridan Student Union (SSU) proudly welcomed back Sheridan students to campus with a Welcome Week full of events across all three campuses, including an outdoor concert and colour party, a drag show and a magic show. Throughout the fall, the SSU looks forward to hosting more students with open mic nights, trivia, community fairs, weekend getaway trips and more. The Sheridan Student Union is available to support students with their whole Sheridan experience, and helps give students the best experience through their events, services and advocacy. To learn more, visit thessu.ca
Sheridan has launched several new programs, including the Honours Bachelor of Science - Osteopathy degree, the first in Canada, which supports a strong commitment to health care and healthy communities, as well as Applied Creativity and Innovation a graduate certificate to support the changing needs in the workforce.
Sheridan recognized the National Day for Truth and Reconciliation the week of September 25 with the inaugural raising of the Every Child Matters flag, planned learning opportunities and a keynote speaker.
Sheridan's Fall Open House will take place on Saturday, November 18 from 10 a.m. - 2 p.m. at each campus. Enrolment for some Winter Term programs is still open. Learn more at Future Students | Admissions | Sheridan College and visit the digital viewbook at Why Choose Sheridan - Digital Viewbook 2024-25 | Sheridan College
Banner image: the student Service Hub at Hazel McCallion Campus (HMC) in Mississauga
Top right image: a student volunteer helps a fellow student at HMC's orientation
Bottom image: the Sheridan Student Union (SSU) booth at the Trafalgar Campus orientation in Oakville