Sheridan marks Truth and Reconciliation Week with inaugural flag raising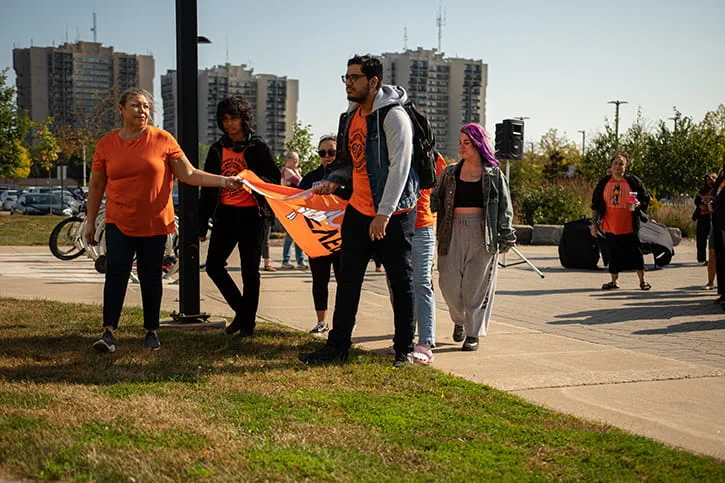 On September 25, Sheridan marked the beginning of
Truth and Reconciliation week
with an inaugural Every Child Matters flag raising ceremony at Trafalgar Road Campus.
More than 100 students, faculty and staff gathered by Sheridan's Medicine Wheel Garden – a sacred space for healing, celebration and peace – to pause, reflect, commemorate and listen to the stories and experiences shared.
Sonia Dupte, Vice President, Advancement and Chief Development Officer at Sheridan, began the ceremony with a personal reflection to share her appreciation for the land on which we reside. "As an immigrant from the sub-continent, I want to express my gratitude for the safety this land has afforded me as an uninvited guest and a settler," said Dupte. "I am committed to learning Sheridan's role in acknowledging, amplifying and empowering Indigenous voices thus far and what needs to be done to move the needle on truth and reconciliation."
Following Dupte remarks, Knowledge Guide Stephen Packett reminded the Sheridan community about the importance of sharing wisdom with one another, noting that he often tries to share his knowledge with others in a positive way. Indigenous-Cree artist Amber Jane Kakiishiway later joined with a moving drumming performance and powerful retelling of Elder Florence Sparvier's residential school experience.
To close the ceremony, Indigenous students were invited to carry the Every Child Matters flag to its post and raise it. The flag will remain at full mast until the evening of September 30.