Sheridan and CCTT partnering to fill Ontario's skilled trades gap
To address the significant shortfall of skilled workers in Ontario, Sheridan College is partnering with the
Canadian College of Technology and Trades (CCTT)
on the delivery of two skilled trades programs.
Sheridan's first public college-private partnership (PCPP) and the first PCPP outside of the Greater Toronto Area, will begin this fall with several hundred students from Southeast and East Asian countries, including Vietnam, Philippines, South Korea and China. The students will study at CCTT's existing facility in Fort Erie, Ontario, in two diploma programs: Mechanical Technician – Computer Numerical Control & Precision Machining; and Welding and Fabrication Technician.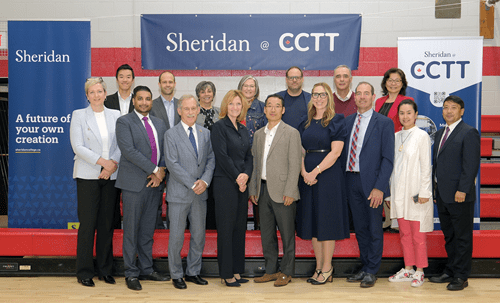 Addressing labour gaps
The partnership will deliver on the shared priorities of the Ontario government and Sheridan to increase access to training in the skilled trades. It will address the significant shortfall of skilled workers in the province – and in Fort Erie, which is in the heart of one of North America's busiest economic trade corridors. Highly skilled tradespersons are urgently needed to fuel post-pandemic growth, fill the deep gap for skilled talent that currently hampers local business growth and reverse the tide of projected retirements over the next five years.
The
manufacturing sector
represents 10.8% of Fort Erie's employment industries and 21% of occupations are in the category of trades, transport and equipment operators. By 2025, one in five jobs in Ontario will be in the skilled trades. It's estimated that by 2028, the
skilled trades shortage
will increase to 560,000 if the gap is not addressed; representing an economic loss of $24M per year for the province.
"Sheridan and CCTT are ideal partners. We have many complementary strengths. We have strong shared values and beliefs in the power of experiential, career-focused education to change people's lives for the better," said Dr. Janet Morrison, President and Vice Chancellor, Sheridan College. "Today marks the beginning of a new partnership that will provide opportunities for students to gain skills training and an education that's highly relevant for the times, helping to ensure their long-term employability and bolster Ontario's future competitiveness and prosperity."
"We are committed to delivering industry-specific training to support local labour market needs and provide growth skills to neighbouring regions. We are partnering with Sheridan College for the betterment of the community economy," said Paul Liu, President of CCTT.
Benefits to students
Both Sheridan and CCTT are committed to upholding the principles, actions and standards outlined in
The Brampton Charter for Improving the International Student Experience
– which Sheridan co-created – and the Colleges Ontario Code of Ethics for international student recruitment, to which Sheridan is a signatory.
All services and course content at CCTT — a fully accredited, designated learning institution (DLI) — will be created and delivered by its employees. As part of this partnership agreement, Sheridan will set and maintain control over academic quality standards to ensure its rigorous requirements are met.
In keeping with Sheridan's unwavering commitment to enabling students to thrive, learners in these programs will have mandatory health insurance, a full suite of student supports to fuel their success in learning and life, and access to ample on-site housing.
The two-year diploma programs were identified as imperative for Ontario's labour market and bring in-demand training in the skilled trades to areas outside the GTA where there is significant need. After earning their Sheridan credentials, international graduates of these programs at CCTT will be eligible for the post-graduate work permit program in Canada and subsequently, a pathway to permanent residency and citizenship in Canada.
Learn more about the
Sheridan College at CCTT programs
and
The Brampton Charter for Improving the International Student Experience
.
Additional quotes:
"I want to congratulate Sheridan College and Canadian College of Technology and Trades on this new innovative partnership that will attract and train talent for skilled trades jobs in Ontario. Our government knows supporting in-demand sectors starts with addressing labour shortages. That is why we will continue to advocate and promote skilled trades professions through partnerships like this one that will address these labour shortages and prepare workers to strengthen Ontario's economy."
The Honourable Jill Dunlop, Minister of Colleges and Universities
"This is very exciting for Fort Erie. We have long known that education is a key factor in the future success and prosperity of communities. The partnership of Sheridan College and CITT brings together two of our leading institutions to address head on an increasingly troubling trend in Ontario and, indeed, Canada - the lack of skilled trades. We are already experiencing restrictions in our economy due to inadequate skilled workers. This program will help to create the workforce of tomorrow, meet the skilled trades shortage, provide a path to citizenship for new Canadians and bring a post-secondary presence to Fort Erie. We congratulate all involved for their vision and pragmatism."
Mayor Wayne Redekop, Fort Erie
---
Pictured above right: Sheridan College and the Canadian College of Technology and Trades (CCTT) leaders along with the Mayor of Fort Erie and CCTT staff and community members gathered at CCTT's facility in Fort Erie, Ontario.