Life-changing scholarships announced for Sheridan Skilled Trades students
Sheridan is honoured to receive a $325,000 gift from the Schulich Foundation as part of its new Schulich Builders Scholarships for Skilled Trades, which will directly support students in Sheridan's Magna School for the Skilled Trades.
The Schulich Builders program provides students in the skilled trades with targeted, meaningful financial assistance. Thanks to Schulich's support, Sheridan will be able to provide 10 scholarships per year: five $20,000 scholarships for students in a one-year certificate program, and five $40,000 scholarships for those pursuing two-year diploma programs.

Announced yesterday, Sheridan is one of 10 Ontario colleges to be selected to take part in the scholarship program. The Schulich Builders program dedicates more than $3 million to combat labour shortages in the skilled trades – a sector critical to building the infrastructure needed to ensure businesses and communities thrive, but one facing pressure to recruit as Ontario faces a projected shortfall of 100,000 skilled trades workers.
"I am incredibly grateful to the Schulich Foundation for its support. This kind of comprehensive support to help students cover all their expenses will be life-changing for many, and it will encourage more young people to pursue these rewarding careers that are so essential to our economy," says Dr. Janet Morrison, President and Vice Chancellor of Sheridan. "Being part of the Schulich Builders program is also a testament to the outstanding quality of Sheridan's skilled trades programs. I am so proud of our faculty, curriculum and facilities – all of which are among the best in the province."
"We are proud to promote the skilled trades and support students pursuing this rewarding career path," says Judy Schulich, Executive Vice President, The Schulich Foundation. "Canadians rely heavily on the trades to build and maintain infrastructure critical for prosperous communities. Our challenge today is not having enough of these talented people to meet the demand."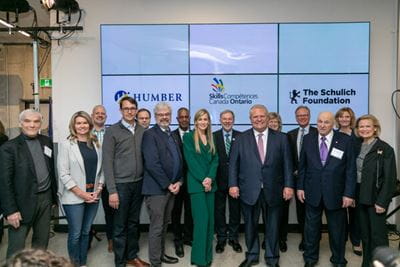 Lindsay Engel, Dean of the Faculty of Applied Science and Technology, says the Schulich Builders program will play a critical part in encouraging high school students to enter the skilled trades.
"Our students come to Sheridan eager to learn. Thanks to the Schulich Builders program, more of them can now pursue their studies without being hampered by financial concerns. I'm grateful to the Schulich Foundation for seeing the value of a skilled trades education, and investing in its future," she says.
Funds from the Schulich Builders Scholarships for Skilled Trades will cover tuition, tools and living expenses. Priority will be given to students nominated by their high school. Students may also apply directly through their college, including those studying at Sheridan's state of the art Magna Skilled Trades Centre at the Davis Campus in Brampton.
The first recipients of Sheridan's Schulich Builders Scholarships will begin their studies in September 2023. Applications are now open, with a deadline of May 31. Potential applicants can apply here.

About The Schulich Foundation
The Schulich Foundation is one of Canada's largest foundations, having donated in excess of $350 million. Seymour Schulich established and funded The Schulich Foundation. He holds Canada's highest civilian award, the Order of Canada, and is among Canada's greatest philanthropists. Having benefited greatly from a scholarship that enabled him to do his MBA, Mr. Schulich has built a well-earned reputation as a champion for education and access to education in Canada and around the world. The Schulich Foundation has endowed university faculties of business, engineering, medicine, law, education, music, chemistry, nursing and dentistry; libraries, dormitories, courtyards, medical health centers, lecture and music halls. Over 7,000 scholarships are awarded annually to students in Schulich Schools.
The Foundation's largest initiative is the $200 million Schulich Leaders Scholarship Program, spanning 25 universities across Canada and Israel, in support of students pursuing STEM education
---
Pictured above right: Provincial government and Schulich Foundation leadership at the Schulich Builders announcement on February 9.