Generator at Sheridan brings distinction to the college's work in research, innovation and entrepreneurship
Today, Sheridan unveiled a new name and distinct visual identity that represent the breadth and depth of the extraordinary research, innovation and entrepreneurship activities undertaken across the college –
Generator at Sheridan
.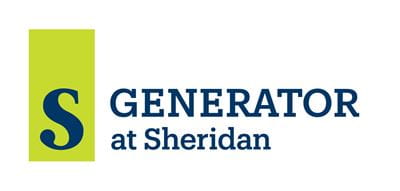 This new sub-brand captures the power of Sheridan's work and the energy of new ideas. It conveys a sense of momentum, growth and change, which mirrors the transformative landscape across Sheridan's Faculties and Centres. Generator at Sheridan is comprised of researchers, innovators, entrepreneurs and changemakers who bring expertise, partnership, cross-disciplinarity, leading-edge technology and creativity to drive powerful impact for a changing world.
"The launch of Generator at Sheridan is an important milestone for the college. I'm so pleased this new sub-brand will allow us to bring greater attention to our work, purpose, and people," said Andrea England, Vice Provost, Research. "Generator is also intended to further collaboration with our vital industry and community partners, working across sectors and disciplines to spark ideas and advance solutions to the issues that matter. "
Two recent accomplishments demonstrate Generator's reach and impact. Sheridan recently
ranked first for research partnerships in the Research Infosource Inc.'s annual summary
, Canada's Top 50 Research Colleges for the second year in a row, and also ranked first in industry research income, moving up from fifth place in 2021. Further evidence of the range and quality of Sheridan's work
can be found in the 2021/22 Research, Innovation and Entrepreneurship: Annual Highlights Report
which features snapshots of projects undertaken over the last fiscal year.
---
Are you part of an industry or community organization looking to innovate? The Generator Support Office can help facilitate your connection to Sheridan's researchers, innovators, entrepreneurs and changemakers. Visit
sheridancollege.ca/Generat
or
to learn more about where research, innovation and entrepreneurship happen.