Sheridan ranks #1 in research partnerships and industry research income in annual college rankings
For the second year in a row, Sheridan has ranked first for research partnerships in the
2022 edition of Research Infosource Inc.'s annual summary, Canada's Top 50 Research Colleges
. Sheridan has also ranked first in industry research income, moving up from fifth place in 2021. The college's overall national ranking has risen five spots, placing it in the top 10 at number six. Rankings reflect research activity from the 2020-2021 fiscal year.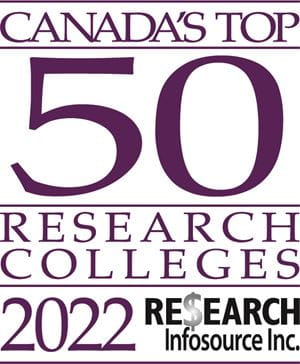 "I'm thrilled to see Sheridan's position in Canada's Top 50 Research Colleges ranking continue its upward trajectory of the last few years, further securing our role as leaders in research, innovation and entrepreneurship. Our industry and community partners continue to look to our impressive expertise at Sheridan to create, shape and apply new ideas and solutions in an ever-changing world," says Dr. Janet Morrison, President and Vice Chancellor at Sheridan.
In the category of number of student researchers, the college remained in the number two spot and stood at number four for completed research projects.
"It's wonderful to see the tremendous work of our research community reflected and recognized in this year's ranking. Our efforts to expand partnership reach in different sectors has propelled us in several categories, most notably in our top ranking in research partnerships and industry research income. Research, innovation and entrepreneurship excellence continues to thrive at Sheridan, driving positive change and making a lasting impact for the communities we serve," says Dr. Vicki Mowat, Director, Research.

Research project highlights from 2022
Clinic of the Future
Sheridan's Centre for Mobile Innovation (CMI) partnered with health technology industry partner Cloud DX on the Clinic of the Future – a virtual care approach in the delivery of patient care. CMI's research on the Clinic of the Future concentrates on enhancing the remote patient monitoring functionality software offered by Cloud DX's VITALITI wearable device for use by health care providers with patients. By offering a more virtual and accessible way of diagnosing, treating and pre-empting health concerns, the Clinic of the Future can help improve the experience and delivery of care between clinician and patient.
Creative arts and aging
In collaboration with Baycrest Health Sciences and Sheridan Professor Elaine Brodie in the Faculty of Animation, Arts & Design, Dr. Kate Dupuis, Schlegel Innovation Leader with the Centre of Elder Research worked with older adult participants who reported memory loss. Participants learned specific strategies to help support their memory function as they age, including the use of multimedia art techniques to represent memory and memory loss visually. Participants created memory boxes that included key terms and strategies learned through the program. They reported feeling more self-confidence and wanted to continue pursuing art, self-expression, and creativity, even once the program ended.
Community impact
Sheridan researcher Dr. Ferzana Chaze and her colleagues in the Faculty of Applied Health and Community Studies created a Hindi-language toolkit to help support those in the South Asian community living with dementia and their families. Interacting With Persons With Dementia In South Asian Communities uses language and situations that are culturally relevant to demonstrate suggested ways to support and assist people living with dementia.

Visit research.sheridancollege.ca to learn more about research, innovation and entrepreneurship at Sheridan.