Premier, Ministers visit Sheridan to join youth experiencing skilled trades
Local youth participating in this week's Skills Ontario Summer Camp at Sheridan were able to show some of their newest creations to Ontario Premier Doug Ford and two provincial Ministers Thursday at the Magna Skilled Trades Centre in Brampton.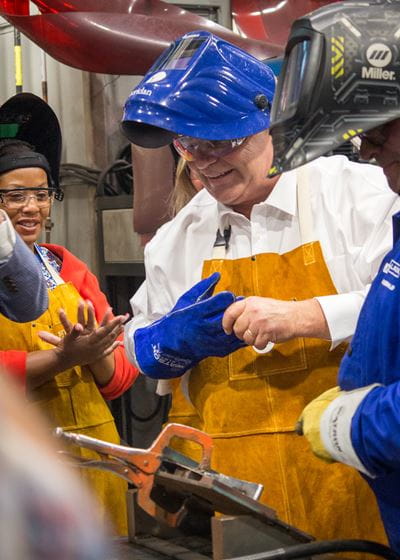 Premier Ford, Minister of Colleges and Universities Jill Dunlop and Associate Minister of Women's Social Economic Opportunities Charmaine Williams visited the facility to join students in Grades 7-9 who were performing MIG (Metal Inert Gas) welding in Sheridan's welding shop. Campers displayed book ends and toolboxes they welded as well as other construction, plumbing, electrical and machining projects they've worked on during the camp, which uses fun and interactive activities to build skills and teach youth about the rewarding and fulfilling opportunities in the skilled trades and technologies.

"Sheridan was honoured to welcome Premier Ford, Minister Dunlop and Minister Williams to our Magna Skilled Trades Centre and to showcase this terrific collaboration with Skills Ontario," said Gregory Royal, Acting Associate Dean of Sheridan's Magna School for the Skilled Trades. "By introducing local youth to some of the many exciting career paths available in the trades, we are planting seeds for the next generation of skilled trades professionals."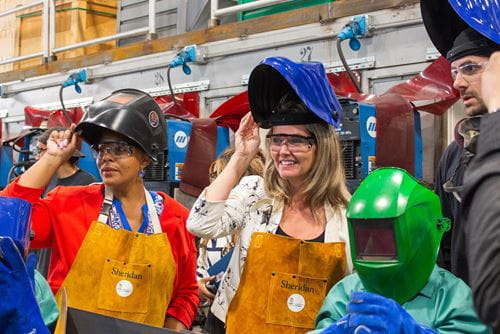 "It is crucial for youth to not only explore opportunities in the skilled trades and technologies, but also to build their skills for the workforce and consider what career path is right for them," added Ian Howcroft, CEO of Skills Ontario. "The skilled trades and technologies offer incredible pathways, and it is Skills Ontario's mission to highlight that to youth and to help support Ontario's future leaders' career exploration journeys."
Sponsored by Sheridan College, the Government of Ontario and Magna, the Summer Camp program runs over the months of July and August, providing students with the chance to participate in skilled trade and technology workshops and tours. Skills Ontario also hosts camps for French-speaking youth and Indigenous youth. In conjunction with in-person camps, Skills Ontario is offering virtual workshops this summer as well.
Built in 2017, the Magna Skilled Trades Centre is a three-storey, 130,000-square-foot facility at Sheridan's Davis Campus that is home to Sheridan's skilled trades and apprenticeship programs. This fall, the Magna Skilled Trades Centre will host the Industrial Mechanics event of the 2022 WorldSkills Competition Special Edition, welcoming between 60 to 70 country/region representatives on behalf of Canada's WorldSkills member, Skills/Competencies Canada. WorldSkills is the largest and most influential skills competition in the world, and a WorldSkills event has been contested in Canada only twice before — Montreal in 1999 and Calgary in 2009.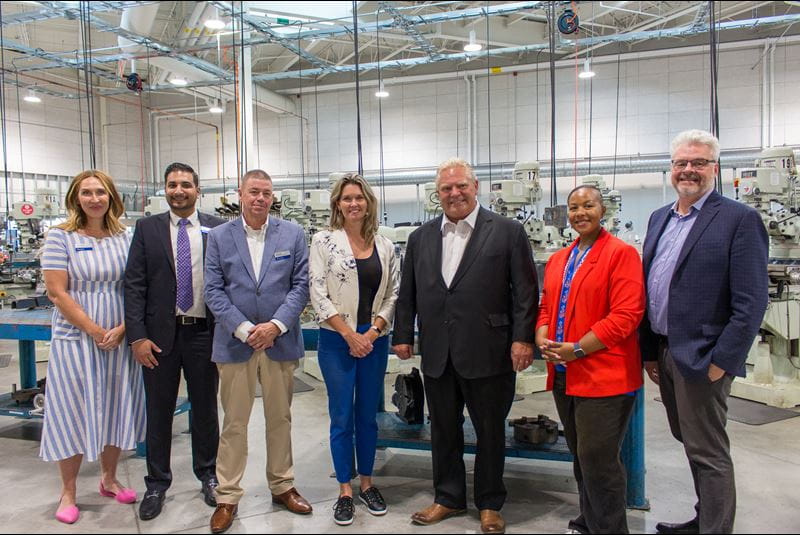 — In first photo, Ontario Premier Doug Ford tries his hand at welding during a Skills Ontario Summer Camp in Sheridan's welding lab. In second photo, Associate Minister of Women's Social Economic Opportunities Charmaine Williams (left) and Minister Dunlop lift up their welding masks during a demonstration. In third photo (left to right), Lindsay Engel, Dean of FAST; Rajan Sandhu, Vice President, Strategic Alignment & General Counsel, Office of the President; Gregory Royal, Acting Associate Dean, Magna School for the Skilled Trades; Jill Dunlop, Minister of Colleges and Universities; Ontario Premier Doug Ford; Charmaine Williams, Associate Minister of Women's Social and Economic Opportunity; and Ian Howcroft, Chief Executive Officer, Skills Ontario gather for a picture. Photos by Marianne Sy-Lucero, Sheridan Social Media Specialist