Sheridan Continuing and Professional Studies Executive Director joins College of Nurses of Ontario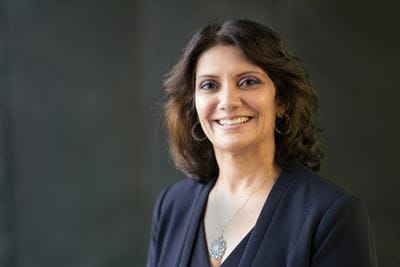 Nazlin Hirji, Executive Director of Sheridan's Continuing and Professional Studies, will contribute to nursing regulatory processes that protect patients across the province by joining the College of Nurses of Ontario (CNO) as a member of both the Discipline and Fitness to Practise Committees.
The CNO is the governing body for registered nurses (RNs), registered practical nurses (RPNs) and nurse practitioners (NPs) in Ontario. It sets the requirements for entry-to-practice for the profession of nursing, articulates practice standards for its members, and approves academic nursing programs within the province. The nursing profession has been self-regulating in Ontario since 1963, a privilege granted to professions that demonstrate they can put the interests of the public ahead of their own professional interests.

Within the CNO, the Fitness to Practise Committee determines whether a nurse is incapacitated, and if so, what action may be necessary to protect the public, while the Discipline Committee hears cases relating to the serious nature of an alleged professional misconduct and/or incompetence. While a discipline hearing is a formal legal process, the committee panel listens to evidence about a nurse's practice and/or conduct and renders a decision on whether to dismiss the allegations or find that the nurse has committed professional misconduct or is incompetent.

"I feel honoured to have been selected for this opportunity to influence nursing regulation and protect Ontarians," says Hirji. "I fully expect this close connection with the CNO will provide valuable insights and relationships for our learning community at Sheridan, where we are proud to offer competitive and innovative nursing and healthcare programming."

Hirji has an extensive academic and practical knowledge background. Prior to joining Sheridan, she was a nursing professor turned Director of Continuing Education in the School of Health Sciences at Humber College. Prior to her academic career, she was a front-line nurse and infection control practitioner, patient care manager and nursing director. Hirji holds various leadership awards including the Award of Excellence in Nursing Administration from the Sigma Theta Tau International, Lamda-Pi-At-Large Chapter at the University of Toronto.

Nursing at Sheridan
Graduates of Sheridan's four-semester, CNO-approved Practical Nursing diploma program go on to make meaningful impacts in our communities. Students receive real-world, hands-on experience through clinical placements and have access to cutting-edge VR technology that simulates real-world scenarios. Upon program completion, graduates are eligible to apply to take the new Regulatory Exam-Practical Nurse (REx-PN). Sheridan is also proud to offer the RPN Safe Practice Completion micro-credential program through Continuing and Professional Studies, as well as an accelerated Personal Support Worker program that can be bridged for entry into Sheridan's PSW to Practical Nursing pathway.

See how Sheridan grads are making a difference! Read interviews with four courageous nursing alumni as they share their nursing experiences during the COVID-19 pandemic.