Sheridan underscores commitment to Indigenous education with permanent flag installation
On November 23, Sheridan College reaffirmed its commitment to advancing Indigenous education and truth and reconciliation by permanently installing the Mississaugas of the Credit First Nation flags at its Oakville and Brampton campuses.

(Chief) Gimaa R. Stacey Laforme of the Mississaugas of the Credit First Nation (MCFN) was in attendance for the ceremony at the Davis Campus in Brampton, Ont. as the Nation's flag was raised. The flag was also raised at Sheridan's Trafalgar Campus in Oakville. The flag raising comes on the heels of Treaties Recognition Week in Ontario, in which Sheridan hosted a community treaty conversation with Darin Wybenga, Traditional Knowledge and Land Use Coordinator of MCFN.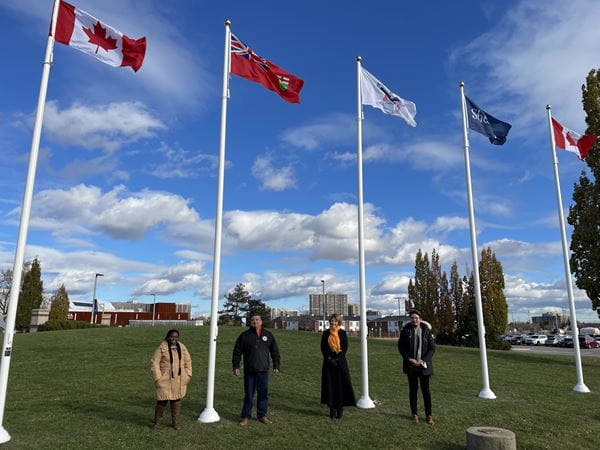 "It is important to reflect and honour the treaties as they continue to have relevance and impact on our constitutional obligations as a society, and as a country," says Elijah Williams, Director of Indigenous Engagement. "This flag raising is a visible demonstration of our dedication to continue making deliberate, thoughtful actions to advance Indigenous education in our community."
Williams oversees Sheridan's Centre for Indigenous Learning and Support, which is an inclusive space that provides resources, ongoing support, and community-building opportunities to help Indigenous students thrive academically and personally at Sheridan. The Centre regularly performs community outreach through special events such as talking circles, guest speakers and webinars while raising awareness about Indigenous history and ways of knowing.
The Centre contributes to Sheridan's goal of building more inclusive practices within its culture of research and scholarship. In collaboration with the Library and Learning Services team, the Centre helped develop the first
Indigenous Research Guide
for the Sheridan community in 2016 and collaborated with Sheridan Research to develop the
Research Guidelines with Indigenous People
in the fall of 2020.
"As an institution of higher learning, Sheridan recognizes and embraces the critical role that education must play in acknowledging truth and facilitating real, transformational change," says Sheridan President and Vice Chancellor Dr. Janet Morrison. "This important journey we've embarked on will take many years, but I am confident in our role as educators to nurture a future in which Indigenous values, knowledge and language are treasured and celebrated."
Recent action
Sheridan recently observed the National Day for Truth and Reconciliation with a virtual ceremony on September 30. As part of its community education mandate, the Centre offers a six-week workshop series for students and employees titled Looking Forward, Looking Back: Indigenous Learning Series. The goal of the series is to provide the Sheridan community with the foundational knowledge needed to have a greater understanding of truth and reconciliation and how we may answer the calls to action both individually and collectively.