Sheridan Ceremony Observes National Day for Truth and Reconciliation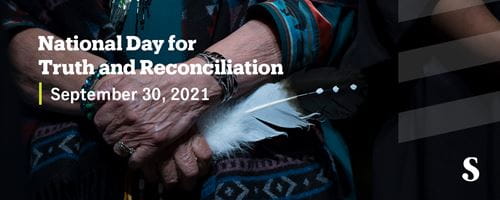 Sheridan will hold a
virtual ceremony
Thursday in observance of Canada's first National Day for Truth and Reconciliation, honouring survivors, families and communities affected by residential schools and the continued trauma faced by Indigenous communities throughout the country.
Sheridan Director of Indigenous Engagement Elijah M. Williams will host the virtual event, which is free to attend and will take place from 1 p.m. – 2:15 p.m. EST. The observance will be highlighted by a keynote address by Mohawk Olympian, activist and Indigenous health and reconciliation speaker Waneek Horn-Miller, followed by a discussion between Horn-Miller, Williams and Sheridan President and Vice-Chancellor Dr. Janet Morrison about education's role in advancing truth and reconciliation.
"This day is an important opportunity for each of us to learn more about Canada's colonial past, the impact that historical policy decisions have had on generations of Indigenous families, and the relationship between Indigenous and non-Indigenous people in this country," says Williams. "An understanding of the truth must come before reconciliation, and it is a shared responsibility — not one for Indigenous people to bear alone."
"As an institution of higher learning, Sheridan recognizes and embraces the critical role it must play in facilitating real, transformational change," adds Dr. Morrison. "This is especially true in the context of truth and reconciliation, given the painful role that educational institutions have played in Canada's colonial history."
Waneek Horn-Miller became a national symbol of Indigenous struggle at the age of 14, when she was stabbed in the chest by a Canadian solider while protesting a condo development on traditional Mohawk lands during the 1990 Oka crisis. The near-death experience was a turning point in her life as Horn-Miller went on to become the first Mohawk woman from Canada to compete in the Olympics. She now travels across the country to speak on issues of reconciliation, Indigenous health, and repairing relationships between Indigenous and non-Indigenous peoples.
Elijah M. Williams is a member of the Turtle Clan of the Cayuga Nation and an educator from Six Nations of the Grand River Reserve #40. In addition to overseeing operations of Sheridan's Centre for Indigenous Learning and Support, Williams is Chair of the Board of Directors at Grand River Employment and Training (GREAT) and a member of the Peel Regional Police Chief's Council and Peel Regional Police Anti-Racism and Human Rights Committee.
Although classes and business operations will proceed as regularly scheduled, Sheridan encourages all employees and students to take time to reflect on the role they play in reconciliation, learn more about Indigenous communities and better understand our shared history. Sheridan will also be sharing additional educational resources about truth and reconciliation for those who may not be able to attend the ceremony, and
published an interview with Elijah Williams this week that explores how postsecondary institutions can support Indigenous learners.
The ceremony will also include messages from Oakville MP The Honourable Anita Anand, Canada's Minister of Public Services and Procurement, and Oakville-North Burlington MP Pam Damoff, Canada's Parliamentary Secretary to the Minister of Indigenous Services, as well as remarks from His Worship, Rob Burton, Mayor of the Town of Oakville.
For more information about Thursday's observance or to register,
please visit Sheridan's National Day for Truth and Reconciliation event page on Hopin.