Ted Gervan returns to Sheridan as Dean of Animation, Arts and Design
Sheridan is pleased to welcome alumnus, Ted Gervan, back to Animation, Arts and Design as the Faculty's Dean. Gervan will begin his tenure in July.
After a degree in fine arts and then a stint in the film industry as a sculptor and concept artist, Gervan studied as a post-graduate student in computer animation and worked as researcher in the emerging field of computer-generated film at Sheridan. He went on to work in Toronto, Vancouver, and Australia as a visual effects artist and lead designer on several film and television projects.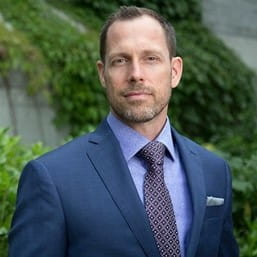 Gervan began teaching and eventually became Associate Dean at The Art Institute of Vancouver (now LaSalle College) in Vancouver where he played a key role in building capacity by developing degrees in game development, interior, graphic, and interactive design. As the VP Education at the Vancouver Film School, Gervan worked with external partners to build unique on-campus industry-educational partnerships, including Beyond Capture, a cooperation that propelled student learning, industry training, applied research, and paid work opportunities for learners in the emerging field of motion and performance capture.
Since 2018 Gervan has been the Dean of Fine and Applied Arts at Capilano University where he championed equity, diversity and inclusivity along with the development of CapU's Indigenous Digital Accelerator, which is focused on supporting Indigenous digital business to scale-up and the resulting community-based benefits.
Gervan completed a doctorate in educational leadership in 2013 and his research on the student's sense of belonging was published in the Canadian Journal of Higher Education.
"Ted is forward-thinking about emerging technologies, rich interdisciplinary exploration and the relationships with industry partners that deliver extraordinary learning" said Carol Altilia, Sheridan's Provost and VP Academic. "He believes in the unique role of the arts in advancing equity, diversity and inclusion and perhaps most importantly, he is passionate about fueling Sheridan's leadership in this work."
"The pandemic has been challenging for everyone including students as they encounter and overcome various obstacles and opportunities in life and work. I look forward to working with my new colleagues to ensure that Sheridan's students are equipped to make the most of these transitions, to be difference makers, storytellers, and social innovators who are prepared for evolving local and global workplace and community contexts," said Gervan. "Sheridan is a key part of Toronto's premier global creative arts community and it is uniquely positioned to shape the growth and trajectory of applied arts Canada. In this work, Sheridan can play a vital role in truth and reconciliation, creative trade, cultural and intellectual exchange, and community and economic capacity building."
Pictured above right: Ted Gervan, Sheridan's incoming Dean of FAAD.