Sheridan-incubated musical Grow marks world premiere of music video featuring alumni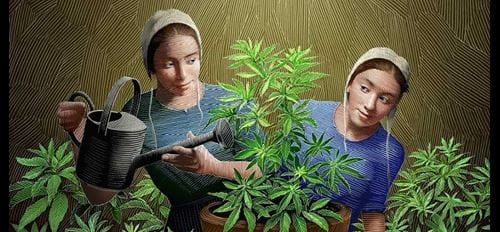 The creative team behind the highly anticipated new musical Grow, first developed through Sheridan's Canadian Music Theatre Project (CMTP) in 2016, is debuting a music video on Dec. 17 for its title track. Grow features music by Colleen Dauncey, lyrics by Akiva Romer-Segal and book by Matt Murray, and has been developed in association with lead producer and CMTP producing artistic director Michael Rubinoff. The premiering video features the vocal performances of numerous Sheridan music theatre alumni.
Lauded by Now Magazine and the Toronto Star for its humorous fish-out-of-water story, Grow is about nineteen-year-old twins Hannah and Ruth who leave the comfort of their Amish community to explore the modern world for the first time. After finding themselves stranded in one of Toronto's roughest neighbourhood, all their plans go up in smoke and they end up working at an illegal cannabis grow-op. Murray describes it as an 'outrageously fun, big-hearted musical that reminds us what truly matters in life – family, community and hope."
Since its time at Sheridan, Grow was presented under its former name Rumspringa Break at Toronto's Next Stage Music Festival and was one of three musicals showcased as part of the prestigious Goodspeed Festival of New Musicals in Connecticut. This past spring, the team had to postpone its London, Ontario staging at the Grand Theatre due to the COVID-19 pandemic.
With theatres shuttered around the world, creative teams and performers are turning to new mediums to connect with fans and share their work. "We really felt that in this time of great uncertainty, the message of this particular song - that the seeds we plant now and the care we provide them will one day grow in beautiful and surprising ways - was an opportunity to deliver some hope and light to those who may need it," noted Romer-Segal. "The community response was overwhelming, and this video will showcase 70 incredible singers and musicians from all over the world."
CMTP has also incubated another of Murray's new musicals My Bonnie Lass and Dauncey and Romer-Segal's The Louder We Get. The music theatre incubator, which marks its 10th anniversary next year, pairs visiting creative teams with fourth-year Sheridan Honours Bachelor of Music Theatre students to help develop and stage their productions. In 2012 and 2013, CMTP launched Come From Away's creative journey.
"I'm tremendously proud to be involved in Grow with its deep Sheridan connections," says Rubinoff. "With many opportunities put on hold this year, it's exciting to see members of our community come together in new ways to showcase artists and benefit music theatre fans alike."