Sheridan and Coke Canada Bottling Collaborate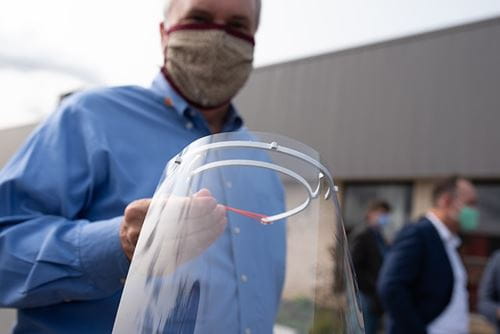 After identifying an increased need for personal protective equipment for food bank volunteers across the country, Coke Canada Bottling has collaborated with Sheridan College's Centre for Advanced Manufacturing and Design Technologies (CAMDT) to design, develop, and manufacture 500 face shields to be distributed to food banks across the country. The shields provide an added layer of protection for volunteers who work tirelessly in support of Canadians in need.
With a long-standing presence in the Brampton, ON community Sheridan and Coke Canada Bottling are similarly committed to actioning efforts that positively impact the local communities in which they operate. This recent collaboration, which also involves Food Banks Canada - the national charitable organization representing the food bank network - was a natural fit.
Using state-of-the-art equipment at CAMDT and the expertise of its team, the face shields were fabricated using 10,000 lbs of recyclable polyester polyethylene terephthalate donated by Coke Canada Bottling partner Amcor Flexibles. Coke Canada Bottling covered the manufacturing costs and distribution of the face shields to local food banks, with the help of Food Banks Canada, while designs for the shields were created by CAMDT staff.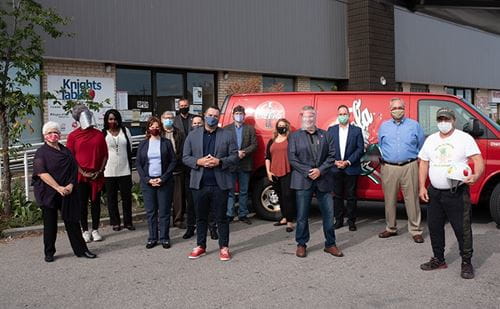 "The pandemic has reaffirmed the necessity of innovation to address bottlenecks in the supply chain," said Dr. Michelle Chrétien, Director of CAMDT. "We're well-positioned at the Centre to be nimble and responsive in addressing industry needs. Our team is proud to collaborate with Coke Bottling and Food Banks Canada to support dedicated volunteers.
Earlier this week, the collaboration was officially celebrated in the community with an announcement at Knights Table in Brampton and the delivery of 100 face shields. On hand for the occasion was Dr. Chrétien, Todd Parsons, President and CEO of Coke Canada Bottling, Chris Hatch, CEO of Food Banks Canada, Robert Tremblay, Knights Table President, Brampton Councillors Jeff Bowman and Martin Medeiros, and other delegates.
"We're an independent, family-owned business and since the beginning of the pandemic, our teams have gone above and beyond to lend their support to local organizations in the communities in which we operate while still remaining focused on safety," said Todd Parsons, President and CEO of Coke Canada Bottling. "After speaking with our valued partners at Amcor Flexibles, we determined our access to PET put us in a unique position to be able to help some of our community organizations who continue to face safety challenges due to COVID-19. As Brampton's local bottler, we were thrilled to be able to develop this project by tapping into the expertise of Sheridan, another local Brampton organization.
CAMDT has been active throughout the pandemic producing various types of protective equipment for donation to local long-term care homes and hospitals as part of the #SheridanHelps Initiative. To date, the team has fabricated 2,400 face shields, 1,000 ear savers for use with medical masks, as well as 200 protective countertop shields for small businesses across Ontario in partnership with Coca-Cola Canada.
Distribution of the face shields to other food banks in five locations across the country, will get underway in the coming weeks.

---
Pictured top right: One of the Sheridan-made protective face shields donated to Food Banks Canada locations in collaboration with Coke Bottling Canada.
Pictured above left: Delegates at Knights Table in Brampton, Ontario for the official launch of the Sheridan College and Coke Bottling Canada partnership.