Sheridan and Coca-Cola partner on fabrication of protective cashier shields for Ontario small businesses
Sheridan College's Centre for Advanced Manufacturing and Design Technologies (CAMDT) and Coca-Cola are marking the launch of a partnership that addresses the needs of small, independently owned businesses looking to improve the consumer confidence in their operations during the COVID-19 pandemic. Using state-of-the-art equipment at CAMDT, a Sheridan team has rapidly fabricated protective countertop shields for distribution to businesses in need across Ontario.
Sheridan, Coca-Cola and Brampton-based Coke Canada Bottling, which produces, distributes, merchandizes, and sells Coca-Cola products across the country, are all active contributors to their local communities. The small business initiative, which includes $75,000 from Coca-Cola to fund the materials for more than 200 countertop shields, has resulted in an expedient implementation of an innovative solution.
"Our dedicated team responds to industry problems in a creative and agile way, putting Sheridan in a position to contribute meaningfully to our communities," says CAMDT's Director Dr. Michelle Chrétien. "Addressing bottlenecks in the supply chain is one way CAMDT's expertise and equipment provides real, timely and tangible solutions."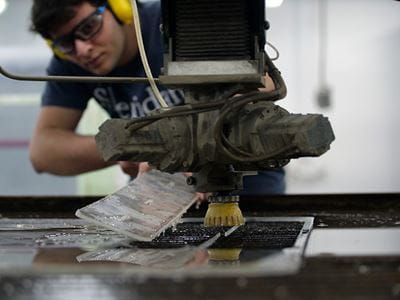 With manufacturing equipment like industrial 3D printers, a robotics lab and other advanced technologies, CAMDT is a hub for advanced manufacturing innovation. Under Dr. Chrétien's leadership, the Centre facilitates additive manufacturing, simulation and modelling, digital fabrication, automation, and design partnerships with small- and medium-sized businesses. Student researchers, faculty mentors and CAMDT staff work closely alongside industry partners to tackle their real-world problems and provide novel solutions.
To create the protective shields for the Coca-Cola partnership, CAMDT's on-site team consisting of Dr. John Phillips, Design Engineer, Ramzy Ganady, Research Technologist and a recent Sheridan graduate, Sal Jiddawi, CAMDT's Manager, and Raymond Sun Kit, a student in Sheridan's Mechanical Engineering Technology program, designed a shield made of thin sheets of polyester (PETG) and extruded aluminum for the frame. The material was selected as a substitute for plexiglass, which has become difficult to procure since the start of the pandemic.
"We are proud to partner with Sheridan College to provide protective countertop shields to small businesses. Our hope is that these barriers will help bring people together and provide for a more comfortable shopping experience ," says Ron Soreanu, Vice President, Public Affairs and Communications at Coca-Cola Ltd. "Sheridan College's expertise in design and manufacturing has been instrumental in bringing this project to life, and together we hope to inspire others to help their local communities recover quickly."
Furthering the reach of Sheridan and Coca-Cola's partnership, the CAMDT team has made its designs openly available online. "We're hoping that by sharing our designs we can continue to support small businesses and other organizations who are seeking access to these shields," says Dr. Chrétien.
To connect with Dr. Michelle Chrétien about Sheridan's Centre for Advanced Manufacturing and Design Technologies' equipment and expertise, please email camdt@sheridancollege.ca.
Read about CAMDT's other pandemic response initiative to fabricate personal protective equipment for frontline healthcare workers.
About Coca-Cola in Canada:
In Canada, Coca-Cola is represented by Coca-Cola Ltd. and Coke Canada Bottling, which produces, distributes, merchandises and sells Coca-Cola products across the country. Together, the two companies operate in all ten provinces and employ nearly 6,000 people in more than 50 facilities, including six production facilities. Coca-Cola offers a wide variety of beverage brands, many of which come in no-calorie and low-calorie options. These beverages include sparkling soft drinks, still and sparkling waters, juices, and fruit beverages, ultra-filtered dairy products, sports drinks, energy drinks, and ready-to-drink iced teas and coffees. The company is proud to offer some of the most popular brands in Canada including Coca-Cola®, Diet Coke®, Coca-Cola® Zero Sugar, Sprite®, Fanta®, NESTEA®, Gold Peak™, POWERADE®, Minute Maid®, Simply®, DASANI®, fairlife®, smartwater®, and vitaminwater®. For more information about Coca-Cola in Canada, please visit www.coca-cola.ca and www.cokecanada.com.
---
Pictured top right and bottom left: Ramzy Ganady, Research Technologist at the Centre for Advanced Manufacturing and Design Technologies, working on site at Sheridan College on fabricating protective countertop shields. Photos provided by Coca-Cola.