COVID-19 Precautions an Integral Component of Sheridan's Campus Experience this Fall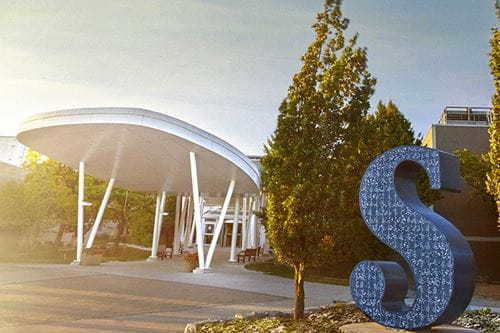 Mandatory COVID-19 training, provision of reusable masks, physically-distanced classrooms and labs, daily self-assessment requirements and intensified cleaning protocols are among the measures Sheridan has put in place as it prepares to welcome nearly 30 per cent of its overall student body to campus for in-person learning this fall.
Given that 70 per cent of students will study remotely, the college has transitioned the majority of student support services to a virtual format and built programs, including Learn Well and Sheridan Start, that will help with the adjustment to remote learning. To better support students whose programs include some on-campus activity, Sheridan has restored in-person services such as health centres, bookstores, food services and print shops, and implemented stringent health and safety protocols in residence.
"From the onset, our pandemic response and recovery actions hav e prioritized protecting people's health and wellbeing while maintaining our high standards of academic quality," says Sheridan President and Vice-Chancellor Dr. Janet Morrison. "The framework we've created for the safe re-opening of our campuses aligns with the Ontario Roadmap for re-opening the province and with the guidelines we've received from the Ministry of Colleges and Universities and public health authorities. Consistent with what you'd expect from a community vested in higher education, we're listening to the experts and relying on the science."
Sheridan and all other publicly-funded post-secondary institutions in Canada suspended in-person classes in March in order to safeguard people's well-being during the pandemic. Within 10 days, Sheridan transitioned more than 3,000 courses to a remote learning format to allow for the completion of the winter semester.
This summer, more than 550 students from Sheridan's School of Applied Chemical and Environmental Sciences, School of Mechanical and Electrical Engineering Technology, and Practical Nursing program returned to Davis Campus to attend classes or perform work in labs. Zero confirmed new cases of COVID-19 were reported. Sheridan implemented a number of safety protocols before students set foot on campus. All students and employees were required to produce a negative COVID-19 test result prior to participation in the nursing program. Physical distancing measures were put in place, reinforced with campus signage and floor decals to help maintain distance. Masks/face coverings for all participating students and employees were also made mandatory.
In-person learning this fall has been reserved for programs in which learning outcomes or evaluations cannot be completed virtually. Notable measures that will protect Sheridan students and employees returning to campus this fall include:
• Mandatory COVID-19 training to ensure all students, faculty, staff and employees who are required to come to campus during the fall semester are aware of relevant health and safety protocols.
• Daily completion of a self-assessment that checks for COVID-19 symptoms, exposure to COVID-19 and travel history. The self-assessment can be done on the Sheridan Alert! App or via in-person screening by campus security and must be completed in order to be permitted on campus.
• Requirement of all people coming onto campus to wear a mask or face covering at all times, except when eating or drinking (while appropriately physically distanced.) All students in programs that require on-campus activity will receive a care kit that includes two reusable masks, and all employees will receive one reusable mask.
• Enforcement of physical distancing in classrooms, studios, labs, hallways and other common spaces. Wayfinding signage has been installed to provide information, direct foot traffic and indicate line-up spots.
• Compliance with Ontario Public Health's guidelines on cleaning and disinfecting public settings during COVID-19. Facilities Services will clean and disinfect frequently-touched areas in common spaces at least twice daily and engage in enhanced cleaning and disinfecting of all Sheridan spaces once daily.
• Creation of single-occupancy options, prolonged designated move-in periods and the provision of a Personal Protection Equipment (PPE) care kit for students living in residence. Cleaning protocols have been intensified in all public areas, common kitchens must be signed out and five per cent of rooms have been reserved for quarantine areas in the event of an outbreak.
"Everyone at Sheridan is committed to providing the same high-quality programming this fall that we've always been known for," adds Dr. Morrison. "Our professors are the best in the business. Our staff are student-centric and caring. We will continue to act with integrity, focus on quality and be accountable. Education continues to be a difference-maker. Done right, it's transformational for students, their families and our communities. I believe with all my being that post-secondary education is always a wise investment, even in the midst of a global pandemic."
Sheridan's Return to Campus page is the primary resource for information regarding Sheridan's response to the COVID-19 pandemic and procedures for the return to campus. More information can also be found on Sheridan's extensive COVID-19 FAQ page. For further details about new residence policies, protocols and restrictions, visit Sheridan's Residence COVID-19 Update page.