The power of story and the ampersand: Creative Writing & Publishing students share their inspirations and successes
In an increasingly digital world dominated by quick-hitting news, social media scrolls and click-bait content, Brianna Wodabek still marvels at the persistent powers of storytelling.
"When you pick up a book, you can make everything still around you. You can be present while simultaneously losing yourself, distancing yourself from the world while still being present within yourself," says the Sheridan Honours Bachelor of Creative Writing & Publishing degree student. "And I just find that amazing."
Wodabek's classmates share similar passion for the ancient art. "Stories make me feel like I can connect to something. When you read a story, it's like inviting someone else into your mind," says Taylor Zantingh. Adds Miranda Winters-Sayle: "Stories remain incredibly important because they are a way to educate people. When you aren't exposed to other peoples' cultures and perspectives, it breeds ignorance in society."
Below, we dive deeper into what inspired four of our students to pursue writing as a career — and how Canada's only degree program to fuse the disciplines of Creative Writing and Publishing is helping them realize their dreams.
---
Taylor Zantingh
Whether it's her writing, her lifestyle or her career aspirations, Zantingh isn't interested in conforming to other people's expectations.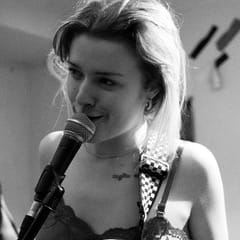 "I've always been a big fan of breaking rules, because when you're pushing your own boundaries and limits, that's how you grow and learn and teach yourself," says Zantingh, who lives in a self-converted 1992 Chevrolet G20 campervan — equipped with solar panels to be fully off-grid capable — and is currently the front-woman and guitarist for Toronto-based punk band Doctors Hate Her.
Poetry's creative freedoms provide the ideal genre for Zantingh, who cites Chinese-American poet Chen Chen as someone who changed the way she looked at writing. "He showed me how to break rules in a way that was intentional, not simply to rebel or be cool," she says.
"When you're pushing your own boundaries and limits, that's how you grow and learn and teach yourself."

– Taylor Zantingh
Yet, Zantingh says it wasn't until she received some guidance and structure that she really began to blossom as a writer. During her time at Sheridan, she worked on the inaugural release of Savant Garde literary magazine, which celebrates diverse, innovative and original creative stories; was a research assistant in Sheridan's efforts to expand and enhance accessibility of the Toronto Fringe Festival's Theatre Entrepreneurs' Networking and Training (TENT) program; and had one of her poems published in the Minola Review, a showcase for strong and honest female voices.
Zantingh's literary interests have also expanded beyond poetry after being exposed to short stories in Professor Thea Lim's fiction workshop and having the opportunity to edit the work of her peers. "Before I came to Sheridan, I wasn't really equipped to take the things I knew were good in other people's writing and apply them to my own. The Reading Like A Writer class was a clicking moment that taught me how I should be consuming writing," Zantingh adds. "Some of the most valuable lessons I've learned have come from editing the work of my peers. Getting to work on such diverse things, writing and genres that I wouldn't normally engage with, has been very illuminating."
---
Miranda Winters-Sayle
Writing has been a life-long source of enjoyment for Winters-Sayle. But studying it and pursuing it as a career? That was a different story.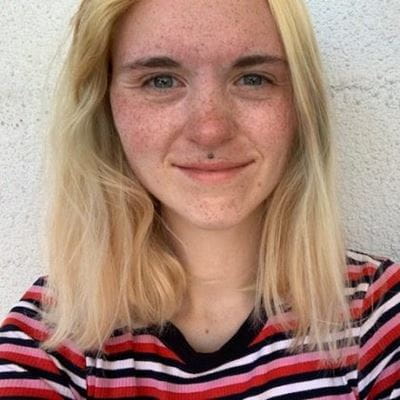 "I knew I liked English and I liked books, but I didn't want to study English literature because I don't really like all of the theory and lectures and stuff like that," recalls the Stephen King fanatic. "I'm one of those people who doesn't like their hobby becoming their career. I don't like writing for someone else's expectations, and I'm not good about writing under pressure."
After high school, Winters-Sayle pursued studies in other areas, first in Law and then in Police Foundations. Uninspired by both fields, she turned to Sheridan's Creative Writing & Publishing degree thinking it may lead to a career working with books. "I was considering going into a creative writing program because it felt like the only place that I would fit," she says. "But when I saw Sheridan's program that had the words "& Publishing" at the end, I thought, 'Okay, this gives me an out.'"
It ended up giving much more than that. Midway through her first semester, Winters-Sayle discovered editing was a way that allowed her to work in writing without having to write. The following semester, she helped co-found Savant Garde, and she also began building a network by volunteering with literary festivals such as The Word On The Street in Toronto. By her fourth year, she'd landed an internship as an editorial assistant for The Rights Factory, a Toronto-based literary agency where she helps aspiring authors prepare to pitch their work to publishers.
"You can't edit if you don't know how to write, and you can't write if you don't know how to edit."

– Miranda Winters-Sayle
You can't edit if you don't know how to write, and you can't write if you don't know how to edit," Winters-Sayle says of the value of learning creative writing and publishing in the same program. "If you're just publishing and not writing, you're not getting edited, and a big part of being an editor is providing feedback in a way that doesn't sound too critical. If you change too much, it's not the author's work anymore, it's yours. And on the writing side, if you can't learn to edit your own work, you'll never be able to present something that's at its best.
The latter is still something Winters-Sayle intends to do — on her own time. "If I write a book, it'll probably take me years and years," she says, "because it's going to be once a month when I feel like writing."
---
Brianna Wodabek
Writing with a purpose has been a passion of Wodabek's since she was a youngster.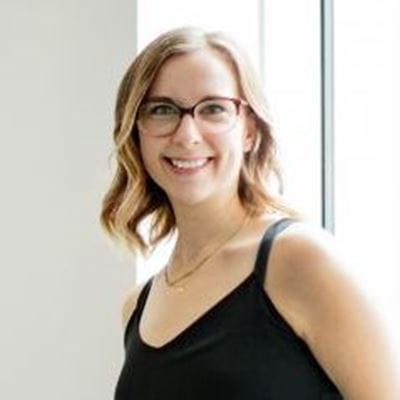 "I was probably nine or 10 when I read The Five People You Meet in Heaven, and it just shocked me," Wodabek says of Mitch Albom's best-selling novel about the afterlife. "I still remember the moment when I was reading the book and thinking 'Oh my goodness, this is what books can do. I feel different. I feel changed. I feel grown.'"
Albom's clever style of symbolism and hidden meanings has been an inspiration ever since. "I'm not saying everything I write has a moral or advice," notes Wodabek. "But I always want to leave readers with something, or to make them stop and pause and think. I also want to use storytelling as a voice for the people who may not have one, and I want to instill love, compassion and respect."
"I also want to use storytelling as a voice for the people who may not have one, and I want to instill love, compassion and respect."

– Brianna Wodabek
Wodabek did just that through a two-page spread she wrote for Pause. magazine, a post-secondary mental health publication created by Sheridan students in collaboration with two faculty members and 13 of the college's departments. "I have an invisible illness, and I decided to use writing to be an advocate for that, bring light to it and answer or approach some questions that people may not even realize they had," she says. Wodabek also assisted Sheridan professors Dr. Jessica Pulis and Dr. Alexander Hollenberg's research project Sacred Grounds as Sacred Healings: Federally and Provincially Sentenced Women's Experiences from The Sacred Grounds at Ellen House, which seeks to understand the lives and lived experiences of incarcerated women at Brampton's Ellen House in a way that is collaborative, authentic and works toward common goals such as reconciliation, rehabilitation and reciprocity. "That was the most beautiful experience, and it definitely changed me as a storyteller," Wodabek says.
That perspective has already helped her find work in publishing, a passion she never knew she had. Four months after securing an internship at an Oakville publishing firm as a first-year student, Wodabek was hired as an editorial assistant, then became a publishing co-ordinator. Three years later, she's now the publicity and marketing co-ordinator at Hamilton-based publisher Wolsak & Wynn.
"The ampersand in Sheridan's Creative Writing & Publishing degree is so important. I can't be an asset in the publishing industry if I don't understand the work, the love and the craft of creative writing," Wodabek says. "You cannot have one without the other. When creative writing and publishing studies are brought together, it makes for such a strong individual."
---
Sara Ibrahim
Ibrahim has a first-hand appreciation of how powerful an author's ability to relate to their audience can be.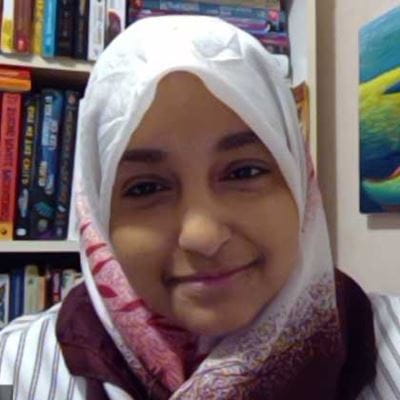 Ibrahim, who has a learning disability, still recalls the connection she felt to a character with dyslexia when she read Lin Oliver and Henry Winkler's book I Got a D in Salami in Grade 6. She found similar comfort a few years later when reading a book by N.K. Jemisin, an author who Ibrahim didn't know was Black.
"I remember reading a line in which she described the character's hair as kinky. I'd never heard anyone who wasn't Black describe hair as kinky, and I immediately felt connected to her as a reader," says Ibrahim, who is of Ethiopian and Arabic descent. "Ever since, whenever a new book of hers comes out, I buy it."
Jemisin, the first African-American writer to win a Hugo Award for Best Novel, did more that day than earn a fan for life. She also gave Ibrahim the confidence to pursue writing as a career, something Ibrahim hadn't previously considered a realistic possibility.
"A power of literature and storytelling is teaching you and helping you understand perspectives of people you aren't familiar with."

– Sara Ibrahim
"N.K. Jemisin definitely changed the world for me. Any ethnic writing I'd read before that was usually about horrific things that happened to people abroad, and that was a sad type of writing I didn't want to do," Ibrahim says. "I hadn't experienced that type of connection in the fantasy genre that I loved so much, and it made me love the genre even more."
Although Ibrahim is drawn most to fantasy because of its "ability to make you understand things that aren't understandable," she's also proven her proficiency as a writer in other genres. One of Ibrahim's class assignments received second place in this year's Write the Journey Creative Contest, which was part of the Town of Oakville's celebration of Black History Month. Another was published this summer by Filling Station, a magazine that promotes innovative and original Canadian poetry, fiction and literary journalism.
As much as she appreciates familiarity, Ibrahim believes it's also important for people to read about other cultures. "A power of literature and storytelling is teaching you and helping you understand perspectives of people you aren't familiar with," she notes. "It's not just about making people feel connected, it's also the ability to learn about people you may never meet in real life."
---
Read about one of the professors in Sheridan's Creative Writing & Publishing degree program.
---
Pictured at top of page: A collection of books in the Library and Learning Commons at Sheridan's Davis Campus. Photo by Paul Gledhill / Kaldor.
Taylor Zantingh photo by Cristina Nikolic.
Written by: Jon Kuiperij, Marketing Content/Copy Writer at Sheridan.