Passion for teaching that shines in the classroom – and on TikTok
If you're among the thousands of students who have enjoyed learning from Robert Tkach over the past 40-plus years, you owe a debt of gratitude to an old Hamilton steel mill.
Tkach, who graduated from the University of Toronto's applied science program in 1975 with sights on a career as a metallurgical engineer, didn't know he had a passion and knack for teaching until he was tasked with conducting health and safety classes on the production floor of now-defunct Slater Steel.
"They asked me to explain some basic chemistry and physics to about 40 of these really down-to-earth guys who did the tempering and forging of steel," recalls Tkach. "We'd sit and talk about why they were doing what they were doing, the science behind it, and the workers told me I was really good at explaining things in a way they could understand."
He's been doing that ever since.
After returning to U of T to earn his teaching degree, Tkach spent 33 years as a math and science instructor in the Peel District School Board, building countless bonds and friendships with his students - some of which persist to this day. Following a brief retirement, Tkach has worked for the last eight years as a part-time mathematics professor in Sheridan's School of Applied Computing, a position he continues to hold as his 70th birthday approaches.
"Bob is absolutely motivated by student success, no question," says his wife, Michelle. "When he sees someone get it, it's rewarding for him."
That dynamic is clearly reciprocal. When Tkach's daughter Veronika Homer recorded footage of him teaching his first day of remote classes in September and secretly shared it on video-sharing social network TikTok, she thought "a handful of people might see it." Within 10 minutes, the video had received 500 views. Twenty minutes later, the total views had eclipsed 1,000. By early November, the 15-second clip had generated more than 41,000 likes and 730 comments.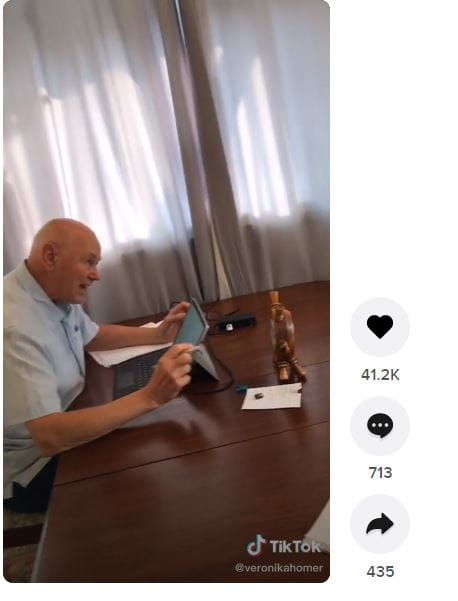 Highlights from those comments include:
"OMG this is my prof, literally my favourite prof already. Tell him I say hiii, can't wait for our next lecture!"
"oo my gosh, so nice to see my professor after long time"
"I'm in one of his classes and he was awesome"
"… I can't forget the memories of the lecture this guy gave us. One of the best prof I ever had for my math course."
"He is absolutely the best, this video just made my day!!! He taught me math last semester and I'm so glad to see him again."
"Man he really sounds like he's passionate about his job. Passionate teachers are the best professors in the world!!!"
"What's he teach? May have to enroll."
"This is the most convincing recruitment video for Sheridan College I've ever seen."
'Born to teach'
So how does a short video of a professor explaining how to convert decimals to binary numbers elicit such an emotional response, not only from those who know him but also from those who don't? (Apparently, Wyoming's Sheridan College even received an inquiry from a person who wanted to enroll in one of Tkach's classes.)
"For starters, he's a ham," Homer says of her dad. "He likes to be in front of an audience, to make people laugh, to engage them. He wants to be on stage. What he really wanted was to be Bob Dylan. At his happiest, he'd be playing his guitar and singing in front of a crowd."
There's more to it than that, Homer is quick to add. "He'll never make you feel stupid. He'll take something that's really complicated and convoluted, and he'll make it understandable. He also taught me to put my hand up when I don't understand something, because if I didn't understand something, it probably meant other people in the class didn't understand it either."
"He'll take something that's really complicated and convoluted, and he'll make it understandable." - Veronika Homer
School of Applied Computing co-ordinator Rich Smith, Tkach's long-time neighbour, recognized those qualities as well. In fact, it was Smith who coaxed Tkach out of retirement in 2012, suggesting Tkach attend a Sheridan faculty recruiting event and recommending him to the School's Associate Dean. "If you spend any time with him at all, you quickly realize that Bob was born to teach. He just has a passion for helping others and a sense of humour that keeps students engaged," says Smith.
The key, Tkach says, is building connections. "I take an interest in my students, so therefore they take an interest in what I teach," notes Tkach, who is known for concluding each class with a brief quiz to ensure students understood that day's subject matter. "When they figure something out and get excited, I get excited. Their buzz affects my buzz. It's a fun way to view the world. It's not about sitting there and learning about something; it's actually understanding it and being excited by it."
"I just want these kids to get a good experience," he adds. "They're putting their money down, and I want them to feel good about themselves in the same way they make me feel good about myself."
---
Written by: Jon Kuiperij, Marketing Copy/Content Writer at Sheridan. Photo provided by Veronika Homer.