Fifty years at the forefront of teaching art in motion
Some have called it the Harvard of Animation. Others refer to it as Disney North.
One thing is clear: Sheridan Animation has earned its place as a world-leading destination for animation education. How did a suburban Toronto school garner such widespread attention and acclaim? There's no better time than a fiftieth anniversary to stop and take stock.
Like the art form itself, the answer is complex.
Some say it's having faculty who, early in their careers, worked under the likes of George Lucas. Others point to the six alumni who've won Academy Awards, those who've directed and written feature length films like Turbo and the How to Train Your Dragon trilogy, or the alumni who were early pioneers of computer-generated creatures for Hollywood blockbusters like Jurassic Park and The Mask. Having student films that are created as class projects – sometimes not even in their final year – go on to win Annie Awards or international film festival competitions might not hurt either.
But teaching people to make magic doesn't happen by magic. It's a matter of constant reflection and renewal. It's about having the foresight to recognize opportunities and the courage to seize them, even when the rest of the world hasn't caught on yet. It requires the right talent – people who are industry professionals and artists. They infuse the program with their diversity of knowledge and expertise, and feed off their students' creative energy, inspiring both their students – and themselves – to strive higher. What results is a passionate community of educator-practitioners, students, and alumni, who connect on their shared love for the discipline and a strong desire to see it thrive.
So to best understand Sheridan animation and discover how it's sustained its renown for half a century, you really have to speak with the faculty who have always been at its heart.
Hands-on and industry-relevant from the start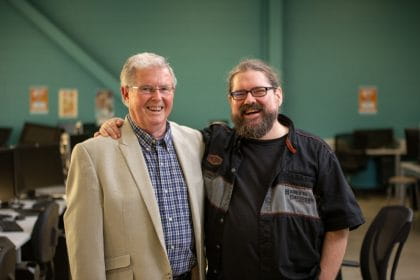 One of those people was Scott Turner (now retired), who together with Bill Firth co-authored a position paper that convinced the Government of Ontario to establish a Commercial Art school as part of the creation of the provincial college system in 1967. According to Turner, introducing animation at the new school called Sheridan was born of a desire to expose students to the use of moving letters on screens, something that was becoming well-integrated into advertising.
By 1968, Turner and Firth were two years into their new gig as college educators and administrators at Sheridan, transitioning from secondary school teachers of art and design. But wanting to teach animation and finding someone who could do it were two different things. An ad was placed in an LA newspaper, which got answered by George "Marty" Martsegis, who had a background at Disney. "The fact that we got him to move to Canada from LA is kind of a miracle in itself," laughs Turner.
Turner recalls that Martsegis arrived with a list of what he'd need to teach animation, which amounted to a full classical animation production facility in its own right. Thankfully, the college's new CFO Harry Shore was an enterprising kind of guy. "He loved looking at bankruptcy sales to find things the college could use, since we started in a decommissioned high school facility, with absolutely nothing." Firth and Turner went to investigate an animation company in Toronto that had just shut its doors. What was left was an Oxberry Camera (the second one of its kind in the world), 15 to 20 animation tables with disks, and some sound equipment. "We bought the whole lot," he adds, barely making a dent in Martsegis' list. They even hired an employee of the defunct company, Karl Hagan, who spent a long career at Sheridan teaching the camera side of the program.
The early years
In 1969, the school launched a full program in classical animation, built on classical drawing techniques, which extended to a three-year program in the 70s. By establishing the educational foundation for animation, Sheridan began to nurture the development of a new Canadian industry, seeding companies like the newly-founded Nelvana with professionally-trained, creative talent. James Caswell, a story and storyboarding professor who worked at the company prior to his current teaching role at Sheridan jokes, "I always kind of felt on the outside when I worked at Nelvana because I didn't go to Sheridan."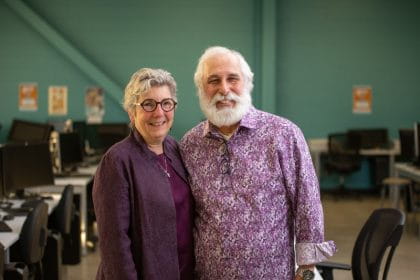 Mark Simon, who recently retired after teaching in Sheridan's Animation program for 30 years, was one of the early Sheridan graduates who found their way to Hanna Barbera in LA in 1978. Fellow alumni at the company included Roger Chiasson, Duncan Marjoribanks (later named number 15 of the 50 most influential Disney animators), Mitchell Rochan, Alvaro Gaivoto, and Anne Marie Bardwell. "We became known as the Canadians," says Simon. "We did our artwork, and we knew how to do exposure sheets with instructions for the camera man. No one could understand how we had all these veteran skills when we were just in our 20s." In 1979, Hanna Barbera hired virtually the entire graduating class of Sheridan Animation. Simon describes it as "the beginning of the Canadian invasion in California."
Meanwhile, back at Sheridan, the International Summer School of Animation had launched the year prior. Then came the Computer Animation program in 1981, almost 15 years before the world got wowed by Toy Story, the first, fully computer-animated, feature length film. It was faculty member and chair, Robin King who recognized that computers were going to be a big thing for art, after attending an early SIGGRAPH conference. Turner, who had since become Dean, bought into the vision and authorized the purchase of a $50,000 mainframe computer and a $25,000 software license to get the nascent program on its feet.
Unpacking today's pedagogy
Countless modifications continued through the intervening years. Today, Sheridan is still synonymous with Classical Animation (it's now a four-year, Honours Bachelor of Animation degree). Students can also specialize in computer animation, visual effects and creature animation by pursuing one of three post-graduate certificates. While much has evolved, the emphasis on teaching animation fundamentals, life drawing, story, and filmmaking, coupled with the commitment to stay current and connected with industry, keeps the programs comprehensive, highly regarded, and in strong demand.
A look at the curriculum map for the Bachelor's degree program reveals courses you'd might expect, like animation principles, 2D and 3D, character design, story, storyboarding, layout, and dialogue, music and sound effects. There's also animation history, dynamic anatomy, figure analysis, character and costume, digital painting, stop motion, sequential narrative, and a mandatory industry co-op.
Storyboarding
Caswell, who teaches story and storyboarding, stresses that drawing is "a thinking way of doing things," when he discusses the nature of storyboards. "Boards aren't overly rendered, but they have to be able to get the information across quickly. It's not about getting the grayscale correct, it's about making every single drawing able to communicate clearly." It requires an artist to understand the structure of their drawings, their silhouettes and how to make things clear, while worrying less about the rendering. "If you understand the fundamentals of animation – how you move things in space – it makes your visual development better and you're ultimately able to inform productions." While his students use Cintiqs as an electronic way of drawing, rather than only drawing on paper, the plasticity of drawing and people's adaptability are what's important. "Asset based software still requires you to augment with hand drawing. That's why our students are in such demand. They understand the principles."
Life drawing
It bears repeating that those principles include being deeply proficient at drawing. Tim McCormack is the lead instructor in the life drawing stream of the Bachelor of Animation, which extends across all four years of the program. "Life drawing is one of the fastest ways for students to learn to draw better," and speed is important in animation careers. Beyond being efficient, he suggests that "it's a bridging space where students develop complementary animation-related skills such as developing character, story and convincing motion."
In the early years, the focus is on fundamental skills like anatomy and proportion. Students progress from drawing the life models they see, to drawing the characters they represent. "Sheridan has an amazing costume collection. In class, the models play roles such as chefs, brides, detectives, butlers and pirates. It's a collaborative process between teacher, model and student to develop the character and the story of the pose. It really helps to inform their drawing from the imagination."
"Everybody, whether it's drawing, music, or acting, gets into clichés. Interpretation helps students develop a more personal voice and a sense of presence that allows them to add intuition into the creative process." – Tim McCormack
Eventually, students draw two models in costume who are interacting with each other, so they draw from interpretation. "Everybody, whether it's drawing, music, or acting, gets into clichés. Interpretation helps students develop a more personal voice and a sense of presence that allows them to add intuition into the creative process."
Making 'make-believe' believable
Good drawing is critical to creating good characters. Mark Mayerson, outgoing coordinator of the Bachelor of Animation program explains: "There are times when I tell a student that something needs more drawing, to make it move properly. You can see the disappointment and the exhaustion. It's not a problem asking them to draw, but having to do 150 drawings in order to make a scene work – that sometimes can be difficult."
While drawing skills are foundational, faculty will tell you they're far from enough because animation is more than mechanical; it's about showing your character's personality and getting a performance out of what you draw.
Stephen Barnes, who teaches third year animation points out that characters don't have to look realistic, but "no matter how cartoony, we have to believe that their performance is organically springing up from their unique personality and the dramatic situation." Simon says that "as soon as a character is aware of their environment, that's when they stop being a figure. A character has a thinking brain."
Chris Somerville, who teaches 3D animation and tools explains why characters need to be believable. "The nature of what we produce requires us to elicit an emotional response from our audience through our characters."
"The nature of what we produce requires us to elicit an emotional response from our audience through our characters." – Chris Somerville
Barnes, Somerville and Simon are unequivocal that learning how to get audiences to feel something for the characters on the screen can be achieved through acting. They each stress that animators are actors. Any student in Simon's classes who's struggled with making a character believable has likely heard his refrain: "When in doubt, act in out." Mark Palowich, who exclusively teaches computer graphics notes that mirrors in the classroom can help with the process. "I try to get students to act out a scene and observe themselves until they can do it fluidly enough so they can use it as a reference."
Barnes shares that nothing wrecks believability like vagueness. "It's all too easy to slip into cliché with generic behavior or movement, instead of actually inhabiting the character and believing ourselves to be in the situation," adding that one of the harshest critiques that an animator can receive is to hear their work is too vague. "For any given shot, we have to ensure that our character is experiencing life in a flow. From the very first frame of the shot, it needs to feel like the character is alive. We can only control the movement of our characters. In a sense we have to become mimes. We have to work with just the physicality as a way to convey thoughts and emotions, and we need to understand those thoughts and emotions before we begin to draw or move anything."
"In a sense we have to become mimes. We have to work with just the physicality as a way to convey thoughts and emotions, and we need to understand those thoughts and emotions before we begin to draw or move anything." – Stephen Barnes
Story
Hand in hand with the acting comes the story. Mayerson points out, "People have objectives and motives for their actions. They want to accomplish something, even if that's something as simple as getting a sandwich, or relaxing. There's always something driving them to do what they're doing. The students have to understand what's inside a character's head before they can make it act."
Simon puts it this way: "A story is more than a linkage of events. There has to be rhyme or reason. There has to be a justification or payoff at the end." To help the students better understand the story they're trying to tell through their art, he'll often have them tell it back to him. He'll then replay what he hears, so they can see where it's going off track or where a character might be acting out of character.
In discussing the importance of story, many faculty conclude that if students don't have a good idea, then all they have is technique. For that reason, students are pushed to understand how stories work and pushed again to create original ideas that resonate by virtue of their authenticity and creativity.
Left and right-brain thinking
Further dialing up the complexity of the art form is the need to blend art with science and technology.
In the post graduate certificate in creature animation, program lead Dennis Turner relays that his role requires some early myth busting. "A lot of the students come in assuming the computer does the work for you, and to some extent it does, but you have to decide what you want to build and how to do it. There isn't a 'make awesome creature button'."
Further complicating matters is the fact that the digital creatures are not characters in the software, they're numbers and points of data that are manipulated. "A digital creature is like a virtual puppet. It needs to be rigged. You have to set up the articulation points, make sure they articulate correctly and set up the controls that an animator can grab in order to have the character create a performance." The work is painstaking. "Each muscle has to be laid down one at a time. When the skeleton bends the creature, the look has to be carefully manipulated, painted and finessed."
"I tell my students that animation is something you spend four years learning in school and a lifetime refining." – Mark Palowich
Students also need to understand basic physics. Says Palowich, "If I want my character to spin around, I have to keep the volume intact, otherwise the proportions are off and the character changes. It's a constant struggle to hone those skills and perfect the art. You need to connect all the dots. I tell my students that animation is something you spend four years learning in school and a lifetime refining."
While 3D tools are important, in Somerville's mind, technology doesn't eschew principles. "In the mid-90s, when many of us were learning digital tools, you were taught the software and you learned animation on the job. I really try to reverse the focus so we're applying animation in the software, learning the tools a little at a time. It's not about learning tools, it's about applying theory."
When students get everything working in harmony, Simon describes it as invisible animation. "The audience stops looking at the animation and gets lost in the story. That's the hardest thing to achieve." Says Barnes, "it can feel like riding a lot of horses at once, like the John Wayne thing, all in service of just trying to get a simple gesture across to be convincing to the audience."
Filmmaking
Mayerson suggests that one of Sheridan's biggest strengths is that students are exposed to the entire process of creating an animated film. "It gives them versatility in an industry that keeps shifting. Regardless of where it goes next, they'll be in a position to adapt."
He further explains that the process begins with a blank canvas. "It's not like live action where you just point a camera and you've got something. You start with nothing. Students have to understand design enough to put something on the screen that is attractive – to make somebody want to look at it – and something that communicates. Then there's the animation itself – the motion that is essentially acting. They need to create environments because the character needs somewhere to exist. And even though they're not musicians, they require an understanding of music and sound effects and how they affect the audience response."
"People don't understand how much work there is in animation. A drawing can look good as a single image but our job is in 24 frames per second." – James Caswell
Caswell adds, "People don't understand how much work there is in animation. A drawing can look good as a single image but our job is in 24 frames per second." Multiply that number of frames by 60 seconds and you're looking at 1,440 frames for a one minute movie. Caswell gently points out that if you have two characters on a screen, then "it's that many frames times two."
All of these elements come together in third year, when students create their group film projects, intended to emulate the team approach that students will encounter in industry. Under the continued mentorship of Sheridan's talented faculty, students also complete a one-minute independent thesis film in fourth year that enables them to leave Sheridan with a reel to use when knocking on industry's door.
Getting that calling card correct is no easy task. To help the students succeed, Michel Hannan, who's taught in the program for 14 years, stresses that students need to zone into the task. "Attention is a valuable commodity," she says. "Luckily, Oakville is a sleepy community – with fewer distractions than a place like Cal Arts – and students are surrounded with the right equipment and right faculty. It makes us a hub for just doing animation."
Faculty input is also critical to the development of a strong end product, though Hannan is intentionally empathetic when delivering her critiques. "I know the emotional challenge that filmmaking is for students. It's exhausting work. They're up against this wall of a deadline. On top of that, they choose a subject that's close to their hearts. It's like they're in love with their artwork or have a crush on it. Getting a critique right away, when there's no emotional distance, is hard. If I can wait a week, or even a day, they're more likely to see their work with objective eyes and be more receptive to the advice."
Artists who teach
Sit down with the faculty and you'll quickly discover the passion and pride they have for what they do and realize that their expertise is as broad as it is deep.
Some come with an academic background in Classical or Computer Animation, including many who have one, two or even three credentials from Sheridan. Others studied Media Arts, Filmmaking, or Art and Art History not only at Sheridan but further afield. They're active sculptors, painters, illustrators, authors and gallery curators. "We're not teachers who teach art, we're artists who teach," says Mayerson. "Our Faculty is comprised of many critically unique voices. We're able to keep expanding the students' minds and pushing them to think openly about things they may not consider," adds Barnes.
"We're not teachers who teach art, we're artists who teach." – Mark Mayerson
Another point of commonality is faculty experience in industry. While they're very reluctant to boast, with enough persistence and prodding it's eventually revealed that they've earned their stripes at Pixar, Industrial Light and Magic, Disney, Lucas Gaming, Nelvana, Guru, Mr. X and more. Students leave with the confidence that the skills and techniques they've learned in class will serve them well.
That shared faculty experience also creates a certain professional understanding. As Dennis Turner puts it, "we almost never disagree about what we need to do to prepare the students for industry because we've all been there and we all know what it's like."
Their connection to industry also doesn't end when they start teaching. Caswell says, "I have years of experience but I still do freelance work to stay on top of what's happening in boarding now – the way stories are told, specific techniques coming up. It's always been the reputation of the school to be hands-on, practical, and focused on applied art." Other faculty are making their own films or authoring textbooks, with the support and encouragement of the school.
It's symbiotic
What lights them up most, however, is when they're asked about their students. "The energy of the students is infectious," says Hannan. Somerville adds, "I don't tell them until the end of the year, but they are a spectacular group of people. They're not just creative, they are intelligent and fun. It's like a fountain of youth for me here. Their ideas are fresh and it keeps me fresh as well in the classroom."
Palowich agrees. "Just seeing the students' artistic references and the work they come up with are the little sparks that brighten your day. I walk down the halls and see the paintings hanging. It reminds me that I should start painting again. It rejuvenates you." Walsh says, "Our students are always full of ambition and want to take things further. It's a challenge, but it's always energizing. It's that constant drive forward through the students, with the students. That's always very exciting to be a part of."
McCormack discusses how much he loves to paint and draw, just like the students. "I get inspired by their passion, commitment and ideas," he says. In speaking of the "fantastic array" of drawing teachers at Sheridan, Barnes muses, "I wish I could actually be a student here now."
"When alumni come back to visit, I can see the memories appear in their eyes. They share the sheer excitement of animation." – Michel Hannan
The admiration extends to the alumni. Many faculty comment on the generosity of former students who routinely return to the school to visit classrooms and share their advice and experience. And it's not just the students who benefit. Says Hannan, "When alumni come back to visit, I can see the memories appear in their eyes. They share the sheer excitement of animation. This is such a nice community."
The legacy and the future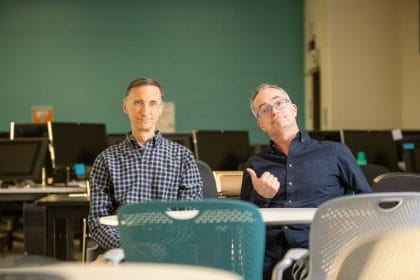 Many faculty speak about the tremendous sense of pride and responsibility that accompanies a fiftieth anniversary. "When you're teaching in animation, this is the place to be in Canada," says Caswell. "People know Sheridan by our animation graduates. Fifty years means something." Hannan adds that seeing alumni earn Oscar nods is "a validating moment that proves we're doing something right."
Simon, who retired as head of computer animation last year noted, "It's time for the new guys coming in. They are more up to date on new technology, they have more energy. They are the ones who have to come in and pick things up and move forward."
One of those people, of course, is Walsh, who's been named as next year's coordinator of the degree program, when Mayerson retires. "A milestone gives you a chance to look back. But I would say personally, I am just as excited looking forward. Streaming services like Netflix are really driving the demand for animation. I love what this program has built. Thinking about innovations and collaborations and where it might go next is very exciting."
Simon gets the last word. "I'm sure no matter where you study, there's dedication. But here, there's a standard that we keep really high. We were the first so we need to be the best. We can't be beaten at our own game."
"I'm sure no matter where you study, there's dedication. But here, there's a standard that we keep really high. We were the first so we need to be the best. We can't be beaten at our own game." – Mark Simon
---
Pictured at top of page: Sheridan Animation faculty in a studio at Trafalgar Campus. Photo by Karlo King.
Written by: Christine Szustaczek, Vice President, External Relations at Sheridan. Photos by Karlo King.