Redefining health care delivery with the Clinic of the Future
As a leader in health innovation applied research, Sheridan continues to find unique solutions to pressing health care challenges with industry and community partners.
Imagine a world where you can instantly measure a patient's key health metrics like blood pressure and heart rate and receive relevant medical advice from your doctor in the clinic across town within minutes, all without leaving your house. Or a world where sifting through medical folders and charts for patient data is replaced by the clinician's seamless action of accessing relevant information and identifying discrepancies on their phone.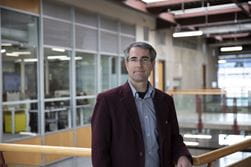 Enter the Clinic of the Future, an ongoing five-year partnership between Sheridan's Centre for Mobile Innovation (CMI) and Kitchener-based Cloud DX, an award-winning virtual care solution provider. To tackle challenges in the delivery of patient care, such as time constraints and limited resources, the Clinic of the Future explores how wearable technology can work with computing platforms for the collection and analysis of easy-to-access health care data and insights for patients and clinicians.
CMI and Cloud DX have created a foundational software development kit that connects Cloud DX's proprietary VITALITI wearable health monitoring technology to patient monitoring tools used by health care providers.
"The purpose of the project has always been to create an accessible solution which can diagnose, treat and pre-empt health concerns," says Dr. Ed Sykes, Director of CMI. "Our work with Cloud DX has helped develop an innovative way to improve the clinician and patient experience, and ultimately impact health care delivery for the better."
A Clinic for the Future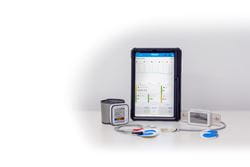 CMI's research on the Clinic of the Future concentrates on augmenting the patient monitoring functionality offered by Cloud DX's VITALITI wearable device. The highly portable VITALITI, worn around the neck of a patient, takes measurements of important health indicators including blood pressure, heart rate and cardiac activity. The CMI research team of professors from the Faculty of Applied Science and Technology (FAST) and Sheridan students from the Honours Bachelor of Computer Science (Mobile Computing) program, built the backbone of the Clinic - the core software development kit which allows patient data gathered by the VITALITI to be visualised, accessible and useable across mobile, web and augmented reality (AR) computing platforms.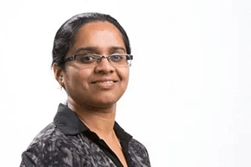 The CMI team developed several software solutions for iOS, Android and mixed reality platforms for VITALITI. iOS and Android mobile apps are used by clinicians for bedside patient monitoring while the Microsoft Hololens mixed reality platform is used to directly measure patient progress and a web app currently in development will be used by practitioners for remote health monitoring. These digital solutions translate the real-time data collected by the VITALITI into dynamic images and graphs of patient data and trends.
"The information is presented in a visually and graphically effective way that simplifies and enhances health care delivery," said Sasipriya Arun, professor in FAST and the project's 2021 lead researcher. "Our team will continue to build a mobile and web-friendly dashboard which will use machine learning and data analytics to predict, identify and pre-empt potential health anomalies."
Building Partnerships
Cloud DX and CMI first connected by chance - Cloud DX's co-founder Dr. Sonny Kohli read about the Centre in a local Oakville newspaper article. With a lack of previous experience in AR applications at Cloud DX, CMI's expertise in mobile technology innovation created an opportunity for a rewarding partnership between industry and academia. The partners brought Cloud DX's AR platform (the basis of the Clinic of the Future) to life. The platform allows a clinician to use a mixed reality interface, wirelessly paired with multiple sources of information – including the VITALITI, the electronic medical record, and the imaging database – to evaluate a patient more thoroughly and efficiently.
The collaboration has reaped other wins, as well. For their innovative work on the Clinic of the Future, CMI and Cloud DX were awarded the prestigious Natural Sciences and Engineering Research Council of Canada (NSERC) 2021 Synergy Award for Innovation. Over the years, Cloud DX has grown from a small private company to an established and international mobile health (mHealth) company, now publicly trading on the TSE-Venture Exchange. With CMI's help, Cloud DX recently launched its Extended Reality (XR) division which aims to bring the Clinic of the Future to the Metaverse (a digital world that is parallel to the real world).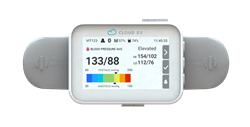 "Working with Sheridan's Center for Mobile Innovation has been essential in helping us push industry into the future, together. Improving healthcare is important to everyone, we all use it throughout our lives, and advancement in health care and medicine is possible through working with innovators like CMI, bringing our inventions to life and supporting our commercialization of new healthcare devices," says Dr. Kohli.
The Future of Health Care Delivery
While the VITALITI remains in prototype and trial stage, CMI continues its current research on building a web application which will be integrated into the Clinic for use by health care providers to monitor patients remotely, anywhere in the world. New features are expected to be added, including the use of facial recognition for convenient access to patient data.
"There is even more potential we can unlock with the Clinic of the Future, and further possibilities we can explore with the integration of wearable and digital technologies," said Dr. Sykes. "This is the future. This is the next generation of health care innovation."
---
Top Left: Centre for Mobile Innovation Director, Dr. Ed Sykes
Top Right: Cloud DX's VITALITI health monitoring wearable
Mid Left: Sasipriya Arun, professor and Centre for Mobile Innovation lead researcher on the VITALITI project for 2021
Bottom Left: Rendering of a patient's health indicators displayed in real time on a VITALITI device