Sheridan's Black Students Association stands for change
Stephanie Garrick founded Sheridan's Black Students Association (SBSA) at the start of 2020 to build a stronger presence and sense of community for Black students at the college. Only a few months later, amidst a global pandemic, one of the SBSA's first events would have global affinity: a march in solidarity with anti-Black racism demonstrations aimed at changing the course of history.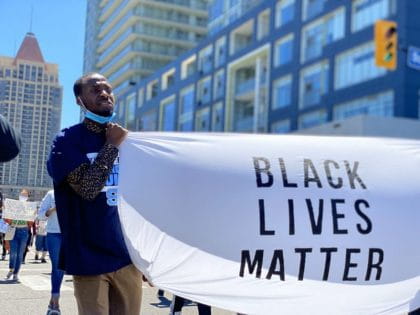 Garrick felt compelled to organize the march outside of Sheridan's Hazel McCallion Campus in Mississauga, where she's enrolled in the Honours Bachelor of Business Administration – Human Resources Management, while feeling restless and gutted by the latest deaths of Black people at the hands of police officers. More than 100 students, alumni, professors, staff, and community members, including the Peel Regional Police, were in attendance.
"It was peaceful, it was meaningful, and I know our voices were heard," says Garrick, reflecting on the event. Remarks she delivered that included calls to action specific to Sheridan administration were spoken in the presence of Dr. Janet Morrison, President and Vice Chancellor, Vice President of Inclusive Communities, Dr. Jane Ngobia, Dean of Students, Maria Lucido-Bezely and Dean of the Pilon School of Business, Anne-Liisa Longmore. Soon after, she received a formal letter from Dr. Ngobia outlining concrete actions being taken by the college to address shortcomings related to systemic racism.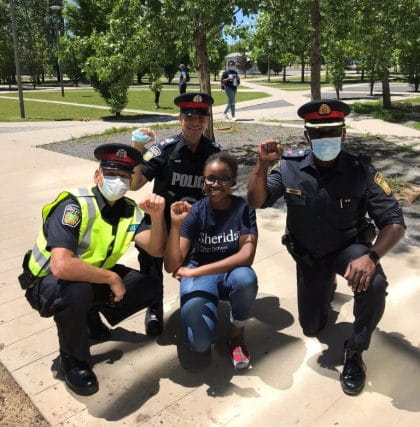 While the SBSA's mandate to promote Black excellence, culture and representation at the college has been emboldened in light of recent events, its small but passionate Executive Team of five are still focused on the little things too. Check-ins and casual, fun get togethers with its members are significant. "People underestimate the importance of the feeling of belonging," says Garrick. As a Nigerian-born international student, she yearned for that feeling of connectedness upon arriving in Canada. "I suddenly became a minority moving here and had to learn to navigate this new reality."
Membership in the SBSA is open to all Black students and allies. To be a good ally, says Garrick, means using your voice to be actively anti-racist. "Think of racism like an onion. If the innermost layers are rotten, then it will spread outwards," she says. "If you don't address racism that exists in your family and friend groups, it permeates. You don't have to be a government official to drive change."
Silence, on the other hand, speaks volumes, according to Garrick. She points to the problematic responses from some organizations that aren't taking a strong stance on addressing engrained, systemic racism. "It's not that they're inherently racist, but dancing the middle line isn't helpful," she says. "I'm glad that Sheridan is actively listening to concerns and taking action."
"If you don't address racism that exists in your family and friend groups, it permeates." – Stephanie Garrick
With the march concluded, Garrick is looking ahead to other ways in which the SBSA can continue to add value to the Sheridan community, virtually. One such effort is a speaker series called BLACKx, inspired by popular TEDx events, aimed at featuring prominent figures in the Black community. "It's time we celebrate Black achievement all year round, not just during Black History Month," she says.
Resting, regrouping, and conserving for what lies ahead is important too, says Garrick. The emotional impact of recent events can take a toll. "I can't pause responsibilities in my life like school and work," she says. "But I've paused social media and television at times so I'm ready to come back energized to keep the fight going."
---
---
Pictured at top of page: Maria Tshilolo Kabika (left) and Stephanie Garrick at a Sheridan Black Students Association-organized solidarity march in Mississauga. All photos in this article were provided by the SBSA.
Written by Keiko Kataoka, Manager, Communications and Public Relations at Sheridan.