In 2008, Karen Tsang (Emergency Management '11) was at a crossroads. She had been working for a community agency helping people struggling with poverty and homelessness, and was starting to feel burnt out. But she knew she wanted her career to have an impact, so she joined the Canadian Red Cross' disaster relief team. "I was interested in doing something meaningful and exciting. I started volunteering with the Canadian Red Cross intentionally to explore what … I wanted to get into." She soon found herself providing clothing, food and shelter for people evacuated from their homes because of gas leaks or large building fires. She was hooked, and decided to enrol in Sheridan's Emergency Management program.
Today, she's a Manager of Enterprise Business Continuity Management for BMO. She's part of a team that monitors events close to home and around the world to help the bank keep running even if there's a transit strike, a natural disaster or a mass technology outage.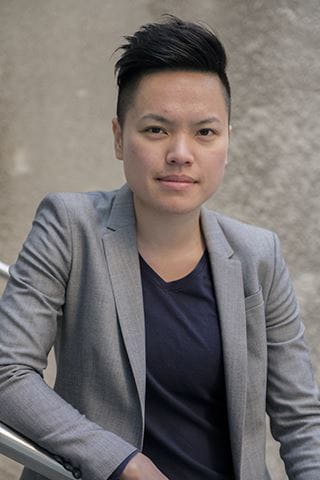 "Any sort of disruption, we look at what could happen to our customers, what could happen to our employees, what could happen to our technology, data, premises, and suppliers. Regardless of what it is, we make sure we have alternative plans to keep the bank's operations running smoothly."
"The changes we make are meaningful. I think I'm making a difference."
Her work now happens in the towers of Toronto's financial district, but she's not content just to protect the bank's bottom line. She also wants to protect the people who work there. She's the Toronto Director for BMO Pride, an employee group with more than 800 members that helps the bank create a more inclusive space for LGBTQ employees and customers. That includes working with the bank's diversity group to expand employee learning resources on gender inclusion and gender diversity, and organizing networking events where LGBTQ employees, and those who are interested in working with pride initiatives, can come together to support each other. She also mentors new immigrants working at BMO, and says it feels good to help create a corporate culture where everyone is accepted.
"The changes we make are meaningful, and they make other people feel that we care. I think I'm making a difference."
Her efforts build on her past work as a board member of Toronto's Asian Community AIDS Service, and on her post-graduate studies that examined glass ceilings for the LGBTQ community in the banking sector. Tsang believes in speaking out to ensure everyone's voice is heard, so Canada will continue to be an inclusive place for all.
"I always want to make sure voices from the margins are at the table so we don't lose sight of the work we need to do in order to create truly inclusive communities," she says.