Dr. Jane Ngobia champions inclusivity as an essential, authentic component at Sheridan
It's a tall order to lead an institution of more than 30,000 members across three campuses toward embedding equity, diversity and inclusion (EDI) in all its practices, processes and policies.
Well-positioned to steward Sheridan on this journey is Dr. Jane Ngobia. She brings to it more than a decade of experience institutionalizing inclusivity in progressively senior roles. Thoughtful strategy, time and an unwavering commitment are prerequisites to approaching it successfully. "It's a marathon, not a sprint," she says.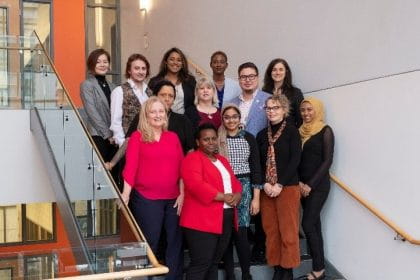 Before arriving at Sheridan as a special adviser in 2018, Dr. Ngobia served as a Diversity and Leadership Officer at the University of Toronto, Director of Diversity and Equity Initiatives at OCAD University and Assistant Vice President, Diversity and Human Rights at the University of Guelph. In her home city, Nairobi, Kenya, she was an assistant professor and Dean of Students at her alma mater, The Catholic University of Eastern Africa, before emigrating to Canada.
Her contributions in the domain of EDI started before these formal, post-secondary positions. "Having the orientation and perspective that fairness and equality are pillars that form our shared humanity drives you to do equity work whether or not you have a title to support it," says Dr. Ngobia. No matter, her title bears significance for the Sheridan community; she holds the position of the college's first-ever Vice President, Inclusive Communities.
It's a role that emerged rather organically, through the clear articulation of the importance of EDI during a thorough strategic planning process in 2019 that included the voices of more than 3,000 Sheridan people. "Sometimes you have to make the business case for why EDI is of value to an institution before you can get people on board," she says. "That's not the case at Sheridan. The community wants more, is ready for more, and it's music to my ears."
Where to begin?
Listening is a crucial element of Dr. Ngobia and her team's bottom-up approach to inclusion. "This is where we must begin to establish a solid foundation upon which to build," she says. "There are no short cuts." In the fall of 2019 and early 2020, she embarked on "listening tours" around Sheridan's campuses, visiting Faculties, departments and student groups.
From those sessions, she heard nearly as many definitions and examples of inclusion as the number of people involved; something she expected. "While we aspire to be inclusive, we are not there yet. We have gained awareness of the inequities that exist, where we have pockets of EDI excellence and felt first-hand the passion and curiosity of our people," she says. "From these varied responses we will look for common pillars. This exercise reminded me that an inclusive community is both a concept and an active practice."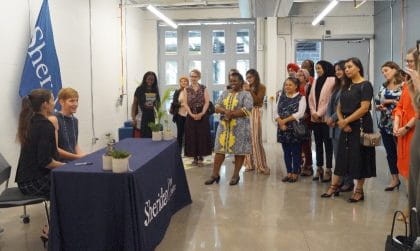 Another listening tool that's essential to her pan-institutional work comes in the form of an EDI Advisory Council, which she struck in May 2019. It involves more than 20 faculty, staff and students who work together to execute two-year objectives on initiatives that will directly impact people around the college. "The collective advice that I get from this team is phenomenal," she says.
As a symbolic commitment to prioritizing EDI in research, Sheridan signed on to the Dimensions Charter at a ceremony in July 2019 at a ceremony in Brampton, Ontario. Then Minister of Science and Sport, The Honourable Kirsty Duncan, joined Dr. Janet Morrison, Sheridan's President and Vice Chancellor, at the event that voluntarily affirmed the college's commitment to embedding EDI in research practices, policies and culture.
To capture a baseline understanding of the diversity of Sheridan employees, a confidential census was rolled out in April 2020. It asks questions related to six dimensions of diversity including religion/faith/creed, gender, racial and ethnic background, disability, sexual orientation and Indigeneity. "Having a clear picture of the diversity of our employees will assist us in addressing barriers in the workplace and make decisions informed by data," says Dr. Ngobia.
Meeting people 'where they are'
The cultural shift that's a prerequisite for Dr. Ngobia's work and that of her team to be embraced authentically across Sheridan's diverse communities necessitates meeting people at their level. "You don't start out of the gate working toward the gold standard. You start with the small things and progress," she says. "People are at different places in their understanding and practice of equity and inclusion."
"Having the orientation and perspective that fairness and equality are pillars that form our shared humanity drives you to do equity work whether or not you have a title to support it."
This approach will work to ensure that everyone, no matter their social identities and affiliations, is engaged with what Sheridan is trying to achieve. Without these considerations, there's a risk of isolating and threatening people. "I think of our community like a human body," says Dr. Ngobia. "Each person has a function and purpose and works optimally when in harmony with others."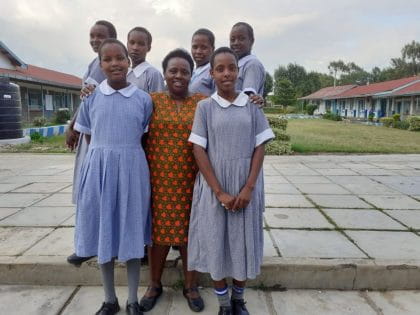 Not to be overlooked among her expertise in leading EDI work is Dr. Ngobia's patience, compassion and empathy for people. This comes through in all her life's work – as an educator, a changemaker, a leader, a mother and a volunteer. Speaking of her latest volunteer role brings her tremendous pride. Twice a year, Dr. Ngobia travels to a small town 750 kilometers from where she grew up. There, in a northern part of Kenya where the Samburu community lives, she spends time at an Empowerment Centre – a safe house where girls aged nine to 15 years seek refuge and care after fleeing forced marriage and gender-based violence.
"When you think about the work I'm doing at Sheridan, it's long-term, so I need some really tangible food for my soul to keep the fire going," she says, smiling. "Talk about meeting people where they are in their life journeys. These kids are some of the most resilient people I've ever met. They have endured everything. They have been denied the joys of a childhood, as such they're all at different intellectual and emotional stages. Being a part of their lives is a gift – the most humbling human experience I've ever had. They have risked everything just to have a chance at life and I feel I have a personal obligation to support them in their journey."
Measuring the success of Sheridan's EDI work
Like the work itself, measurements of success are complex and will mean different things to different people.
On the individual level, it's subjective. "When there's a collective shift in the thinking and feeling about one's community it's not always something that can be measured," says Dr. Ngobia. "My hope is that we become more relational in our interactions with one another, that each learner and employee feels valued as contributors to our community and that we learn to become attuned to our biases."
On the institutional level, there are established benchmarks from the Global Diversity and Inclusion Benchmarks that Sheridan will be measuring its efforts against using both quantitative and qualitative data.
While Dr. Ngobia uses the marathon analogy for EDI work, there isn't a finish line to cross. "As our community grows, our approach must grow alongside it," she says. "This is a process, not an event. In my language we like to use the expression: the current generation plants the tree, and the next generation enjoys its shade. We have a shared responsibility towards inclusion."
---
Pictured at top of page: Dr. Jane Ngobia, Sheridan's Vice President, Inclusive Communities
Written by: Keiko Kataoka, Manager, Communications and Public Relations at Sheridan.