Bringing back my name: How Sheridan helped give Rafat Alsayyed his identity back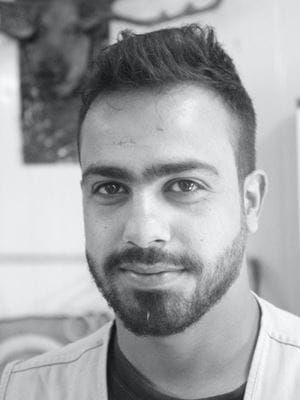 If you happen to see Sheridan student Rafat Alsayyed around on campus, you might assume that he's got a lot in common with many other Sheridan students.
And you would be right.
He's a young man looking to build a brighter future by furthering his education and gaining important life and career skills at Sheridan. Like so many other students, he wants to have a good summer by meeting his friends and working at his part-time job.
But Rafat took a circuitous path to get to where he is today.
Rafat Alsayyed, a refugee from Syria, came to Sheridan in 2017 as the second participant in the Student Refugee Program (SRP). He arrived by way of the Za'atari Refugee Camp in northern Jordan, the largest Syrian refugee settlement camp in the world, which first opened in 2012 to accommodate refugees fleeing the violence of the Syrian Civil War.
As a student refugee in Canada, Rafat was supported every step of the way by a local committee. "SRP helped me to bring my name back, because in the Za'atari Camp, I was just a number...Sheridan College is a safe place to get education and knowledge."
Enrique Ponce is the Chair of the local SRP committee at Sheridan and has been part of the program since day one. "The SRP allows Sheridan to support displaced youth due to war and is a way that we can take action using education as a vehicle for change. Participating in the SRP has been an experience unlike any other to truly make a difference in a student's life."
Rafat completed high school while living in Syria and had applied to university, but he couldn't attend because his family had to leave Syria due to the war.
While living in Jordan, Rafat was introduced to the SRP through Questscope, an international social development organization, working with young people living through war and poverty. He was given the opportunity to become a permanent Canadian resident and attend Sheridan, thanks to the partnership between Sheridan and the World University Service of Canada (WUSC). Sheridan welcomed their first refugee student to campus as part of the program in 2016 and to date has supported five students to pursue their education in a safe environment. Sheridan is the first Ontario college to welcome refugees from around the world as students and permanent residents.
Although Rafat felt safer and happier in Canada, life still had its challenges. "I always had that feeling when you feel grateful and proud of yourself, but at the same time, you feel some shame," Rafat explains. "When I am in the best moments of my life, I remember that I still have family in Za'atari Camp struggling with life there. At the end of the day, focusing on myself will help them in the future." He still feels a mixture of happiness, sadness and pride.
"I used to be afraid of freedom of speech, but after living in Canada, surprisingly, I truly understood what freedom of speech feels like." - Rafat Alsayyed
Life in Canada has also given Rafat the gift of being able to express himself freely, without fear. "I used to be afraid of freedom of speech," Rafat says, "but after living in Canada, surprisingly, I truly understood what freedom of speech feels like."
What's next for Rafat? After beginning his studies at Sheridan in English and media fundamentals, he is now working towards his Bachelor of Film and Television (BFTV). He works hard to be a good person and to help the community. He's focused on building a career so that one day he can sponsor his family and bring them to Canada, too.
Rafat's mother, brothers and sister and their families are scattered across Syria, Jordan and Germany. It's been many years since he's seen them, and he doesn't know when he might see them again. But about coming to Canada, he says, "I felt that I was sacrificing a part of myself for my future and family; however, I also felt special. I am here to get an education and improve and build myself."
Rafat's advice for potential future students in the SRP? "Know that everything takes time." Rafat says his experience in the SRP has been meaningful, as he's learned lessons, gained knowledge, and become more independent.
Learn more about the Student Refugee Program at Sheridan.