Let's talk: Alumna invites conversation on mental health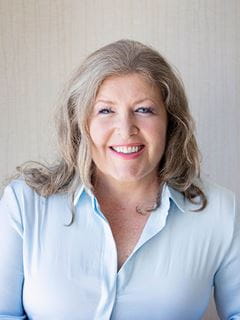 As a former resident of Fort McMurray, Alberta, author and mental health expert Charmaine Hammond (Correctional Worker '85) was devastated when in May 2016, wildfires burned down approximately half a million hectares of land, destroyed thousands of homes and forced the evacuation of over 90,000 residents from the town. It was the largest displacement of Canadians in any disaster and had an enormous impact on the community.
Hammond, a leading resilience training practitioner, returned to Fort McMurray to help the residents deal with the resultant emotional trauma. That's when she met local screenwriter and director Michael Mankowski, and took up his offer to contribute as an executive producer to his film, Back Home Again. The animated short film inspired by the fires explores the impact of such adversities on communities, and their incredible resilience in face of crisis – a theme that resonated with many at a time when California fires were raging just south of the border. The film won the Jury Award for Best Animation Short (Alberta) and the Audience Choice Award for Best Short (Dramatic) at the 2021 Edmonton International Film Festival.
Hammond joined us for a discussion about the film and its message that community connections get people through difficult times:
Tell us a little about the film.
CH. Michael Mankowski, the film's screenwriter and director, was living in Fort McMurray at the time of the fires and had to be evacuated. He was also among the first to return to the community because the Canadian Red Cross contracted him to interview the residents as they came back. He talked to hundreds of them about the impact the fire had on their lives, their evacuation, and what it was like to return home. Those stories are told in the film through the animals of Fort McMurray Wood Buffalo.
"Back Home Again really isn't a film about a disaster. It's about connection and people coming together and coming home, it's about hope and community."
While it is inspired by the Fort McMurray fires, Back Home Again really isn't a film about a disaster. It's about connection and people coming together and coming home, it's about hope and community. There's so much research out there that says that what gets people through difficult times, including disasters, is the power of connection. It's okay not to be okay all the time; we all go through things in life where we need support and connection. And that's really what we're hoping people will get from the film. We hope they reach out and realize that they're not alone.
How did you get involved as a producer?
CH. I had moved away from Fort McMurray long before the fires, but afterwards, some of the school boards contracted me to return and provide resilience training to parents and educators. I was also contracted by some non-profit organizations to work with their teams on building resilience, so I was in the community a lot for about two years. During that time, I was introduced to Michael by some colleagues who thought his project would interest me as it related to mental health. Initially, it was to be a short film: 10 minutes with nobody famous in it.
"Community disasters impact people in a variety of ways, including their mental health. Back Home Again can help people around the world who are facing any kind of disaster."
Part of my role has been to secure funding and build community partnerships with non-profit and corporate organizations. One of the really unique things we did was find sponsors to fund subtitling the film into Cree and Dene, which are Alberta's two most common Indigenous languages. We'll be releasing those subtitled versions later this year and we're working on French subtitles too. I also helped create some supportive educational materials for the film. It's been a real opportunity for me to do some of the things that I love and I'm passionate about.
It may have started small but the film ended up with an all-star cast that includes the likes of Jeremy Renner, Martin Short, Kim Basinger, Eugene Levy, Catherine O'Hara, Michael J. Fox, Tom Green, Norm Macdonald and many more. How did that happen?
CH. Michael Mankowski reached out to his connections, one of them being actor Tom Green and the other, producer John Schneider. They, in turn, started talking to some of the talent and celebrities that they're connected to. And that's how this incredible cast of 19 actors and celebrities got involved. What's significant is that all of them donated their time and voices to the project. While the majority of the cast is from Canada, there are some from the US and have been impacted by the California fires. I think it's part of the reason why they got inspired to be a part of this film. The California fires were still going on in 2018 when we were making the film. Kim Basinger, for example, actually lost her home in the fires and she voices Mother Bear. Martin Short, too, was evacuated during the fires. Many of the animators, I believe there were 28 of them, who worked on the project live in countries that are frequently facing forest fires as well. The film had a deep connection with the team, the cast and even the animators.
Why is mental health a key issue in the film?
CH. Community disasters such as the Fort McMurray fires, the California fires or the British Columbia floods, as well as global catastrophes such as the ongoing pandemic, impact people in a variety of ways, including their mental health. As we worked together, Michael and I realized that Back Home Again can help people around the world who are facing any kind of disaster. We brought in about 20 different mental health professionals to help us at different stages around the content and the script. We also collaborated with the Canadian Red Cross and the Canadian Mental Health Association, who have played a vital role in this project. For example, the Canadian Mental Health Association is working with us closely to create resources and educational tools so you can talk about mental health after watching the film. Michael and his team are also working on an app that will support people in those conversations and in building resilience after they watch the film.
---
This interview has been edited for clarity and length.