Celebrating the education legacy of the Honorable William G. Davis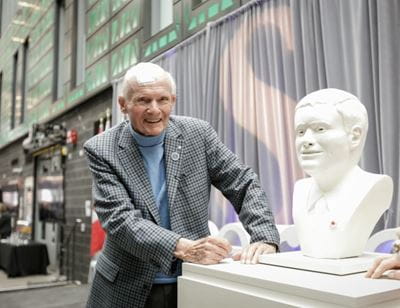 Sheridan mourns the death of the Honorable William G. Davis, visionary of Ontario's community college system and the namesake of Sheridan's largest campus, Davis Campus in Brampton. Brampton Billy, as he was affectionately known, was 92.
"With heavy hearts we acknowledge the death of former Ontario Premier Bill Davis, a great friend to Sheridan and Ontario's community college system," said Dr. Janet Morrison, Sheridan's President and Vice Chancellor. "We are incredibly proud that our first home and largest campus is in his home city of Brampton and bears his name. His exceptional legacy will live on in the students, faculty and staff who have the privilege of walking through the doors of our Davis Campus, and through the doors of our college as a whole."
A champion of education
Davis became the Minister of Education in 1962 and added the role of Minister of University Affairs in 1964, holding both portfolios until 1971 when he became the province's 18th premier. He significantly increased education spending in the 1960s and unveiled Bill 153 on May 21, 1965, which created Sheridan and the other Ontario colleges. The colleges of applied arts and technology would serve the needs of local communities and provide students with the skills they required to thrive in a rapidly evolving economy and a world experiencing an incredible rate of technological change.
Postsecondary education looked quite different in the 1960s than it does today. Opportunities weren't readily available to high school graduates, many of whom entered the workforce or started families soon after graduating. But Davis had a bold vision for change – to create opportunities for high school graduates to develop technical and practical skills. Because of Davis's vision, Ontario now has 24 colleges of applied arts and technology with campuses in 200 communities, attended by millions of students since they began.
Many of the new public schools, universities and colleges he was instrumental in creating now bear his name. He also founded the province's education broadcaster, TVOntario in 1970.
Davis was the second longest serving premier in Ontario history, with a tenure that was nearly 14 years long, from 1971-1985 – the result of winning four consecutive elections. Davis was first elected to office in 1959 at the age of 29, became a cabinet minister at age 33, and won the title of premier at age 41. He is widely regarded as one of the most important premiers in Canada's history.
Creating a Sheridan legacy
In June 1969, Premier Davis delivered the keynote speech for Sheridan's first-ever convocation ceremony. He shared his passion and insight with 145 students – Sheridan's first graduating class. In March 1970, Davis toured the official opening of the new campus and commented, "For a college to be built as cheaply as $23 a square foot, this structure was well planned for initiative and creativity." Sheridan's McLaughlin Road campus was proudly renamed for Davis in 1992.
To help mark the Ontario colleges' 50th anniversary celebrations in 2017, the colleges launched the William G. Davis Innovation Fund contest that encouraged students and alumni to pitch creative projects and initiatives to compete for cash prizes. The fund was named in Davis's honour as a tribute to his bold and creative thinking that revolutionized postsecondary education in Ontario.
"When we launched the Ontario college system 50 years ago, I had hoped that we would create a meaningful and rewarding system that prepares students for a broad range of careers," said Davis at the launch of the Fund. "That hope was not only realized but surpassed. Today's colleges are preparing students for many of today's most challenging careers. This new fund will promote some of the truly innovative ideas being developed at colleges throughout the province," he said. "It is truly an honour to have it established in my name."
Two awards exist at Sheridan in honour of Davis: the Kathleen & William Davis Award (presented annually to a student studying in a technology program in the Faculty of Advanced Science and Technology), and the William G. Davis & Avie Bennett Bursary (presented annually to 13 students enrolled in full-time programs at the Davis Campus).
Honouring a life of service
Davis was awarded an Honorary Bachelor of Applied Arts (Animation) degree at Sheridan's 2002 Convocation, and received more than 18 honorary degrees from institutions in Ontario and abroad. Other honours include membership in the Privy Council, investiture as a Companion of the Order of Canada, and induction as a Knight in l'Ordre National de la Legion d'Honneur.

His achievements as premier included the expansion of Ontario's human right code, helping to finalize the 1982 Constitution Act, and granting free education to Catholic Secondary School students.
"He brought community colleges to Ontario," said former Mississauga mayor and Sheridan Chancellor Hazel McCallion in an interview with Brian Crombie. "What an impact that's had on this great province, allowing young people to go to college when you can't afford to go to university. Think of the thousands and thousands of students that have graduated from all the community colleges in Ontario and prepared them to go to work because that's what community colleges do. He'll be remembered as a man of integrity, he'll be remembered as a man with a great humour, he'll be remembered as Mr. Education. He will go down in history, in my opinion, as a leader who made… the most significant impact on the education in this province."
Davis was presented with the Key to the City by Mayor Patrick Brown on November 25, 2019. In honour of his 90th birthday, July 30, 2019 was proclaimed Bill Davis Day in Brampton. He'll be remembered as Brampton's favourite son.
The Bill Davis legacy, which placed great significance on public education, will continue to profoundly impact Ontarians for generations to come. Here at Sheridan, our learning community will proudly and boldly carry on his legacy with a deep sense of gratitude.