Alumni step up to help their communities during COVID-19
In the past two months, Sheridan employees, students and alumni have volunteered their time, provided financial assistance, expertise and supplies toward a nationwide effort to address gaps in services, a heavy demand on supply chains and the impacts on people's well-being during turbulent times.
Here, find the stories of five inspirational alumni who have found innovative, heartwarming and generous ways to give back to their communities throughout the pandemic.
If you are or know of an alumni contributing to their communities during the pandemic, please reach out to alumni@sheridancollege.ca.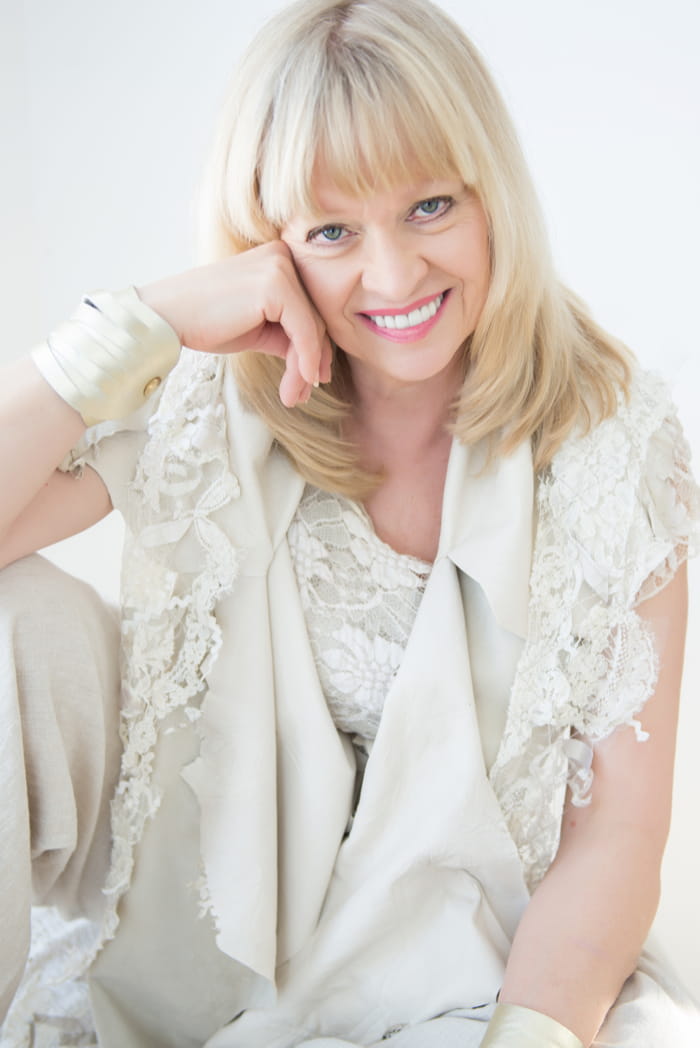 LINDA LUNDSTROM
OWNER, LINDA LUNDSTROM
Fashion Design '72
www.lindalundstrom.ca
When she's not focusing on her Therma Kota luxury line of Nordic inspired outerwear, renowned designer Linda Lundstrom is known for sharing her deep knowledge of design and manufacturing with others, through workshops, speaking engagements and her consulting practice.
Perhaps lesser known is Lundstrom's work sharing her design knowledge through "The Sewing Circle Project" – an initiative established in 2010, dedicated to working with Indigenous communities to help them create their own clothing and accessories, with the intention of turning their work into viable business ventures. Eabametoong – a remote fly-in First Nations community 400 km of Thunder Bay – was established as the first site for the Sewing Circle Project. In 2017, equipped with fabric, industrial cutting and sewing machines and supplies, Lundstrom travelled to the community nine times to set up and train participants. She's been close to the community ever since.
When an Eabametoong resident tested positive for COVD-19 in April, she was asked to help. Social distancing is challenging in Eabametoong, where resources are scarce and overcrowding is an issue. Eabametoong's band office reached out to Lundstrom, asking her to send supplies to make prospector-type tents to house people.
"As the weather gets nice, they're open to going outside the community into more wooded areas to stay in tents and isolate themselves," explains Lundstrom. She arranged for the delivery of over 1,000 pounds of fabric and supplies to make 50 tents for the community, going by truck from Toronto to Nakina, before making the rest of the journey by air. Included is a special thread that doesn't deteriorate in the sunshine.
"Once the delivery arrives, I will be working remotely with the team there to make these tents as quickly as possible," she says.
"I want to draw attention to the communities being affected by COVID-19 that aren't necessarily featured in the news."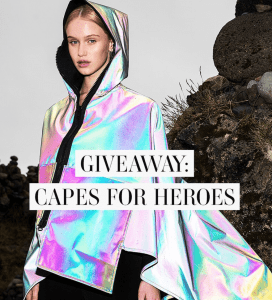 Closer to home, In April, Lundstrom also asked the community to nominate a Healthcare Hero to receive their very own superhero cape – Therma Kota's MAJA rain cape. And since folks are spending more time in their kitchens these days, Therma Kota's KOKKUR apron sales enable the company to donate 15% to the Canadian Native Centre, which is working to provide meals and services to the Indigenous community in Toronto.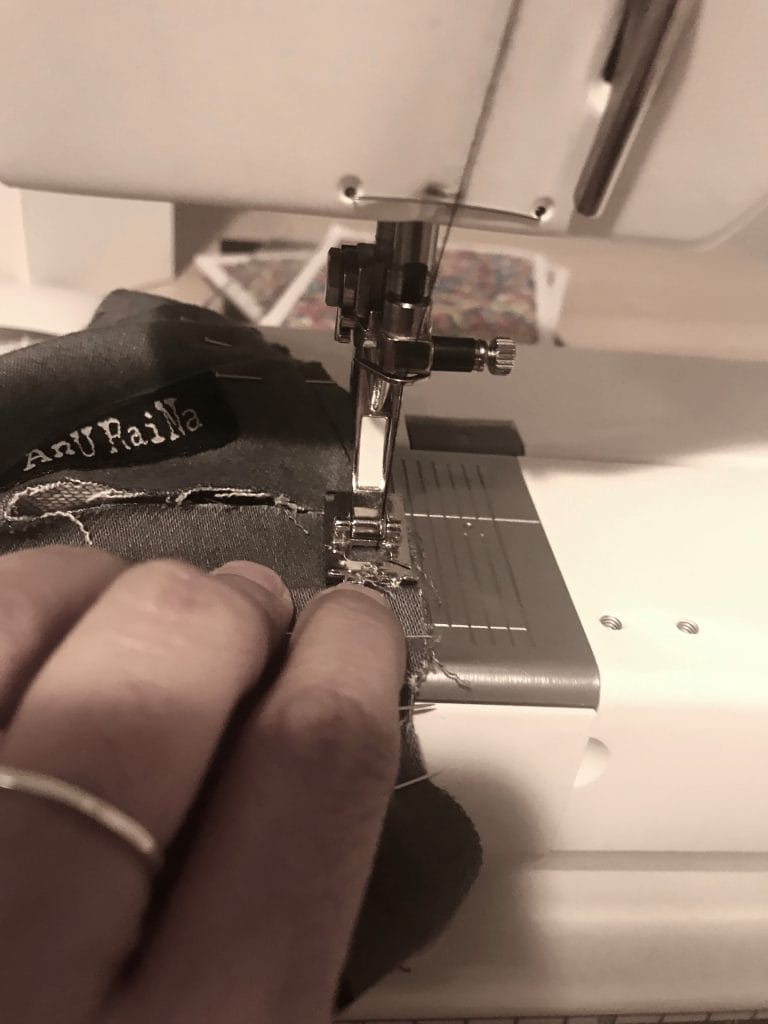 ANU RAINA
OWNER, ANU RAINA DESIGNS
Craft & Design '10
www.anuraina.com
When the COVID-19 pandemic cancelled fashion / trade shows across the country, Toronto-based designer Anu Raina found herself with an inventory of unused fabric and a lot of free time.
Initially, to keep her company, Anu Raina Designs, afloat, Raina and her team decided to drastically mark down her pieces. But when some of the clients refused the discount and insisted on purchasing her pieces at their original prices, it inspired Raina to give back to the community. She's been sewing free masks for people who have compromised immune systems or who are recovering from radiation therapy. "One random act of kindness sets off a chain reaction of kindness in the community," she says.
Raina started off by researching how to make masks and trying a few patterns, with a focus on creating a fabric mask that could survive repeated washings and be used for a long time. "We used a new roll of soft cotton denim fabric — which never made it to production due to COVID — and some leftover woven soft cotton fabrics" she explains. "We washed the fabrics to preshrink them so the final product wouldn't shrink in a washing machine."
Since Raina's production facility in Toronto is shut down due to the pandemic, she's washing, ironing, cutting and sewing the masks herself while a friend is helping make the strings.
"My sewing speed is slow due to an old elbow injury," Raina says. "So, I'm only able to make batches of 20 masks at a time. I donated first batch of free masks and I'm working on the second batch of 30 masks right now. I will continue making them slowly, for as long my fabric rolls last."
Raina says folks are sending her direct messages via Twitter, Instagram and Facebook to request masks for their ailing parents, spouses or themselves. Most people pay for the postage, and some kind people pay extra, which means Raina is able to cover postage for people who have lost their jobs due to the pandemic.
"It has sort of become a little circle of kindness," says Raina. "We are going through difficult times and we need to be kind to each other more than ever."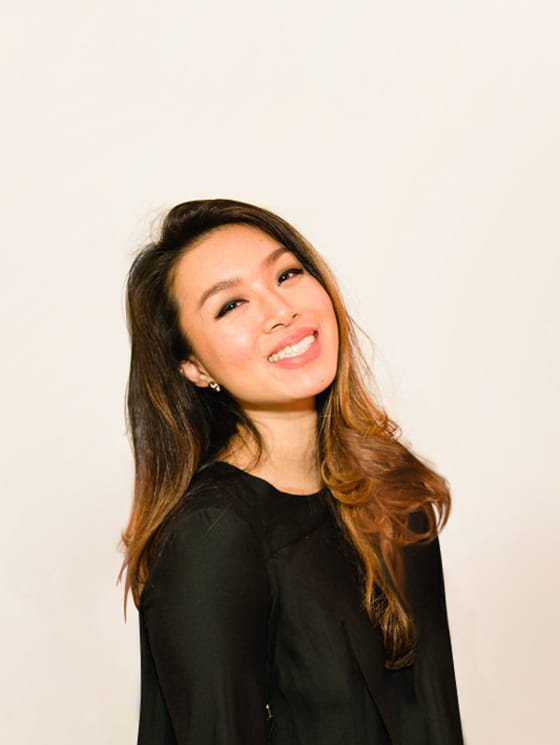 EMILY YAU
FOUNDER, THE NEIGHBOURGOOD
Advertising '13
Instagram: theneighbourgood
A creative problem solver with extensive agency experience, Emily Yau is passionate about designing simple solutions to improve people's lives and make the world a better place. And as a proud Torontonian, she was heartbroken to see the effect the COVID-19 pandemic was having on the small businesses in the city.
To help her neighbours, Yau decided to use her advertising and digital expertise to launch "the neighbourgood" – a social good initiative aimed at lending a hand to small businesses in Toronto. At absolutely no cost.
The neighbourgood, which debuted at the end of March, initially set out to help temporarily closed businesses such as restaurants, cafes, bars, shops, services and fitness studios bring in cash flow by helping them sell gift cards.
"When solving problems for my clients, I would usually follow the design thinking process: empathize with who I'm helping, define the problem they're facing, prototype my idea(s), test them to get user feedback and finally, implement the solution. But, anything goes right now, when time is of the essence," Yau says.
Yau found an e-card gift solution called Gift Up that was waiving its fees, ensuring that the small businesses that participated could join at no cost. "They were crucial to our success because their product helps sell, manage, track and redeem gift cards – something we knew nothing about."
Yau says the neighbourgood has seen tremendous success so far, setting up almost 40 businesses with Gift Up, and selling thousands of dollars in gift cards. "Some of them had very primitive ways of tracking gift cards, like manually on a spreadsheet, so they were overjoyed when we helped them set up a more automated, easy-to-use tool," she says. "We have felt so much love from small business owners who were able to receive cash injections and community members who have opened their wallets to support their neighbours."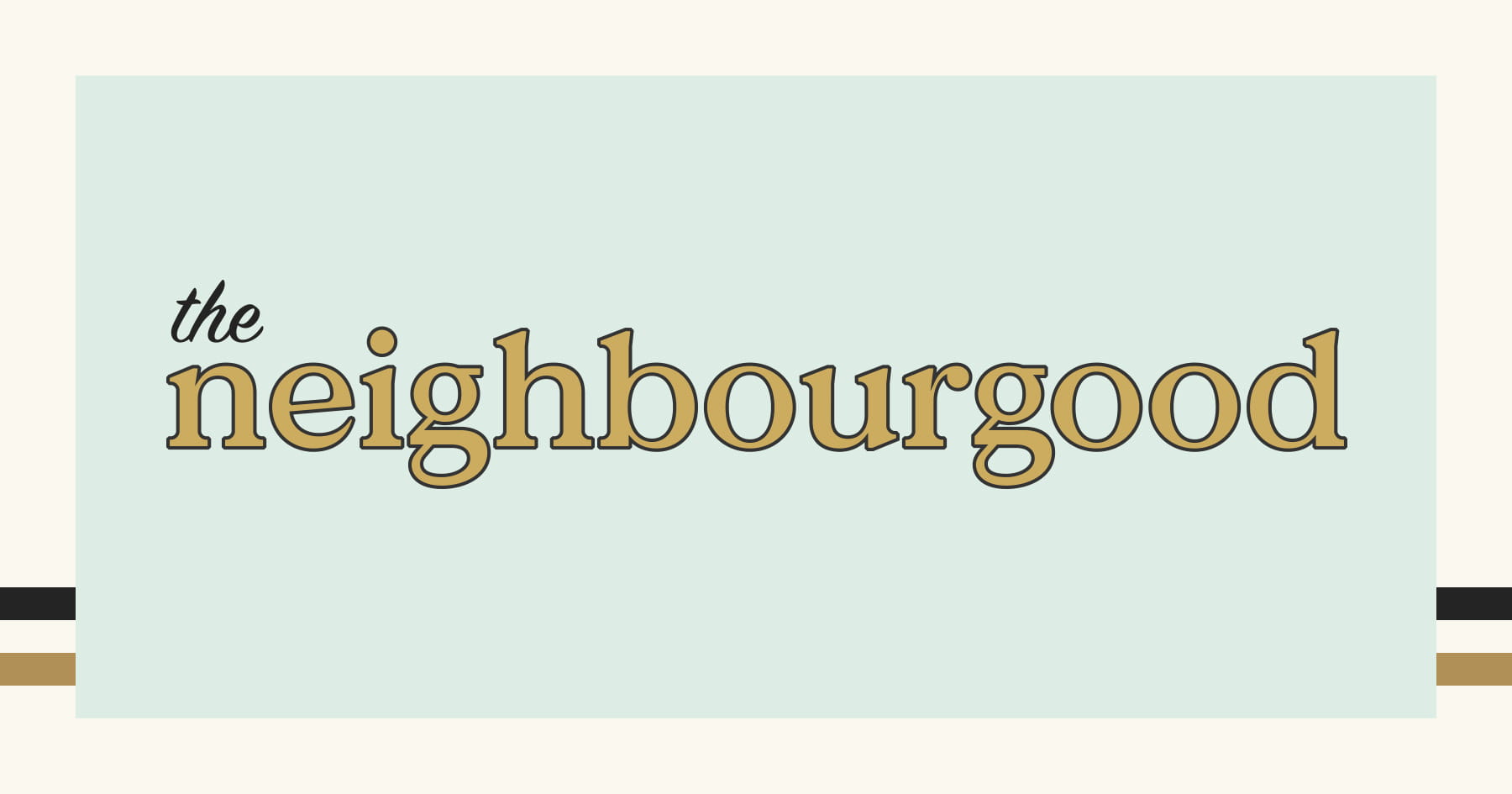 Today, a month-and-a-half later, Yau is expanding the neighbourgood's support by assembling a team of creators – photographers, videographers, designers, social media strategists – who want to donate their time and skills to help these small businesses.
Yau says the owners now realize that being online and marketing themselves is more important than ever, so the idea of receiving free expert help was extremely welcomed.
"This initiative has been incredibly humbling and inspiring, seeing how our community has banded together. We're always looking for support for our neighbours, so if you or you know someone who's a marketer or creator who'd like to donate some time and skills, please reach out."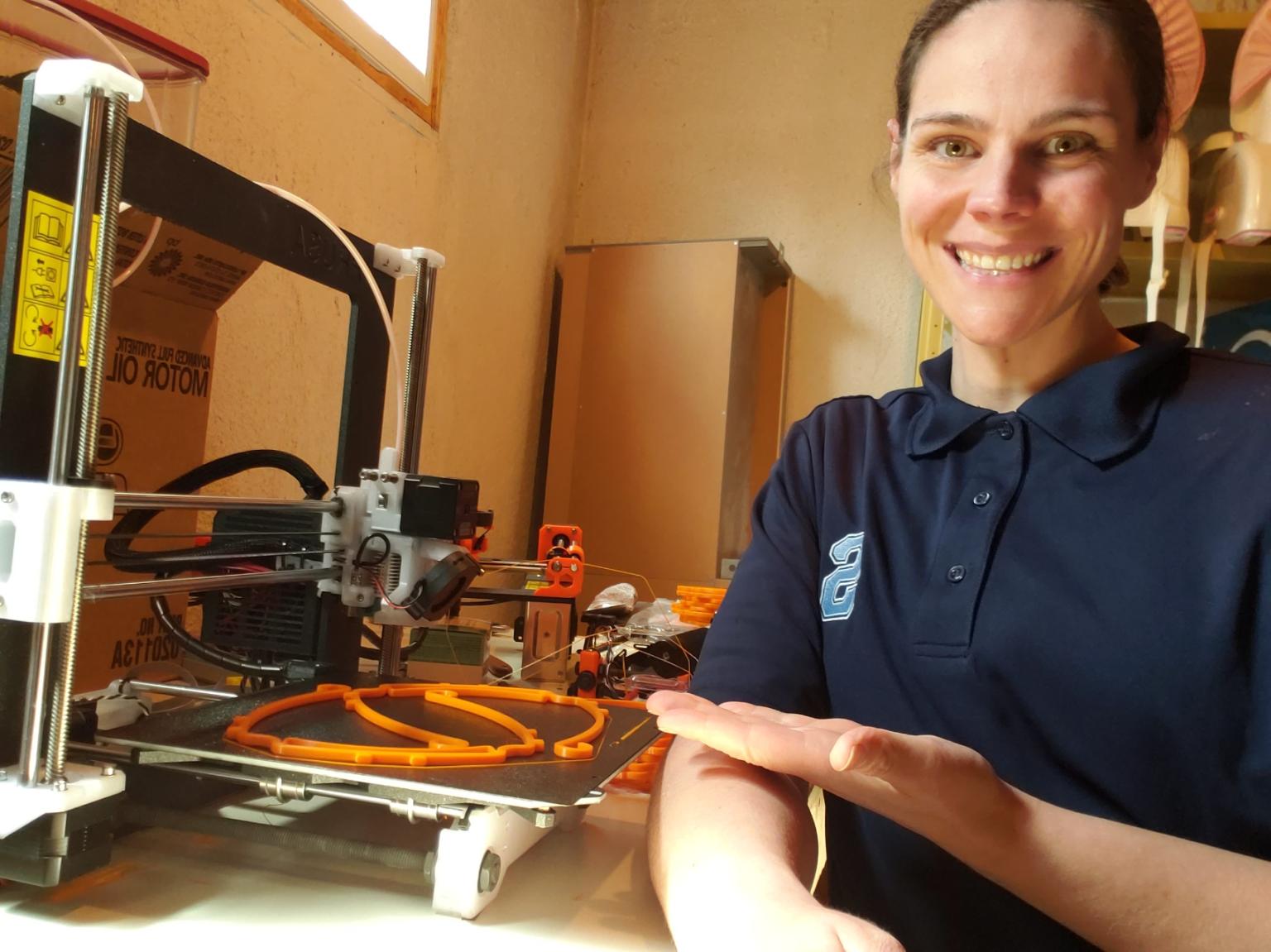 MARY-CATHERINE HUSTON
STUDENT ADVISOR, SHERIDAN COLLEGE
Social Service Worker '09
Mary-Catherine Huston is a Student Advisor at Sheridan's Trafalgar Campus in Oakville and an alumna of the college's Social Service Worker program ('09). Using two personal 3D printers at home, Mary and her partner have been printing ear savers for regular face masks and bands for face shields, all for donation to frontline workers.
So far, they've created 250 units, with more being printed each day. "The Sheridan community has been the primary motivation and inspiration for this project," she says. "As I speak with our students and hear the kindness they have for others, and see the institution-wide projects to help others in the communities we serve; it is a call you cannot ignore. We both knew we could do something to answer that call and hopefully, inspire others. Together we are strong."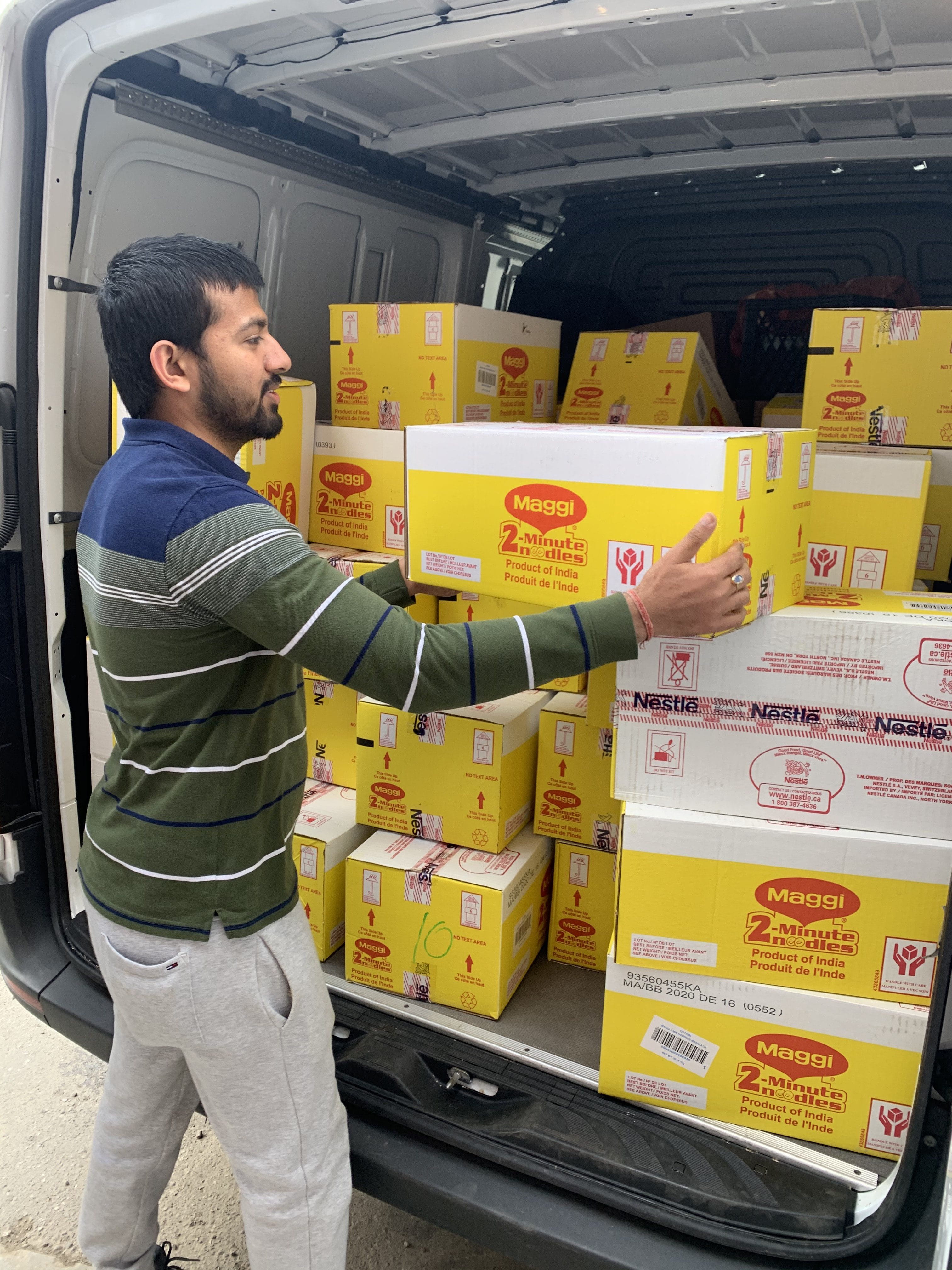 SHIVAM BANSAL
FOUNDER, JEEVAN IMPEX INC.
Electronics Engineering '15
Shivam Bansal was in a unique position to support students during the pandemic.
He knows first-hand the obstacles they face. In 2013, he flew from northwest Delhi, arriving in Toronto on his own, without even a place to stay, to study Electronics Engineering at Sheridan.
Today, he's a self-made successful entrepreneur. Having graduated from Sheridan in 2015, he enjoyed time as a part-owner of point-of-sale company Creative POS, was named one of Brampton's Top 40 Under 40, and had built as life for himself in a city that was completely new to him seven years ago.
In January 2020, just prior to the COVID-19 pandemic making headlines in Canada, Bansal and his wife decided to forego their full-time jobs, launching Jeevan Impex Inc. – new wholesale food distribution company serving primarily independent grocers and restaurants. A Hindi word, Jeevan, meaning "new life," doubles as the company's philosophy – Bansal says that whatever success he has with the company will give him reason to give back to the community in one way or another, providing new opportunities.
With access to large quantities of basic grocery necessities such as rice, milk and flour, Jeevan experienced unprecedented success after its January launch because there was so much demand in grocery stores. This meant that when the pandemic hit, Bansal could afford to give back to his community.
Working with Sheridan, Bansal coordinated the donation of 350 one-litre cartons of milk to a food bank close to Sheridan's Mississauga and Sheridan campus. He's also donated 42 cases of instant noodles – a student staple.
"I remember when I was an international student at Sheridan, so I know they're the ones with the most desperate need," he says. "Most of them are jobless, they're paying money for rent, and they often don't have cars to drive to stores. They're taking public transit, when we're being told to stay at home during this time."
Anxious to ensure products get directly into the hands of students, he also stepped up to coordinate additional donations with some of the grocery stores he works with. Those grocers place signs advertising to students, letting them know that if they give Bansal's company a call, he will work to deliver some basic groceries such as rice and flour to them free of cost.
Working with food banks has given Bansal a new perspective on food accessibility in the GTA, and he's hoping to work with his grocery and restaurant contacts even after the pandemic ends to help provide food security to those in need.
But, for now, his focus is on the students. "Most homeowners in Canada have the financial stability to sustain themselves for a bit…but students are often on a very strict budget paying rent every month along with tuition feeds," he says. "That's why I'm focused on giving to them during this time.
---
Pictured above: Mask designed by Sheridan alumna and designer Anu Raina.
Written by: Meagan Kashty, Digital Communications Officer at Sheridan, in collaboration with Keiko Kataoka, Manager, Communications and Public Relations and Carolina Salcedo, Internal Communications Officer.