IT grad turned Internet sensation
Shobhit Banwait was shocked when he first became an internet sensation. After all, the viral videos he produces feature something the young grad has been doing for most of his life: playing music.
The 28-year-old IT alumnus has become a social media celebrity thanks to his covers of Bollywood classics and chart-topping hits. Banwait reimagines songs from popular artists such as Ed Sheeran, Sia and Drake using the tabla, a pair of drums native to South Asia.
Banwait's love of music is largely inspired by his father, who used to sing in a band in Toronto and played the dholak, a two-sided hand drum. "When my father was in his teens, his dream was to sing and be in Bollywood films. He used to sneak out of the house at night to sing at functions," Banwait says. "But it was a hobby for him."
Encouraged by his father, Banwait began playing the dholak as soon as he was able to keep a beat. At 13, he started taking professional lessons at his spiritual centre in Brampton, Ont., eventually switching to the tabla. An annual pilgrimage to India also led Banwait to develop a unique musical style, as he watched local musicians. "I was exposed to so many different types of cultures within India, and so many styles of music," he says.
Banwait began covering traditional Bollywood songs as a hobby when he was 15. While attending Sheridan for IT Support Services, he continued to play for friends, intending to follow in his father's footsteps and get a standard 9-to-5 job after graduation. While working in IT, he expanded his repertoire, posting videos where he fused his distinct musical style with Top 40 songs. "I guess people liked that it was something different and something new," he says.
"When I perform at the festival, it feels like I'm performing in India – the students have so much energy."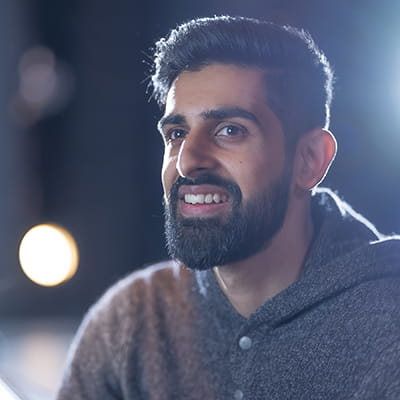 In 2016, his rendition of Calvin Harris and The Disciple's How Deep is Your Life won more than 32,000 shares and two-million views on Facebook. "The beat is fast, and is played as a more upbeat Indian song," he explains. "I like it because it reminds me of traditional songs as well. It's the best of both worlds."
The success of the Harris cover prompted Banwait to post videos more regularly, leading him to eventually gain a strong following on social media. Viewers would reach out, asking him to perform at their parties. The requests eventually became so frequent that he was able to quit his job and focus exclusively on playing the tabla.
Today, Banwait is pursuing music full-time, performing at weddings, birthday parties and the odd festival. He's also one of the most anticipated performers at Sheridan's International Welcome Festival. In 2018, he performed for the third consecutive year, taking the stage at Sheridan's Davis campus in front of 700 students.
"When I perform at the festival, it feels like I'm performing in India – the students have so much energy," he says. "The majority of the students are Punjabi, so I try to cater to them. When I transitioned from Top 40 hits to Punjabi songs, the crowd went crazy. It makes me enjoy it that much more."
Banwait says these days he's veering away from the fusion hits he's known for, covering more traditional Indian songs. "My biggest fan base is in India, so it makes sense to cater to that audience," he explains. "Now I'm looking to create and produce my own music. You can't make covers forever."
---
Written by: Meagan Kashty, Digital Communications Officer at Sheridan.