Three alumni share how they find balance while working full-time
The pandemic has prompted a precarious work environment for many. Amid the uncertainty, some are finding ways to turn their hobbies and passions into money-making ventures. Side gigs come in many forms: a new part-time job, running an online store, or hosting a podcast. But balancing a full-time job while working on another professional pursuit on evenings and weekends is no easy feat. It takes patience, perseverance, and above all else, passion.
We asked a few of our alumni how they make passion projects work:
Amit Nanwa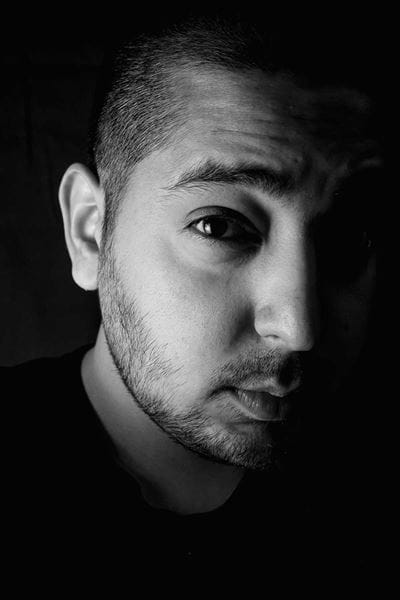 For Amit Nanwa (BBA, Human Resources '17) , pursuing an entrepreneurial venture while working full time has meant he's been able to satisfy his creative side.
Working full time as an Office Manager at Soho Innovation Lab and as a Freelance Training Coordinator with PURconsultants, Nanwa is also a Creative Director for New Theory Radio – a weekend radio show on Sauga 960am. In addition, Nanwa manages his own photography business, Colourblind Photography.
Nanwa initially went to Sheridan angling for a corporate job in Human Resources after graduation. As part of his Human Resources degree program, he completed a four-month internship, meant to give students real-world experience. In Nanwa's case, he interned at Brampton-based LAB B – a co-working space for early-stage startups and founders.
"I was able to see first-hand individuals who were building their businesses from scratch and working with clients," says Nanwa. "I was able to meet all kinds of people, including creatives such as photographers, graphic designers and consultants. It gave me a sense of career backgrounds I had never thought about."
The experience made Nanwa realize that, although he still wanted to pursue a career in human resources, he wanted to tap into his creative side as well. Drawn to photography, he began snapping photos on his iPhone, and eventually bought a camera. Realizing he had a knack for capturing images, he began posting his photos to social media, gaining likes and a larger following.
What I learned at Sheridan helped me expand into a new field. I didn't want to lock myself into one industry. I knew I could do more than that. – Amit Nanwa
Nanwa realized early on that portraits were his calling. "I like working with individuals, because I feel like you really feel the bond with your subject – you can display their emotions and feelings in an image," he says.
Nanwa was able to use the business knowledge he gained at Sheridan to launch Colourblind Photography. "What I learned at Sheridan helped me expand into a new field," he says. "I didn't want to lock myself into one industry. I knew I could do more than that."
While managing multiple positions can be tough, Nanwa feels he has a good system in place to make sure he's giving all his roles his full attention. Photography is usually reserved for evenings and weekends, while the radio show airs on Sundays. He's able to manage his schedule to ensure that if things are busy at Soho, he doesn't take as many freelance gigs.
"Sure, sometimes I feel stressed and need to take a step back, but at Sheridan I really learned how to multitask and manage my time effectively," he says. "And I know my limits. I know when I need to take a step back to clear my head. I know that if I'm constantly working, I won't be as creative in my roles, and that's not fair to the company I work for and it's not fair to my freelance clients. I always want to present the best version of myself."
Although Nanwa's not sure if he'll always be up for hustling as hard as he is right now, it definitely has its benefits. Along with bringing in another source of income, he's able to pursue his passions while developing new skills he may not have been able to otherwise.
"Colourblind started out as a leap of faith. I was a little scared, but if you're passionate about something, you have to get out there and do it. You won't know what happens until you try."
---
Neal Chauhan (Marketing '17)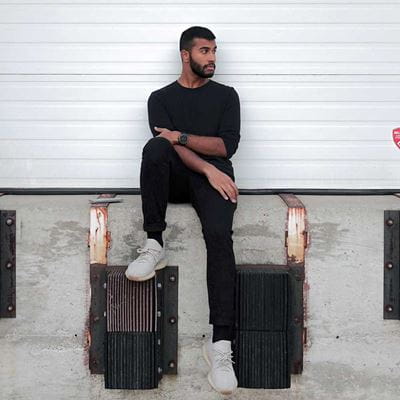 Neal Chauhan (BBA, Marketing Management '17) has experience on both sides of the entrepreneurial coin.
As a Social Media Marketer with Shopify, a large portion of his role involves working with young and aspiring entrepreneurs. "We have a direct connection to these teenagers and 20-somethings who are thinking of starting a business," he explains. "Our goal is to let them know that entrepreneurship is an option, and to help them get their start."
On the other side, Chauhan is no stranger to running his own businesses. While studying at Sheridan, he founded and ran two different companies – one small marketing firm and another an e-commerce site – while also working several part-time marketing gigs. Today, alongside his work at Shopify, Chauhan is the co-owner of Toronto Car Spotting, a 24,000 member community that shares sightings of exotic cars from around the area. "When I started college, I told myself that I only ever really wanted to be an entrepreneur – I didn't want to work for anyone," he says. "I think I'll always want to be an entrepreneur in some capacity but now, a few years out of school, I think there's something to be said for working at a great company with great coworkers – there's a level of connection you don't necessarily get when you're starting your own business."
It can be stressful balancing a full-time job and managing a business on evenings on weekends. Chauhan says that, for him, it's been helpful to always be linked to ventures that have a level of personal connection. He created his marketing company as a student because he loved marketing. He has a passion for cars, which lends itself well to Toronto Car Spotting. "If you want to make time for something, you will," he says. "If something is important to you, you tend to sacrifice other things as you need to. If you want to get super fit, you'll make time to go to the gym. If you're super into a video game, you'll find a way to play it."
During his time at Sheridan, Chauhan says he became well-versed in time blocking and prioritizing to make sure he was able to follow his passions. Balancing a full course load while running a company, he realized he worked the best when following the Pomodoro Technique – a time management method that prioritizes focusing for shorter, 20-minute segments, with smaller breaks in between. "I realized that with that method, I can properly focus for a full day. I've been doing it ever since."
But it's not the only way. Chauhan says many of his peers also pursue projects outside of their full-time gigs, and have found ways to make it work for them. Many of this generation have realized that it can be difficult to be financially successful from one single stream of income. It can be more lucrative to start your own business, and it's comforting to have a bit more security over something you've built yourself.
"Personal interests have often spurred the creation of my businesses – but that has to be contrasted with the fact that it (needs to be) a venture that can be monetized," Chauhan explains. "Ultimately, it has to be something that's sustainable and scalable at the end of the day."
---
Bradley Thompson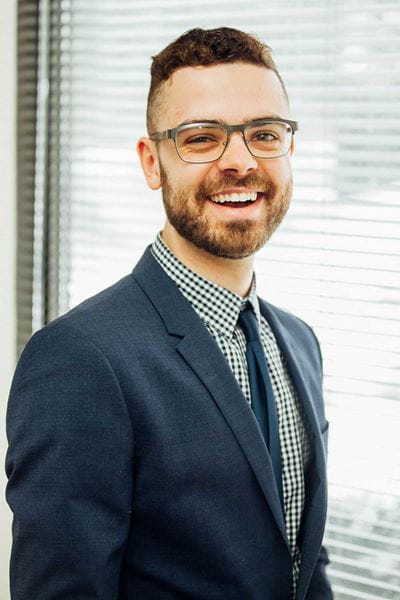 Bradley Thompson (BBA, Marketing Management '17) has never been one to be idle.
When he's not busy pursuing his professional endeavours, he spends his down time focusing on personal growth.
Today, Thompson's schedule is jam packed. During the day, he works as a Director of Marketing with DigiHype Media – a Mississauga, Ont.-based company that helps businesses with their online marketing. On the side, he shares his marketing know-how through Living the Canadian Dream – a blog and podcast focused on how to build a personal brand, grow on social media, and live the life of your dreams. He also shares his expertise with students as a professor at Conestoga College. Beyond that, as a Team Canada Duathlete, Thompson also follows a strict daily training regimen so he's able to swim and run long distances in his races. And if that weren't enough, during the pandemic, he also launched a new business venture called Relentless Bikes which sells bikes, cycling apparel and gear.
It's a lot to manage, but Thompson says he commits to any new initiative thoughtfully and purposefully.
"Anything I'm working on, I've taken it on because I'm passionate about it," he says. "A lot of my projects – like the podcast, or the new company for example – took time to grow and develop. If I'm going to pursue something new, I know I need to be in it for the long haul."
Plus, Thompson says the feeling that comes from creating something from nothing is incomparable. "There's nothing more satisfying than coming up with an idea, bringing it to market, and then executing strategies to grow a business," he says. "Entrepreneurship is all about being creative, working hard, learning, and growing, both a business, and as a person."
Thompson says he needs to be efficient with his time to tackle every project with the same stamina. This efficiency was key while Thompson was a student at Sheridan. He balanced his studies alongside working as a marketing assistant with a wellness company and he founded two companies centered around the dance community.
Today, he follows those same processes for time management, blocking off time every day, and each week, to make sure he's able to give each project his undivided attention.
As for down time, that's where Thompson's duathlon training comes into play - it's not an option for him to skip a scheduled workout. This means he's forced to leave his desk for an hour or two each day. "Although I'm still focused and training, it's a time each day when I can decompress," he says. But even then, Thompson knows to take a day off from training each week to let his body recover. That philosophy applies to his work, too. Part of avoiding burnout as an entrepreneur, he says, is listening to his body and recognizing when he's hovering a bit too closely to the brink of exhaustion.
"Balance is everything, so make time for the things that you enjoy and need to prioritize," he says. "Everyone has the same 24 hours in a day, so there are no excuses."
While Thompson thrives in the entrepreneurial lifestyle, he recognizes that it might not be for everyone. When you start a business, especially when you're still working a full-time job, your free time disappears.
"When things start getting tough (and stressful) and you start to question your project, remember why you started this business and all of the goals you have achieved until this point," he says. "That will help you get through those dark periods of self-doubt and stress."
---
Bradley Thompson photo credit: https://artclip.ca/