Music theatre alumna brings a new holiday story to the Elgin and Winter Garden Theatre with Chris, Mrs.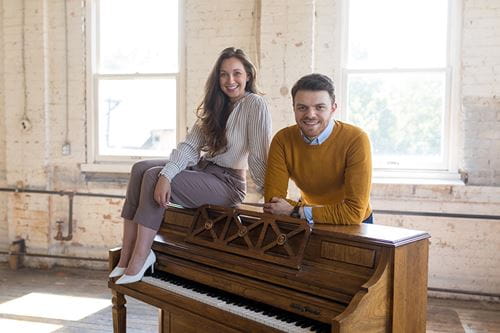 As the director, producer, and lyricist of new original musical Chris, Mrs., Katie Kerr (Music Theatre Performance '13) and her producing partner, composer, music director and husband Matt Stodolak are excited to bring a new holiday story to Canadian audiences.
The show is on stage as of December 5 at the historic Elgin and Winter Garden Theatre Centre on Yonge St. in Toronto and will run to December 31. The story surrounds widowed father Ben Chris, who needs to sell his family's lodge. As the family packs up, his children find a ring in his suitcase and think he will be proposing to his socialite girlfriend. Panicked, they write a letter to Santa asking for assistance, and he intervenes throughout the play as the children plot and plan on how to help their dad with his love life.
The idea for the show sparked during 2020 COVID lockdowns, when Kerr and Stodolak found themselves writing to pass the time. They reflected on their own love story of meeting while working on several holiday musicals and their love of the Christmas season as they looked for inspiration for the show.
"We realized that there was this gap in available modern Christmas content in the Canadian musical theatre canon," says Kerr. "Since Matt is a musician and I've been in theatre as an actor and director, we combined our talents. Matt took care of the music. I wrote the book and the lyrics, and over the course of a year and a bit, we fleshed out about 100 versions of the show."
In December of 2020, they started a Kickstarter campaign to get the show off the ground. Three years later, it is premiering on one of the largest stages in Canadian theatre. Kerr says obtaining such a large stage for a new original musical was "probably a bit of a happy accident." When she and Stodolak heard there was going to be an opening at the Elgin and Winter Garden over the holiday season for the first time in 25 years, they simply made a call and asked, "is there a waiting list? How can we get on it??"
Kerr credits Sheridan with helping her develop that confidence and tenacity. She says Sheridan was monumental in her development as an artist interested in new works. While studying at our Trafalgar Road Campus in Oakville, she was cast in Come From Away and Theory of Relativity, which were then in development at the former Canadian Music Theatre Project.
"Being a part of these shows was the pivotal turning point in my experience in musical theatre," says Kerr. "It became the reason for my drive to be in the room when new things are being created from the ground up. It really carved the path that has led me to creating my own work."
Videography by Ryan Kelly.