After two long years, magic is back onstage. Harry Potter and the Cursed Child is now playing at the CAA Ed Mirvish Theatre, transporting fans of the iconic book series into a visually stunning time-turning world of wizardry that reveals the adventures of a new generation of students at Hogwarts.

Sheridan's theatre graduates are playing a big part of bringing the mesmerizing story to life. Hailey Lewis (Honours Bachelor Music Theatre Performance '16) plays Rose Granger-Weasley. She is joined in the company by fellow alumni Lucas Meeuse (Music Theatre Performance '09), Wychita Henricks (Honours Bachelor Music Theatre Performance '20), Nick Boegel (Honours Bachelor Music Theatre Performance '21) and Bryce Fletch (Performing Arts Preparation '16). Earlier this spring, they took time out from their busy rehearsal schedule to share what's it like to be part of this must-see performance.
You've waited two years to perform in the show, and now it's finally on stage. What are you most excited about? What is the best part of going to work every day?
Bryce Fletch: With theatre being on pause the last couple of years because of the pandemic, gathering in a theatre to tell stories is something I'm looking forward to. I am amazed by the ways we make magic happen on stage. The Harry Potter team has found some very clever and creative ways to tell this story. I hope the audiences are amazed when they see the show.
Wychita Henricks: I am most excited to be performing again with an amazing cast and to be sharing my love of Harry Potter with a new generation, and in a whole new medium. The books and movies are easy to access, but for so long the play was out of reach to those of us in Canada. Now Canadians can experience the magic of Harry Potter live on stage!
Nick Boegel: Before rehearsals started, I was most excited about finally getting to meet the cast! Even to this day, what excites me the most about going to work every morning is getting to spend time with this warm, generous and ridiculously funny group of people.
Lucas Meeuse: It's been such a long wait. I think the most exciting part is that the audience has been waiting two years to see the show as well! Sometimes, I look around and I can't comprehend how cool it is that I get to 'play pretend' for a living.
I was such a Harry Potter fan as a kid, and I think my younger self wouldn't have believed I'd get to be a part of this world. There is also something sentimental for me about working at the CAA Ed Mirvish Theatre. The first show I saw when I moved to Toronto was in this theatre, so there's something very special about performing in this house.
Hailey Lewis: I am so excited to bring live theatre back to audiences! I know many are missing seeing live work, so I am thrilled to be back in action. Getting to play onstage with such a talented cast is also exciting. I absolutely love watching my fellow colleagues slay on the stage. I am also so excited to wear a cloak! I feel like a superhero!
Harry Potter and the Cursed Child is three-and-a-half-hours long. What does your day look like now as you prepare for that performance?
BF: My days are filled with magic, rehearsals, and lots of pizza from Dundas Square. When not in the theatre working, I spend my time writing poetry, playing video games, exercising, and finding time with my partner whenever I can.
NB: I'm a swing in this show, and I cover seven tracks on top of my own. The majority of my day revolves around making sure I know as much as possible about each individual part; the choreography, the lines, the magic, the costume changes etc. I have a little pocket notebook I've been carrying around with me during tech so I can move about the theatre easily and pick up on every minute change to the staging.
LM: It seems to change all the time, so I like to just go with the flow! These days we are working hard rehearsing the show - we are in long days of tech so it's pretty much just eat, sleep, perform, repeat - but coffee, walking the dog, biking to work and watching movies will sometimes make the cut.
WH: Generally, I wake up around 7a.m. and have my coffee and breakfast. I prepare lunch and dinner for the day before heading to the rock-climbing gym to get some fitness training in. Rehearsal starts at 1 p.m., and we go until 9:30 p.m. I come home, relax with my fiancée, and then get some much-needed rest.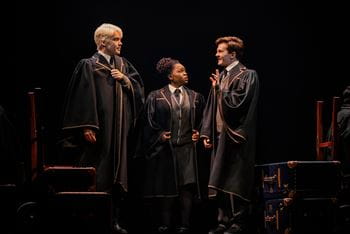 HL: If I'm not rehearsing for the show, I'm practising my ukulele, reading, watching Netflix or FaceTiming friends!
Tell us about your Harry Potter history - did you grow up reading the books? If so, what is your favourite part of the stories?
BF: I've been a Harry Potter fan my whole life. My mom used to read the books to my brother and I when we were kids. Then, when we were supposed to be asleep, I'd sneak whatever book we were on under the covers and read ahead. I've seen all the movies multiple times, been to the theme parks, and I am the champion of the Harry Potter Scene It game in my house. I feel like a kid again, playing pretend and imagining I'm going to Hogwarts. Only this time - it's really happening.
LM: I think I stood in every line for every new book and every movie premiere, hoping that one day I would get my letter to Hogwarts. Like Harry, I was adopted. So I think what hooked me was reading about his journey of finding out who he was. And of course, the magic!
WH: For many years of my childhood, the Harry Potter series was all I would read. I grew up carving my own wands, having endless movie marathons in my basement, practising my accent, and getting the spell pronunciations just right.
Draco has been a character that has stuck with me – controversial, I know! He is a child of circumstance, thrust into this world of dark magic to please his father and ultimately the despotic maniac that he worships. His redemption arc isn't fully complete within the books, but the play allows him the space to start fresh with his son, Scorpius.
HL: I did not grow up reading the books, I was very much into A Series of Unfortunate Events by Lemony Snicket – that was my jam! But I have seen all the movies and my favourite is the fourth.
Which Hogwarts House would you belong to? Would you say you're a Gryffindor? Ravenclaw? Hufflepuff? Slytherin?
BF: On every test I've ever taken, official or unofficial, I've been a Ravenclaw.
LM: I think most would assume me to be a Gryffindor, but I think at heart I'm a Slytherin. Very ambitious and sometimes, a little sneaky.
WH: I have taken the Sorting Hat quiz many times, and I always end up with Ravenclaw. I believe that, but I also think I have some Slytherin in me as well. Call me a Slytherclaw, I suppose?
HL: I am a Hufflepuff! I am loyal through and through and like to work hard on everything.
---
Banner image: Toronto cast of Harry Potter and the Cursed Child. Inset photo: Thomas Mitchell Barnet as Scorpius Malfoy, Hailey Lewis as Rose Granger-Weasley and Luke Kimball as Albus Potter.
Photo Credit: Evan Zimmerman/courtesy Mirvish
Alumni videos courtesy of Mirvish