Alumna uses film to drive change
Everyone has a story: the scientist calling out how the environment can make us sick; the HIV-positive woman facing violence; the artist turning her cancer diagnosis into a one-woman play. Chanda Chevannes' (Media Arts '01) films uncover the passion, pain and purpose those experiences carve into a life. They're stories she was first inspired to tell when she was a student watching ?O,Zoo!, a film by former Sheridan professor and fellow Media Arts alumnus Philip Hoffman.
"It was really poetic, and also a commentary on family. I saw artistry being used to say something specific," she remembers. "I realized I could be creative with film while also trying to do something to change the world, or a small corner of it."
Her most recent short film Pity Face, follows artist Lisa Pijuan-Nomura from radiation treatments to the stage, as Pijuan-Nomura creates a play that challenges the awkward glances and furrowed brows that greeted her disclosure of her cancer diagnosis. The documentary, which will stream on BravoFactual in the coming months, builds on Chevannes' career spent creating films that reveal the unsung work of women around the world, which began with a project in Africa.
In 2005, Chevannes worked in Uganda with an organization called Raising Voices to make a documentary that told the first-hand stories of violence against HIV-positive women. She called it SASA!, – a Kiswahili word for now – to highlight the need for change. It went on be screened around the world, and even for members of the Ugandan parliament. "It really launched my career into documentary filmmaking, and had a tremendous impact on communities in sub-Saharan Africa," she says.
"When we consider activism, most of us is lionize the leaders of any movement. I wanted to show there are lots of flaws and struggles and heartache. But if they can do it, we can do it."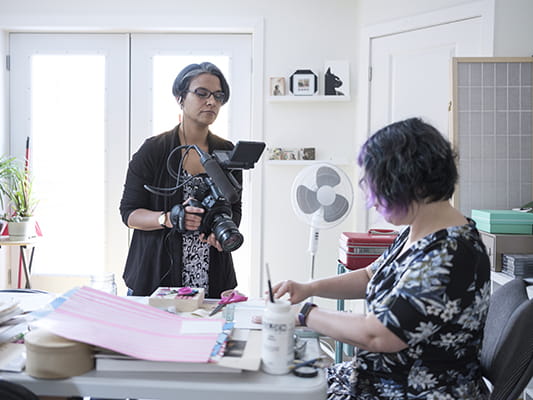 Films with impact have since defined Chevannes' career. Her 2010 documentary Living Downstream tells the story of Sandra Steingraber, a woman diagnosed with bladder cancer at age 20 who subsequently became a biologist, studying – and publicizing – the environmental links to the disease. It's been screened more than 200 times on six continents, counting more than 1,500 non-profits, law and art schools, and activist groups among its audiences.
"I'm always really pleased when I hear about how the film has affected people," she says. "I've had emails from people deciding on careers in public health after seeing the film – so it's having effects on individuals, but also on the wider societal level."
But she also recognizes that many of the people she profiles are making sacrifices in their personal lives for their work. That's what inspired UNFRACTURED, winner of Best Canadian Feature at the Planet in Focus International Environmental Film Festival in 2017. In UNFRACTURED, Chevannes focuses again on Steingraber, as she and a group of ordinary citizens in upstate New York set out to win a state-wide ban on fracking – an environmentally controversial process to extract natural gas – and to stop the expansion of a local gas storage project. Chevannes says she wanted to look at what inspired the group to take on daunting battles against big companies, and she hopes others will also see how they can make a difference, too.
"When we consider activism in our own lives, a barrier for most of us is we lionize the leaders of any movement," Chevannes says. "I wanted to show that it's not all amazing. There are lots of flaws and struggles and heartache. But if (others) can do it, we can do it."
---
Written by: Jill Scarrow, Manager, Advancement Communications at Sheridan.