Theatre Sheridan unveils 50th anniversary season lineup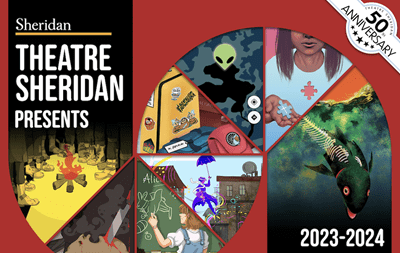 Sheridan, a renowned institution for performing arts education, is proud to announce the 50th anniversary season of Theatre Sheridan.
This milestone celebration marks half a century of excellence in nurturing and showcasing the talents of aspiring theatre artists. The 2023-24 season will highlight the creativity, innovation, and artistic growth of students studying in Sheridan's marquee theatre programs:
Honours Bachelor of Music Theatre Performance
and
Technical Production for the Performing Arts Industry
.
Theatre Sheridan has long been a beacon for emerging theatre artists from across Canada and beyond. Over the past five decades, it has played a pivotal role in shaping the careers of successful performers, such as Dora Award winner and Stratford Festival veteran Michael Therriault, as well as Tess Benger and Julia McLellan, co-founders of the Canadian Green Alliance, a not-for-profit organization devoted to bridging the gap between sustainability and theatre.
It has also served as the launchpad for some of Canada's most talented theatre technicians, including JP Sproule (Managing Director for JOEL Theatrical), Jeff Bingley (Head Stage Carpenter for the Shaw Festival), and Gideon Ayesu (award-winning Founder/Director of Congo Blue Productions).
"Our amazing students learn and work alongside some of the most distinguished and talented faculty and creatives in the industry…and it is thrilling to pick up a playbill and see our alumni working across Canada and internationally," said Tania Senewiratne, Associate Dean, Visual & Performing Arts at Sheridan. "For the 2023-24 season, we are excited to continue our tradition of nurturing exceptional talent who will shape the future of performing arts."
Staged at Sheridan's Trafalgar Road Campus in Oakville, Ont., the 50th-anniversary season boasts a curation of productions that serve as a testament to the transformative power of post-secondary theatre education. To start the season, the first series of Works-in-Development provided a unique glimpse into the creative process, allowing students to expand their collaborative and creative muscles and showcase their talents. Featuring works created by current faculty as well as international collaborators, the series concluded Saturday October 21, and has set a high bar for the depth of work all students will be bringing to the stage.
Highlights of the rest of the season include:
- A mid-December production of Stephen Sondhiem's
Sweeney Todd
that explores the question: "What is the place of vengeance in a society where we are trying to create systems of restorative justice?"
- February's latest iteration of
First Drafts
, which include new works exploring either challenging relationships with religion or the April 2016 Formosa fish poisoning disaster.
- April's closing productions for the season: Bad Hats' Dora Award-Winning adaptation of
Alice in Wonderland
and
Mary Poppins
, directed by Musical Stage Company's Artistic Director, Ray Hogg.
Visit the Theatre Sheridan website
to learn more about this year's productions. For any questions about tickets, please email
boxoffice@sheridancollege.ca
.