Sheridan to celebrate more than 2,500 graduates at fall convocation
Sheridan will proudly celebrate more than 2,500 graduates in the fields of business, the arts, community studies, applied health, the humanities, and science and technology during two fall convocation ceremonies this week at the International Centre in Mississauga, Ont.
"Convocation is the culmination of our learners' journeys at Sheridan," said Dr. Janet Morrison, Sheridan President and Vice Chancellor. "It's an incredibly special time for our graduates, their families, professors and everyone who has supported them along the way. Convocation gives us the opportunity to honour and celebrate our learners' achievements and resilience as they cross the stage and enter the next phase of their personal and professional lives."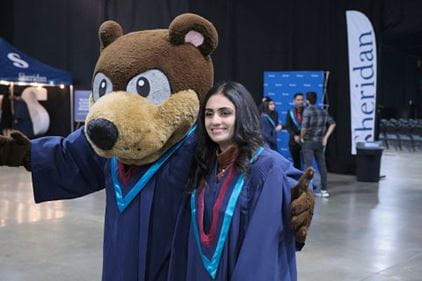 Sheridan's 62nd convocation takes place on Tuesday, October 17. An afternoon ceremony at 2:30 p.m. will recognize graduates in the Faculty of Humanities and Social Sciences (FHASS), the Faculty of Animation, Arts & Design (FAAD) and the Faculty of Applied Science and Technology (FAST). Graduates in Continuing and Professional Studies (CAPS), the Faculty of Applied Health and Community Studies (FAHCS) and the Pilon School of Business (PSB) will be recognized at the 7:30 p.m. ceremony.
Highlights of the ceremonies will include musical performances by Honours Bachelor of Music Theatre program alumni; a reading by Poet Laureate Luigi Sposato, a graduate of the Honours Bachelor of Creative Writing & Publishing program; and a keynote address by President and Vice Chancellor Dr. Janet Morrison. Six valedictorians will deliver their speeches in person during the Convocation ceremonies. Each ceremony will be livestreamed.
Graduands who have self-identified as Indigenous will receive a thunderbird pin and a sweetgrass braid, one of the four sacred medicines of First Nations communities, from Sheridan's Centre for Indigenous Learning and Support.
"Postsecondary education transforms people, families and communities," said Dr. Morrison. "We take great pride in celebrating Sheridan's newest alumni, who are now equipped to be healthier, more engaged citizens in our democracy and who enjoy higher rates of employment and greater earning power."
For more information about Sheridan's 2023 Fall Convocation, including a full ceremony schedule, biographies of the Class of 2023 valedictorians, and the livestream link, please visit convo.sheridancollege.ca