Ontario College Fair is a one-stop shop for prospective students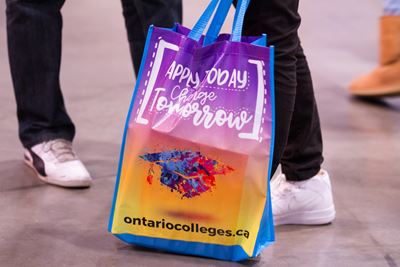 Representatives from 24 of Ontario's colleges and institutions will be in the same place to offer prospective students the chance to learn about the careers and programs available to them.
The Ontario College Fair
takes place Wednesday, Oct. 18 (5 p.m. to 9 p.m.) and Thursday, Oct. 19 (9 a.m. to 2 p.m.) at the Enercare Centre in Toronto.
The largest event of its kind in the province, The Ontario College Fair connects those interested in furthering their education with information about the degrees, graduate certificates, diplomas, microcredentials and other programs offered by participating colleges.
Professors, recruitment advisers, current students and alumni will be on hand to answer questions about their institutions. In addition to the school-specific activities, there will be information sessions covering career planning, financial aid, the application process and more.
Colleges play a key role in the success of Ontario's economy. More than 83 per cent of college graduates in the labour force find jobs within six months of their graduation, while 90 per cent of employers were satisfied with the graduates they hired.
And the number of university graduates applying to college has increased 40 per cent over the past five years, which is indicative of the quality education Ontario's public colleges deliver.
This year's Ontario College Fair takes place from 5 p.m. to 9 p.m. on Oct. 18 and from 9 a.m. to 2 p.m. on Oct. 19. The Enercare Centre is located at 100 Princes' Boulevard, Toronto. No advance registration is required.
Learn more on the Ontario College Fair website.