City of Mississauga and Sheridan College strengthen strategic relationship with Memorandum of Understanding
The City of Mississauga and Sheridan College have further strengthened their long-standing relationship of collaboration under a newly signed Memorandum of Understanding – Working Together.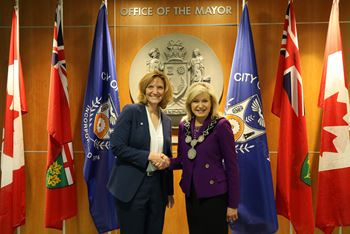 "This agreement formalizes what is already a strong relationship between the City of Mississauga and Sheridan College while opening the door to new opportunities that will shape a brighter future for our community. Students will benefit from invaluable experiential learning opportunities that connect academic curriculum with local economic needs, while supporting the City's efforts to foster innovation, job creation and economic growth. Together, through joint advocacy and coordinated industry outreach, we will attract investment and showcase our city's incredible potential," said Mayor Bonnie Crombie. "Above all, this partnership will ensure meaningful student engagement and help build a talent pipeline that will connect students to jobs and businesses to top talent."
This new agreement takes effect on June 1, 2023 and will enable both organizations to leverage current successes and look at future possibilities for collaboration with the shared goal to strengthen Mississauga's position as a place to live, learn and prosper. Implementation will take place over a five-year renewable period under the guidance and direction of two working tables comprised of both City and Sheridan College directors:
• Strategic Collaborations Table: focused on developing new opportunities for partnership and growth for shared strategic priorities. Areas of focus include: equity, diversity and inclusion; research and innovation; City capacity building; experiential learning opportunities; aligning the Sheridan curriculum with local economy needs; entrepreneur support; coordinated international industry and business engagement; joint advocacy on shared priorities; student engagement in the city; and showcasing thought leaders and experts.

• Operational Collaborations Table: focused on local operational needs within the "neighbourhood" and addressing student experience, transit, housing, noise, health and safety, fire and enforcement.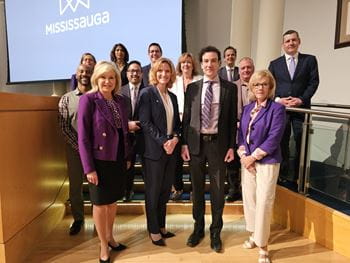 "The connections between Sheridan and the City of Mississauga run deep, and we're extremely pleased to fortify our collaborative partnership," said Sheridan's President and Vice Chancellor, Dr. Janet Morrison. "Sheridan plays a critical role in finding innovative solutions for local and regional challenges faced by businesses, governments, and communities across Canada. Our programs are deeply aligned to the needs of the local economy to ensure we help feed the talent pipeline and set our students up for success."
Background
Mississauga is the third largest city in Ontario with 1,400 multinational firms and 75+ Fortune 500 companies, making it a robust and diverse business community comprised of some of the largest knowledge-based industries in Canada. Mississauga, as part of the Greater Toronto Area, is at the centre of one of the most stable and competitive business environments in the world. With a thriving population of more than 750,000 people, the city offers unlimited possibilities of growth and development to more than 400,000 students within the region including international students enrolled in three educational institutions – one university and two colleges.

Sheridan College is an important component of the Mississauga's social, economic and urban landscape. Founded in 1967, Sheridan College is Ontario's award-winning post-secondary institution – educating more than 30,000 students every year on three campuses, including one in Mississauga. The College attracts students from across Canada and around the world. Its 210,000+ alumni play a critical role in shaping the future of our society in the fields of arts, business, community service, health, technology, and the skilled trades.