Sheridan continues to advance gender equality through work in Kenya
Sheridan College recently celebrated the successful completion of the second year of its international development project, the Gender Equality Policies and Training through Technical and Vocational Education and Training (TVET) in Kenya. A Sheridan team, including faculty and staff, participated in two trips to Kenya to continue the impactful work of advancing gender equality.
In collaboration with Niagara College, Sheridan's team partnered with 26 Kenyan TVET institutions in 2021 to advance gender equality and policy development through enhancing infrastructure, developing essential tools, and raising awareness among diverse stakeholders.
Year two of this project was built on the success of the first year, and focused on establishing and strengthening policies and procedures that promote safe learning environments, particularly for female trainees, and providing gender equality training to administrators and awareness workshops for government officials.
"I am extremely grateful for this project as it has been a highly fulfilling experience. Working with colleagues from different sectors, disciplines and countries has led to productive brainstorming sessions and comprehensive outcomes," said Dr. Sara Cumming, Professor in the Faculty of Humanities and Social Sciences at Sheridan College. "Being able to use my knowledge in gender, social policy and employment to assist Kenyan TVET institutions in promoting education and employment for women is a great opportunity."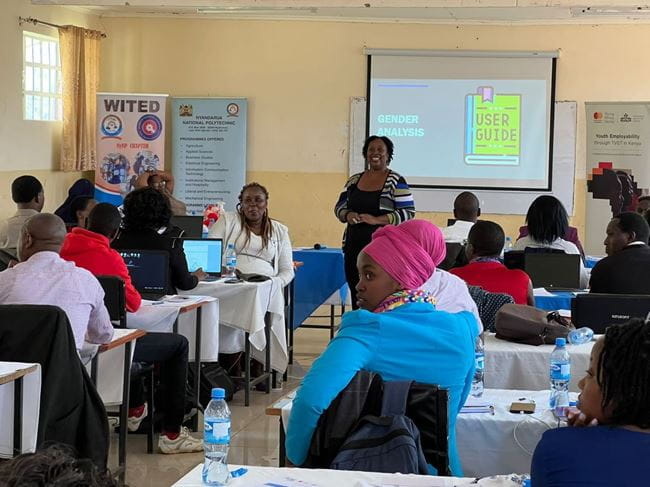 Highlights of 2022 include:
Comprehensive situational analysis.
Gender needs assessment tools development and partner institution training.
Policy templates development and training.
Equity, diversity, and inclusion education and utilizing Gender Mainstreaming and Gender-Based Analysis Plus (GBA+) approaches to gender-equality workshops.
"The training sessions represent a significant investment in the future of gender equality, and we believe that the institutions involved will see long-term benefits as a result of their participation," said one of the Kenyan participants.
As it enters its third year, the partnership will continue to build capacity and provide tailored gender equality support to administrators, gender champions, policymakers in government, and business leaders.
"This project has been a vital part of Sheridan's efforts to make meaningful contributions to our local and global communities."

– Dr. Amira El Masri
"We hope to continue contributing to a more just, sustainable, and resilient world through supporting the UN Sustainable Development Goals, including goals for quality education, decent work and economic growth and gender equality," said Dr. Amira El Masri, Director of the Centre for Global Education and Internationalization. "Our faculty and staff are gaining invaluable experiences and knowledge working along their Kenyan colleagues. This will ultimately feed into their teaching and research."
This collaboration is made possible through a partnership between Colleges and Institutes Canada, and the Mastercard Foundation's Young Africa Works: Youth Employability through Technical and Vocational Education and Training program.
About Mastercard Foundation
The Mastercard Foundation works with visionary organizations to enable young people in Africa and in Indigenous communities in Canada to access dignified and fulfilling work. It is one of the largest private foundations in the world with a mission to advance learning and promote financial inclusion to create an inclusive and equitable world. It was established in 2006 through the generosity of Mastercard when it became a public company. The Foundation is an independent organization and its policies, operations, and program decisions are determined by its own Board of Directors and senior leadership team. It is a registered Canadian charity with offices in Toronto, Kigali, Accra and Nairobi, Kampala, Lagos, Dakar, and Addis Ababa.
For more information on the Foundation, please visit: www.mastercardfdn.org.
About the Young Africa Works Strategy
Young Africa Works is the Mastercard Foundation's strategy to enable 30 million young people, 70 percent of whom will be young women, to access dignified and fulfilling work by 2030. It is estimated that by 2030, Africa will be home to the world's largest workforce, with 375 million young people entering the labour market. With the right skills, these young people will improve their lives and the lives of their communities, contributing to Africa's overall competitiveness. The Young Africa Works strategy is being implemented in seven African countries in collaboration with governments, the private sector, business leaders, educators, and young people. Countries involved in the first phase of the strategy include Rwanda, Kenya, Senegal, Ethiopia, Ghana, Nigeria, and Uganda.
Please visit the Mastercard Foundation website for more information on the Young Africa Works strategy.