NSERC visits Sheridan to mark Dimensions program honour
On April 27, the Natural Sciences and Engineering Research Council of Canada (NSERC) announced that Sheridan is among 10 postsecondary institutions being recognized through the Dimensions program, which is aimed at advancing equity, diversity and inclusion (EDI) in research environments.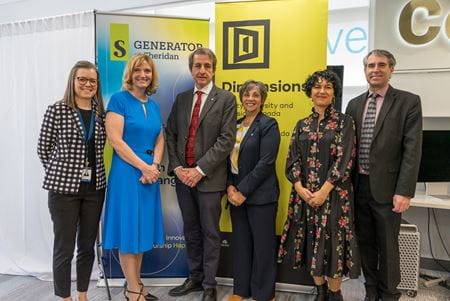 In yesterday's announcement, Sheridan is the only college from the list of institutions to receive Construction-level status, the highest distinction. The honour was celebrated earlier today with NSERC President, Dr. Alejandro Adem, and Vice President, Vice-President, Strategic, Corporate and Public Affairs, Dr. Marc Gervais, joining guests at Sheridan's Centre for Mobile Innovation at the Trafalgar Road Campus in Oakville.
"We are tremendously honoured and humbled to receive the Construction Level for our work as a Dimensions participant," says Dr. Janet Morrison, President and Vice Chancellor at Sheridan. "It not only symbolizes the quality of the work we've accomplished in research and EDI, but it also assures us that the path we're forging is leading to positive outcomes. This will only serve to keep our momentum going. Sheridan is unwavering in our commitment to this work."
Sheridan is a participant in the inaugural cohort of the Dimensions program, signing on in 2019, selected as one of only two Ontario colleges and one of 17 post-secondary institutions across Canada. Dimensions aims to foster transformational change within the research community at Canadian postsecondary institutions by identifying and eliminating obstacles and inequities to support equitable access to funding opportunities, increase equitable and inclusive participation, and embed EDI-related considerations in research design and practices.
The program addresses barriers and discrimination faced by equity deserving groups, including women, Indigenous Peoples (First Nations, Inuit and Métis), persons with disabilities, members of visible minorities/ racialized groups, and members of LGBTQ2+ communities, in all disciplines at Canada's CEGEPs, colleges, polytechnics and universities.
"It has been an honour to work with the NSERC Dimensions team, the other pilot institutions, and the Sheridan self-assessment team on this ambitious project," says Dr. Abigail Salole, Director EDI Knowledge Translation and Institutional Accountability. "As part of our inclusive self-assessment process, we engaged with employees across Sheridan who provided honest and thoughtful feedback and ideas about embedding an EDI lens across different systems at Sheridan. As a result of this engagement, Sheridan's five-year action plan is impact and data-driven and will demonstrably lead to further meaningful change."
Sheridan's Dimensions engagement activities involved three main elements:
Employment Systems Review
A third-party consultant with EDI expertise completed a review of employment policies and practices as well as the organizational and work environment through an equity lens.
EDI in Research Focus Groups and Survey
Faculty, administrator and support staff focus groups were designed to narrow in on qualitative accounts of barriers to EDI in the research ecosystem.
Benchmarking Conversations
Using Sheridan's EDI indicator framework, benchmarking conversations were held to develop a baseline understanding for how EDI resides across the Institution.
"The Dimensions recipients have made a significant voluntary commitment to being change leaders for the Canadian post-secondary sector. The work they have accomplished can assist the entire research ecosystem become more equitable, diverse, accessible and inclusive to attract and retain talent. The necessary condition to create the excellent, innovative and impactful research needed to respond to local, national and global challenges of our times," says Prof. Alejandro Adem, FRSC, President, Natural Sciences and Engineering Research Council of Canada.
"The NSERC Dimensions program serves as a catalyst for transformative change — fostering a more equitable, diverse, and inclusive research landscape in Canada. By breaking down barriers and promoting inclusive participation, Dimensions empowers our brightest minds to excel, regardless of their background or identity. I am thrilled to see Sheridan College's commitment to advancing Equity, Diversity, and Inclusion through research and by ensuring that our community has equitable access to meaningful, long-lasting opportunities," says Hon. Anita Anand, Member of Parliament for Oakville and Minister of National Defence.
Pictured in photo are (left to right) Andrea England, Vice Provost, Research, Sheridan; Dr. Janet Morrison, President and Vice Chancellor, Sheridan; Dr. Alejandro Adem, President, NSERC; Carol Altilia, Provost and Vice President, Academic, Sheridan; Dr. Abigail Salole, Director, EDI Knowledge Translation and Institutional Accountability, Sheridan; Dr. Ed Sykes, Director, Centre for Mobile Innovation, Sheridan.