Sheridan EDGE, RBC Future Launch supporting youth entrepreneurs looking to drive change
Sheridan EDGE is seeking young entrepreneurs and social justice champions with enthusiasm for change and a desire to create a more equitable and sustainable society. Young leaders are invited to join the Youth Changemaker Summit Nov. 17 to hear from inspiring founders who are redefining what success looks like for our community and economy.
Aspiring youth entrepreneurs from Peel and Halton regions who have an idea, project or venture that seeks to drive greater social and environmental impact through their work and in their community are also invited to apply to the Social Impact Catalyst powered by RBC Future Launch to receive funding, mentorship and support.
Youth Changemaker Summit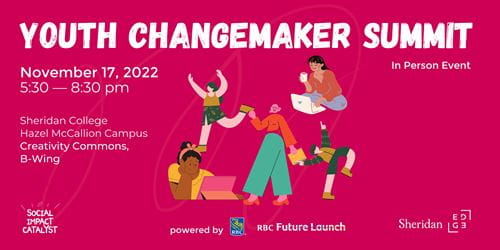 The Youth Changemaker Summit gathers young leaders and purpose-driven entrepreneurs to learn from one another's stories and experiences. The Summit focuses on creating awareness of and exposure to impact entrepreneurship with inspiring real-life examples and an interactive activity to help connect individual values, mindful reflection, leadership, career and entrepreneurship. The Summit will host a networking session to connect youth with the entrepreneurial ecosystem in Mississauga and Brampton. Incubators such as ICUBE (U of T), IDEA Mississauga, and Brampton Innovation District will attend.
The Summit will also feature a panel of inspiring youth founders such as Zahrah Ahmed, Founder, Business Click; Aryan Gautam, Founder, Save the Planet - Open Doors; Stephanie Manica, Founder, IPOTS; and Elizabeth Clark, Founder, The Black Elder. Participants will engage in conversations about entrepreneurial ideas, impact entrepreneurship, environmental sustainability and the youth founder journey.
Social Impact Catalyst powered by RBC Future Launch
Social Impact Catalyst powered by RBC Future Launch supports youth changemakers who have ideas or ventures that seek to transform their community and the world for the better. This 14-week program offers exclusive benefits including a $2,000 honorarium, EDGE community membership valued at $240, individual mentorship, learning sessions and more. Applications for the Winter 2023 cohort are open until Dec. 8.
Sheridan EDGE believes in the power of young changemakers to flourish in and shape a more equitable, healthy and sustainable society. As one of Sheridan's five renowned research and incubation centres, EDGE is proud to partner with RBC to support youth taking creative and courageous action. These initiatives are made possible with the generous support of RBC Future Launch.