Sheridan marks National Indigenous History Month with a new support program for Indigenous learners – Babamadizwin: Start Well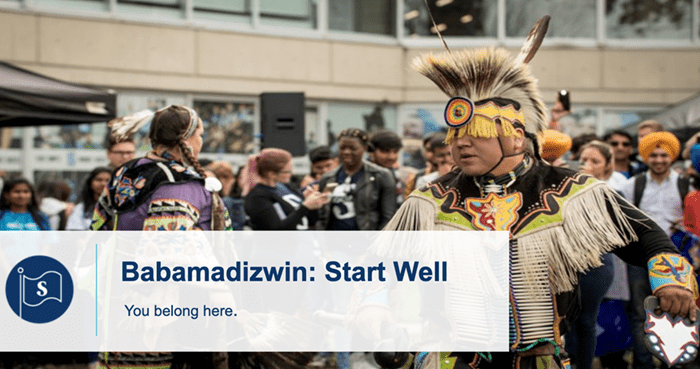 To mark National Indigenous History Month, Sheridan's Centre for Indigenous Learning and Support is encouraging students, faculty and staff to focus on connection – connection to self, one another and the land.

Sheridan will start this connection by welcoming back and celebrating Indigenous graduates during Sheridan's convocation ceremonies. On June 15, Sheridan will be hosting a panel event where Indigenous alumni will spend time discussing their time and experiences as Sheridan students. The Centre for Indigenous Learning and Support (CILS) will also be hosting a gathering for Indigenous learners to watch the alumni event at the newly renovated Indigenous Learning space at the Davis Campus.

In addition, Sheridan is proud to introduce the newest instalment in the Well Series, Babamadizwin: Start Well, in support of First Nation, Métis, and Inuit learners at Sheridan.
Babamadizwin: Start Well
Inspired by the word "journey" in Anishinaabemowin, the new interactive program includes three self-paced modules to assist Indigenous learners in fostering a sense of belonging, community, wellness, and connection.

"Babamadizwin: Start Well works two ways," explains Joan Sweeney Marsh, Sheridan's Associate Vice Provost, Academic and Career Learning Resources. "The program helps Indigenous learners adapt to their postsecondary journey and learn about all the support and resources Sheridan has to offer; but at the same time, it also engages and informs the Sheridan community, providing both our academic and support mechanisms an Indigenous lens."

The interactive online program employs a human-centered design approach with three self-paced modules. Topics include:
How to connect and access supports from Sheridan's Centre for Indigenous Learning and Support
How to access financial resources and supports specifically for First Nation, Métis, and Inuit students
Strategies and connections that support overall wellness
How to access free resources focusing on learning, well-being, and academic support
Strategies for developing existing academic strengths and building confidence, with a focus on cultivating time management, academic reading and writing, group work, and technology.
"It's important to reflect and celebrate the diversity of our Indigenous learners at Sheridan," says Elijah Williams, Director of Indigenous Engagement. "Everyone has their own journey and story, and Babamadizwin is a platform where Sheridan can celebrate this uniqueness together and advance Indigenous education in our community."

In addition, a virtual community will soon be available to Indigenous learners as an additional resource for the online program. This virtual community allows Indigenous students to access information and resources, build connections, attend virtual events, and even chat with an advisor all on one platform.

"Human connection and relationships are at the center of what we do," says Fallon Melander, Project Specialist, Centre for Indigenous Learning and Support. "The program demonstrates our dedication to providing our community members with a space to reach out, ask questions, and access the wealth of resources available to help them in all stages of their academic journey."
Indigenous Alumni Panel
Join Sheridan graduates Chelsea Ogemah (Police Foundations '21), Bonnie Nadjiwan (Social Service Worker '20), and Semiah Smith (Visual and Creative Arts) in conversation as they candidly share their journeys from students to beyond, all while living and finishing their studies during the COVID pandemic.
Date: Wednesday, June 15, 2022 | 12 p.m.-1:30 p.m.
Location: Online and in-person
"National Indigenous History Month is a time set aside for all Canadians to learn about Indigenous peoples, our shared history, and the history of our land," says Williams. "As we celebrate National Indigenous Peoples Day on June 21, it is important that we all take time to reflect on the accomplishments and resiliency of Indigenous peoples and their impact on our lives, communities, and history."

The Centre for Indigenous Learning and Support (CILS) is an inclusive space for Indigenous learners to make friends and access support. It is part of Sheridan's commitment to supporting the academic and personal success of all Indigenous students: Status, Non-Status, Metis, and Inuit.

To learn more about CILS, please visit the Centre's website.