Sheridan wins MBOT Employer of the Year Award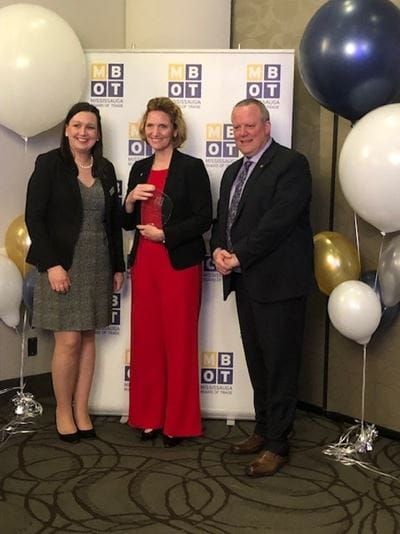 Sheridan College was thrilled to accept the Mississauga Board of Trade (MBOT) award for Employer of the Year at MBOT's Business Awards of Excellence event on May 5 at the Mississauga Convention Centre.
Sheridan was selected from over 20 other nominees by a panel of judges who determined which Mississauga employer offered the most exceptional workplace for its employees.
"I am honoured to accept the Employer of the Year award on behalf of the entire Sheridan community," said Dr. Janet Morrison, President and Vice Chancellor of Sheridan. "We believe that our greatest asset is our people, and our strength lies in our capacity to cultivate talent. Fostering a caring, inclusive and exceptional workplace culture is one of our strategic priorities, and the challenges presented by the pandemic have further strengthened our commitment to supporting our employee community."
Nominated employers were evaluated on the strength of the following:
demonstrated leadership and commitment to employee training, education and professional development
fostering a positive workplace culture
providing fair compensation and benefits
embracing workplace diversity
promoting work-life balance
commitment to fostering innovation, growth and development of new employee programming and services that meet the changing needs of all employees
"As one of Mississauga's largest employers, Sheridan College is playing a critical role in helping to meet the needs of our workforce, both now and into the future as our economy continues to transition," said Trevor McPherson, President and CEO of MBOT. "As a valued member of MBOT, we applaud this well-deserved recognition as Mississauga's Employer of the Year."
Sheridan has fully supported employees during the pandemic including enhanced safety protocols, providing ergonomic assessments for home offices, hosting a community vaccine clinic, and has maintained full-time employment continuity at pre-pandemic levels. Support has also included the introduction of DevelopMe, a digital toolkit to help employees manage their career development. Additionally, Sheridan launched a new Campus Wellness Strategy to demonstrate a strong commitment to community wellness.
This is Sheridan's first time winning MBOT's Employer of the Year award.
Learn more about MBOT's Business Awards of Excellence.