Students gain insights on leadership and tips to navigate the future at annual conference
The annual Ignite Student Leadership Conference, which provides a unique opportunity for students to take the next step in developing their leadership potential, will be held virtually on Thursday, March 3.

The conference, sponsored by RBC Future Launch and hosted by the Student Leadership Development & Engagement team, the Sheridan Student Union, and Sheridan Alumni, helps students discover strategies to innovate, create a positive difference, and lead through times of change by learning from the experiences of industry leaders.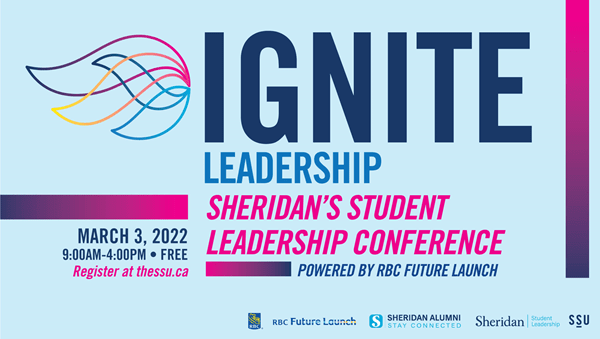 Award-winning entrepreneur, author, and Indigenous speaker Kendal Netmaker will deliver the keynote address at the conference. Students will also have the chance to hear from alumni who have become leaders in their field, including Randy Pilon (Business '82), the founder of Virox Technologies Inc. and namesake of the Pilon School of Business. He'll be joined in a series of roundtable discussions for students along with Lauren Tedesco (Corporate Communications '08), Senior Vice President at the Automotive Parts Manufacturers' Association; Seth Stover (Marketing '09), Co-Founder & CEO at TideRise Technologies; and Sonia Saluja, Branch Manager at RBC and Future Launch leader.

There will also be a panel discussion with the co-founders and volunteers of 50 Buns, a group of recent graduates who are providing food aid to the homeless in the Greater Toronto area, and a fireside chat with Joel Dembe (Marketing Management '08), Paralympian, public speaker and global advocate for accessibility and inclusion. Dembe is Co-Chair of RBC REACH, RBC's advisory group for clients and employees with disabilities.

Students will also have the chance to hear music from up-and-coming artists during the day and take part in a leadership expo to connect with RBC recruiters.

This annual student conference, sponsored by RBC Future Launch since 2018, allows Sheridan students to receive real-world advice from Sheridan graduates who are leaders in their field, as well as build their network by connecting with successful Sheridan alumni and leading professionals.
When: March 3, 2022. 9 a.m.-4 p.m.

Where: Online